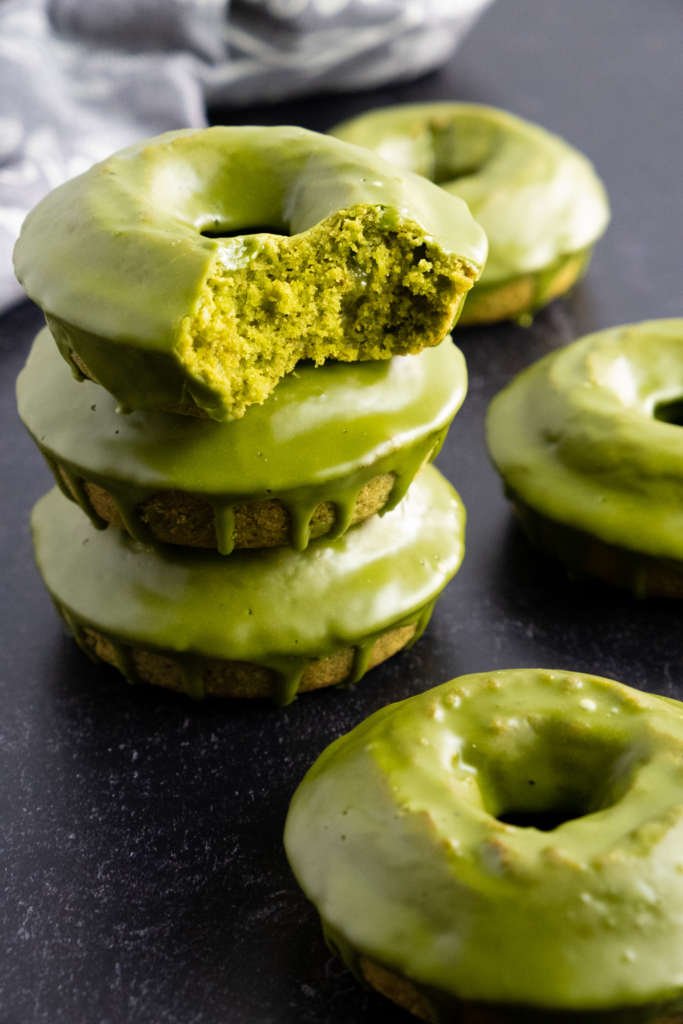 I used to think that good homemade donuts were difficult and time-consuming to make, until I discovered cake donut recipes that used a donut pan. As simple as they are to make, you can focus on being imaginitave with flavor combinations and toppings. These baked cake donuts don't need frying oil, yeast, or rising time – all they require is a 6-cavity donut pan.
Notes on Ingredients
Oil – Using a combination of oil and butter, instead of butter alone, will help prevent the donuts from being dry.
Matcha Powder – Using a higher quality of matcha will result in a better flavor. Bright green matcha will usually have a better flavor. Also, make sure to look for culinary grade matcha, not ceremonial grade – culinary grade will be less expensive.
Corn syrup – The corn syrup in the glaze really helps to give it the texture of the ideal donut frosting. If you want to leave it out, you can substitute with an additional ½ tablespoon of milk.
Notes on Technique
Matcha can be prone to forming lumps, so you may need to sift it together with the flour and the confectioner's sugar to make sure that it mixes well.
The donut batter should be very thick. You will need to pipe it into the pan in order to prevent air bubbles from forming on the bottoms of the donuts. You can use a piping bag without a tip, or just a plastic bag with the end snipped off to create an opening that is about ¾ – 1 inch in diameter. Try to pipe evenly into the pans, but it doesn't have to be perfect. If there is any batter left over, pipe it on top of the previously piped batter.
You can check to see if baked cake donuts are done the same way you would a cake. If you press the tops with a finger, they will spring back if they are done; if not, your fingertip will leave a depression.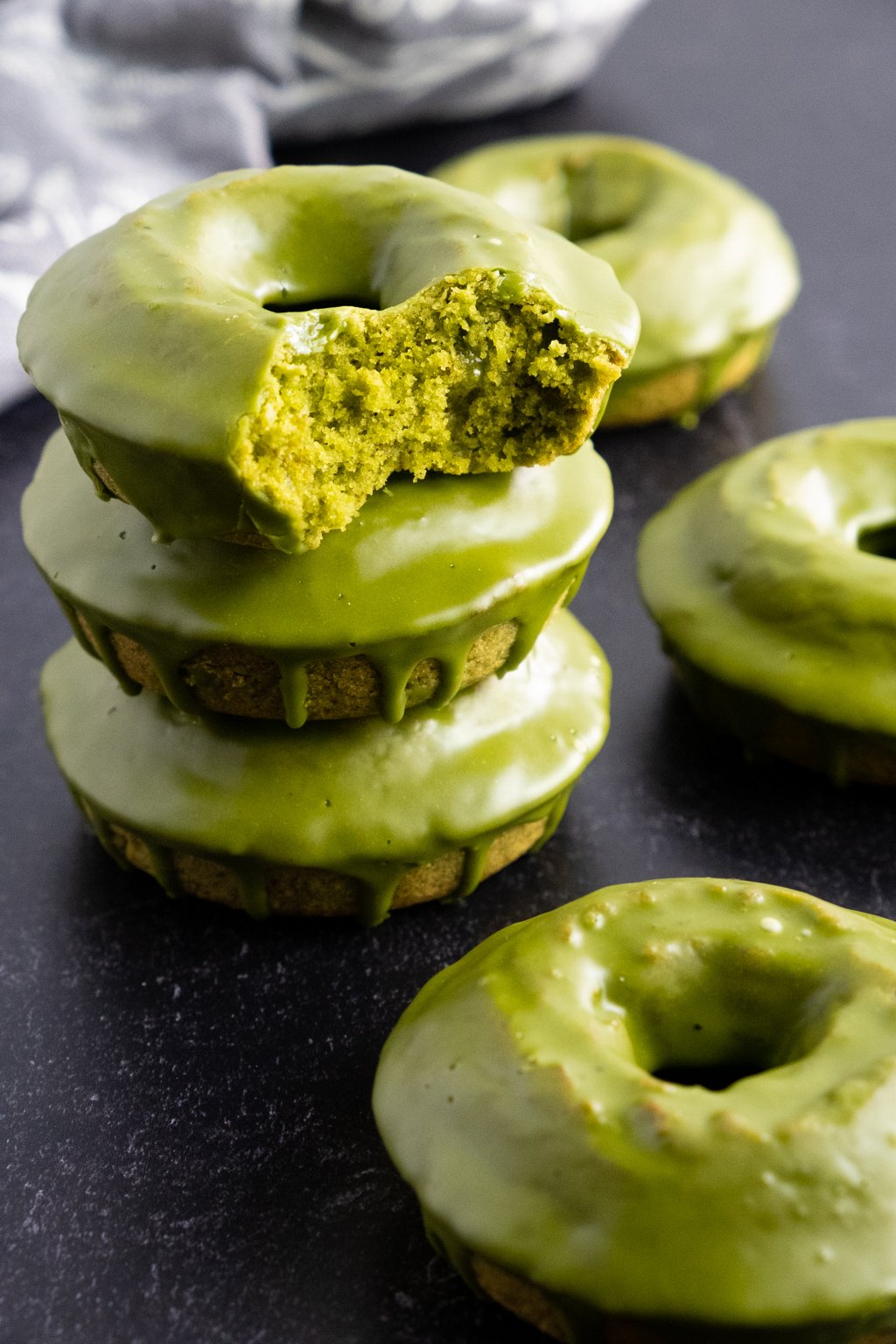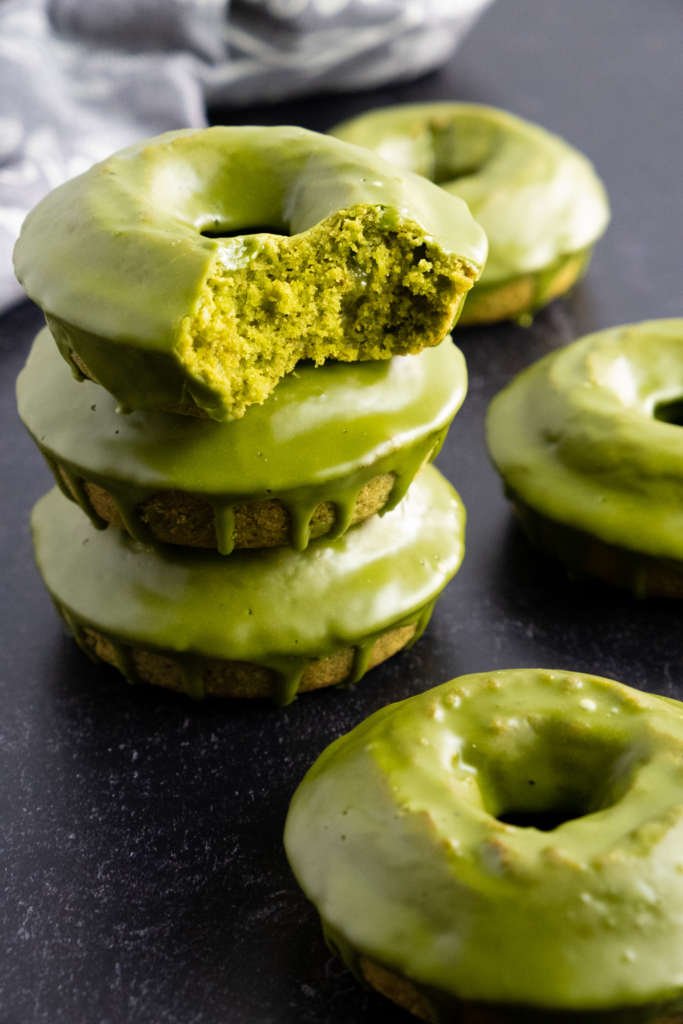 Baked Matcha Cinnamon Cake Donuts
Ingredients
For the Donuts:
1 1/4

cups

all-purpose flour (155 g)

1

tablespoon

matcha powder

1/4

teaspoon

cinnamon powder

3/4

teaspoon

baking powder

1/4

teaspoon

salt

1/3

cup

sugar (67 g)

4

tablespoons

butter (57 g) melted

1/4

cup

oil (60 ml)

1/2

teaspoon

vanilla extract

1

large

egg, room temperature

1/4

cup

milk (60 ml) room temperature
For the Glaze:
1 1/2

cups

confectioner's sugar (180 g)

1

tablespoon

matcha powder

1/8

teaspoon

salt

2

tablespoons

and 1 teaspoon milk

1

tablespoon

corn syrup
Instructions
Make the Donuts:
Preheat the oven to 400° F (200° C.) Prepare a 6-cavity donut pan by spraying it with baking spray, if it isn't already nonstick.

In a large bowl, stir together the flour, matcha, cinnamon, baking powder, and salt. Sift the mixture if the matcha forms lumps. In another large bowl, whisk together the sugar, melted butter, oil, and vanilla until they are well combined. Add the egg and then continue whisking until it is fully incorporated. Finally, whisk in the milk.

Add the flour mixture and whisk it in gently until it is incorporated. Be careful not to overmix. Spoon the batter into a piping bag or plastic bag with an opening that is around 3/4 - 1 inch (2-2.5 cm.) Pipe the batter evenly into the donut cavities in the pan. Bake the donuts for around 12-14 minutes, or until they are beginning to brown lightly and the donuts spring back to the touch. Flip the donuts over onto a wire rack and allow them to cool for about 30 minutes before glazing.
Make the Glaze:
In a medium bowl, whisk together the powdered sugar, matcha, and salt. If the matcha remains in lumps, sift the mixture. Add the milk and whisk together slowly, until the mixture forms a very thick glaze. Finally, whisk in the corn syrup.

Glaze the donuts: place a baking sheet beneath the wire rack to catch the excess glaze. One by one, dip the dounuts halfway into the glaze, making sure it reaches the edges, then return the donuts to the wire rack. Let them rest until the glaze has firmed, about 1 hour. The donuts store well at room temperature for about 3 days.