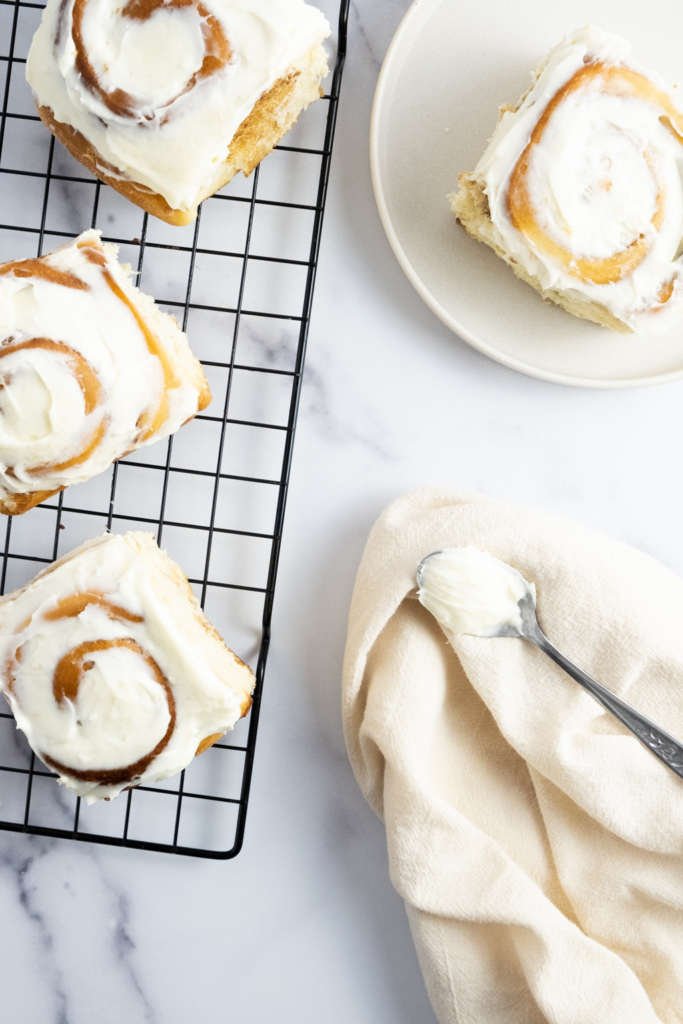 I am always trying to come up with desserts that have unique or interesting flavor combinations, but you really can't go wrong with a simple, classic recipe. A plain cinnamon roll (or frosted, in this case,) will always be one of my favorite desserts.
Notes on Ingredients
Yeast – I used active dry yeast in this recipe. You need to dissolve active yeast in a liquid before adding it into a dough. This is why I mixed it into the milk first. If you are using instant yeast, you can add it into the dry ingredients.
Milk – This is a slightly enriched bread dough, so I used whole milk for more flavor.
Bread Flour – Bread flour has more protein, which helps the dough rise more and also helps to create a more bread-like texture. If you don't have it, however, it's fine to substitute all-purpose flour.
Notes on Technique
A great way to test whether your yeast will rise is to get it started in warm liquid with a little sugar added in. Even though it isn't always necessary if you're using new yeast, I usually do this anyway. The best temperature is around 105 to 112 F (40 to 45 C.) Let it sit for 10 minutes, until the yeast begins to foam and bubble on top.
In this recipe, I added the salt just before kneading. This is because salt can kill some of the yeast, so many bakers will add it in at the very last. Just make sure that you mix it in well while you are kneading.
I kneaded the dough for about 1 minute in this recipe. I like for cinnamon rolls to be soft and fluffy, nowhere near as tight as most breads. Stop kneading the dough before it would strictly pass the windowpane test.
Rising time can vary greatly depending on the season and the temperature inside your house. I placed the dough next to the window in full sunlight on a warm day, and it was ready in just over 1 hour. If I had placed it in a dark, cool place, it would have taken the full 1 hour 30 minutes.
The same goes for the second rising time – use your best judgement to tell if the dough has risen enough. When the rolls are ready to bake, they will be barely touching. You don't want them to be fully touching, because they will rise more as they bake, and overcrowding will cause the steam to deform the shapes of the rolls.
It can be a little hard to tell when rolls are done if they are all together in one pan. The tops should be a medium brown, and if you tap on the bread with your knuckles, it will make a slightly hollow sound.
Cinnamon Rolls with Cream Cheese Frosting
Ingredients
For the Bread Dough:
2 1/4

teaspoons

active yeast (1 packet)

1

cup

milk (237 ml) 105-112 F

1

teaspoon

sugar

6

tablespoons

butter (85 g) softened

1/4

cup

sugar (50 g)

2

large

eggs room temp

4 1/4

cups

bread flour (530 g)

1

tsp

salt
For the Cinnamon Filling
10

tablespoons

butter (140 g) softened

1

cup

brown sugar (200 g)

1

tablespoon

cinnamon

2

pinches

salt (about 1/16 teaspoon)
For the Cream Cheese Frosting
8

ounces

cream cheese (227 g) softened

1

pinch

salt

1

cup

powdered sugar (120 g)

1

teaspoon

vanilla extract

1/4

cup

cream or milk (60 ml)
Instructions
Make the Bread Dough:
Heat the milk until it reaches between 105 and 112° F (40-45° C.) Stir in 1 teaspoon of sugar until it dissolves, then stir in the yeast. Let it sit for 5-10 minutes, until the yeast begins to rise and bubble on top.

In a large bowl, with an electric mixer, cream the butter and the 1/4 cup sugar. Add the eggs one at a time, mixing until they are well combined. Add the milk and yeast, mixing until it is incorporated well, then begin mixing in the flour 1 cup at a time. You may need to mix the last of the flour in by hand.

Add the salt last, then turn the dough out onto a lightly floured surface. Knead lightly for about 1 minute. Cover the dough loosely with oiled plastic wrap or paper, and let it rise for about 1 to 1 1/2 hours, or until it is doubled in size.
Make the Cinnamon Filling:
In a medium bowl, with an electric mixer or with a fork, mix together the softened butter and the brown sugar until they are well combined. Mix in the cinnamon and salt. Continue mixing until all of the ingredients are thoroughly combined, then keep at room temperature until you are ready to assemble the rolls.
Assemble and Bake:
Turn the dough out onto a well-floured surface and knead a little to work out any bubbles. use a rolling pin to roll the dough into a rectangle that is 12 X 24 inches (30 X 60 cm.) Spread the cinnamon filling over the dough all the way to the edges.

Line a 9 X 13 X 2 inch (23 X 33 X 5 cm) baking pan with parchment paper or spray with baking spray. Starting on a short edge, roll the dough into a log that measures 12 inches (30 cm) long. Slice into 12 rolls, each measuring 1 inch (2.5 cm.) Arrange the rolls in the pan in 4 rows of 3. Cover loosely with a dish towel and leave to rise for another 30-45 minutes, until the rolls are barely touching each other.

Preheat the oven to 375° F (190° C.) Bake the rolls for about 30 minutes, or until the tops of the rolls are a medium brown. Remove the rolls from the oven and allow them to cool for about 30 minutes before frosting.
Make the Cream Cheese Frosting:
In a medium bowl, with a mixer, beat the softened cream cheese until it is fluffy. Add the pinch of salt and the powdered sugar and mix, starting on low and gradually increasing the speed, until the sugar is fully incorporated. Mix in the vanilla and cream.

The cream cheese frosting must be stored in the refrigerator, while the cinnamon rolls can be stored at room temperature. If you are not serving all of the rolls immediately, store them unfrosted and store the frosting in a separate container in the refrigerator. The rolls will keep about 3 days at room temperature, and about 5 days in the refrigerator. If storing in the refrigerator, heat them for about 10 seconds in the microwave, then frost before serving.