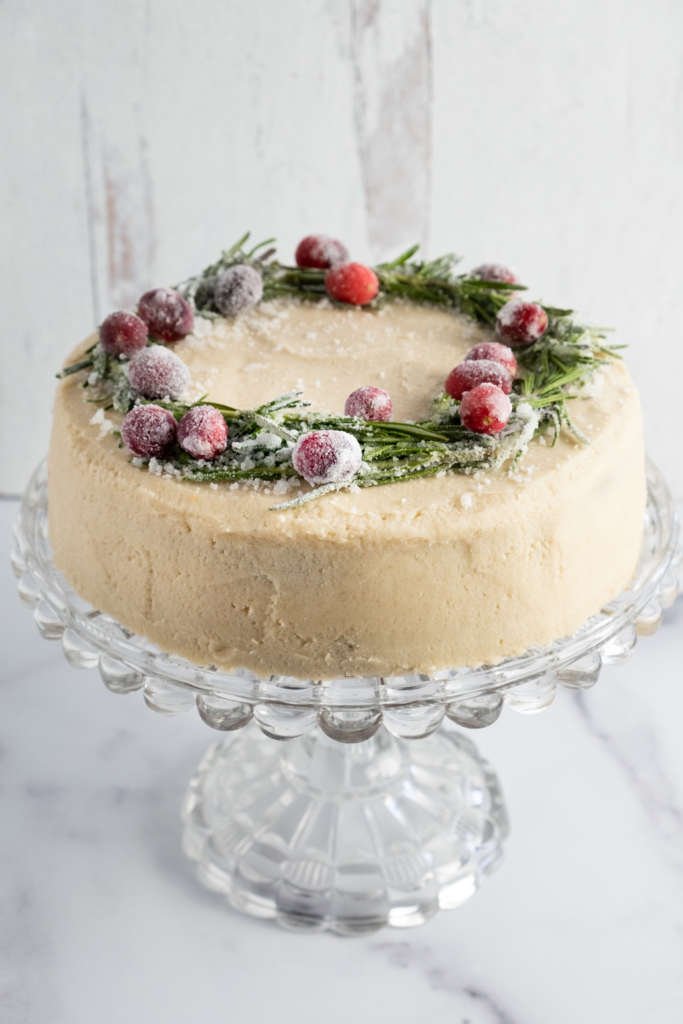 I drink chai at all times of the year, but the warming blend of spices is a must for me in the winter months. This soft and fluffy cake is infused with a blend of black tea, cardamom, ginger, cinnamon, cloves, and black pepper. To complement these flavors, I filled the cake with a tangy vanilla orange curd.
Notes on Ingredients
Chai Cake Ingredients
Tea – I used Tazo Organic Chai, which is my favorite store bought chai blend. It contains black tea, ginger, cinnamon, black pepper, cardamom, cloves, and anise.
Cardamom – I wanted cardamom to be the strongest spice in this cake. If you want the best and strongest flavor, use freshly crushed cardamom.
Oil – I always like to use a neutral tasting oil, like sunflower seed oil.
Orange Curd Ingredients
Oranges – I used a large navel orange in this recipe. One navel orange gave me ¼ a cup of juice and more than enough zest.
Cornstarch – The cornstarch will thicken the curd a little, while the eggs will do the rest.
Whole Eggs – Make sure that the eggs are at room temperature before you use them in the curd. This is the trick to making curds and custards with whole eggs instead of yolks alone. The egg whites thicken at a slightly lower temperature than the yolks do, and they seem to be more sensitive to rapid temperature changes. I always take them out of the refrigerator at least an hour before using them in a curd or custard.
Cinnamon Frosting Ingredients
Salt – Unless you are using salted butter, it is always good to add a pinch of salt to your frostings because it will help balance the flavor.
Buttermilk – I love using buttermilk in American buttercream because it helps to cut the sweetness of all that powdered sugar.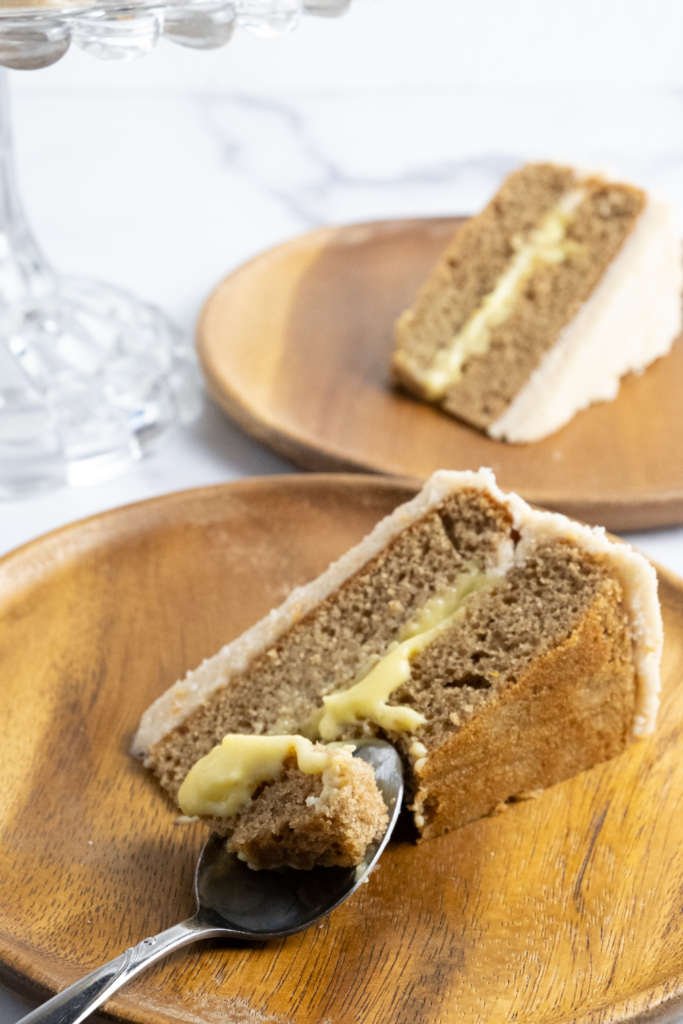 Notes on Technique
Chai Cake Notes
The longer you let the tea steep, the more chai flavor the cake will have. Steep for at least 20 minutes, but I sometimes let it steep for an hour or more.
The amount of milk left after simmering should be about 1 cup, but if you have a little bit more, reserve it. I often add it to tea or coffee, or even hot chocolate. Don't add the extra milk into the cake, because it will change the ratio of solids to liquids.
Since this cake doesn't contain butter, I like to mix it with a hand whisk. Even in cakes where I use an electric mixer to cream the butter, I like to whisk the flour in gently by hand. To me, it seems to result in a softer cake.
To tell when the cakes are done, you can poke the tops gently with one finger. If the cake springs back, it is done; if it stays sunken in, then it needs a few more minutes.
Orange Curd Notes
Make sure your eggs are at room temperature before you use them. Egg whites seem to be more sensitive to rapid temperature changes than the yolks and can be a little tricky to work with in custards.
Whisk the eggs thoroughly before heating the orange juice mixture. While cooking the orange juice, make sure to use a clean whisk. If there is some egg on the whisk, it will scramble and come off in the orange juice.
Whisk the eggs constantly while pouring the hot orange juice into them slowly. When you return the mixture to the heat, you will need to whisk vigorously until it thickens and is ready to remove from the heat.
If you are worried that some lumps might have formed in the curd, you can always strain  it through a sieve.
Let the curd cool for about 20 minutes before covering it and moving it to the refrigerator. I like to cover it with parchment paper instead of plastic.
Cinnamon Frosting Notes
When you start to make the frosting, whip the butter by itself until it is fluffy before adding any of the other ingredients. This will help prevent lumps from forming.
Adding the confectioner's sugar and buttermilk alternately will also help stop lumps from forming.
When assembling the cake, pipe a ring of frosting around the edge of the bottom cake layer to serve as a dam to keep the orange curd from flowing out. If you don't have a piping bag, you can use a plastic bag with the end snipped off to make an opening of about ⅓ an inch.
Chai Cake with Orange Curd and Cinnamon Frosting
Ingredients
For the Chai Milk:
1 1/2

cups

milk (355 ml)

2

chai teabags
For the Chai Cake:
2 1/2

cups

all-purrpose flour (250 g)

1 1/2

tsp

baking powder

3/4

tsp

salt

1 1/2

tsp

ground cardamom

1 1/4

tsp

ground cinnamon

1/2

tsp

ground ginger

1/4

tsp

cloves

1/4

tsp

allspice

1/8

tsp

finely ground black pepper

1/2

cup

oil (118 ml)

1

cup

sugar (200 g)

1/4

cup

brown sugar (50 g)

3

large

eggs

room temp

1/2

tsp

vanilla extract

1

cup

chai milk (237 ml)

room temp
For the Orange Curd:
2

large

eggs

not separated, room temp

1 1/2

tsp

orange zest (1/2 of a large orange)

1/4

cup

fresh orange juice (60 ml)

from 1 large or 2 medium oranges

2

tsp

cornstarch

1/4

cup

sugar (50 g)

1

pinch

salt

3

tbsp

butter (43 g)

softened

1/2

tsp

vanilla
For the Cinnamon Frosting:
1

cup

butter (227 g)

softened

1

pinch

salt

3 1/3

cups

confectioner's sugar (400 g)

1/4

cup

buttermilk (60 ml)

1/2

tsp

cinnamon
Instructions
Chai Milk:
Add the milk to a 2 qt saucepan. Snip open the 2 chai bags and add them to the milk, then cook on medium heat until the milk comes to a simmer. Continue to simmer for about 5 minutes, then turn off the heat and let the milk sit for at least 20 minutes to infuse the tea.

Strain the milk through a sieve. You should be left with about 1 cup of chai milk. If you have any extra, reserve it for another use.
Chai Cake:
Preheat the oven to 350° F (180 C) and grease and flour (or spray) 2 9-inch (23 cm) cake pans and line them with parchment paper.

In a large bowl, add the all-purpose flour, baking powder, salt, cardamom, cinnamon, ginger, cloves, allspice, and black pepper. Stir these together until they are well mixed.

In another large bowl, whisk together the oil, sugar, brown sugar, eggs, and vanilla. Once these are well combined, whisk in the chai milk.

Add the flour mixture to the wet mixture, about 3/4 a cup at a time, whisking gently each time until the flour is incorporated. Be careful not to overmix.

Divide the batter into the two cake pans and bake them at 350° F (180° C) for 23-25 minutes, or until the tops of the cakes spring back when you poke them lightly.
Orange Curd:
In a medium bowl, whisk the 2 whole eggs until the whites and yolks are well combined. Zest the oranges, then juice them. Mix the cornstarch into the orange juice first, then add the sugar, orange juice mixture, orange zest, and salt to a small saucepan.

Cook on medium low heat until the mixture begins to bubble and thicken. Remove the pan from the heat and ladle or pour it slowly into the eggs, whisking constantly.

Return the saucepan to low heat and cook, whisking constantly. The curd will thicken further once it reaches about 160° F (71° C.) At this point, remove it from the heat. Stir in the cubed butter and vanilla extract while it is still hot.

Let it cool at room temperature for about 20 minutes, then move it to a wide, shallow bowl. Cover it with paper or plastic wrap to prevent a skin from forming, and chill it in the refrigerator for at least a 1 1/2 hours.
Cinnamon Frosting
Add the butter to a large mixing bowl and beat with an electric mixer on medium speed until is is fluffy. Add the salt and about 1 cup of the confectioner's sugar and continue mixing until it is well combined. Next, add about half the buttermilk and mix well, then mix in the cinnamon and half of the remaining flour, scraping the bowl in between additions. Mix in the remaining buttermilk, and then, finally, mix in the rest of the sugar.
Assembly
Remove the cakes from their pans. If the tops have formed domes, carve them off so that they are flat. Place one of the cake layers on a plate or cake board. Using a pastry bag, pipe a ring of the frosting around the edge. Pour the orange curd and spread using a rubber spatula so that it fills in the circle. Place the second cake layer on top, then frost. Store the cake in the refrigerator for up to 3 days.