Jump to Recipe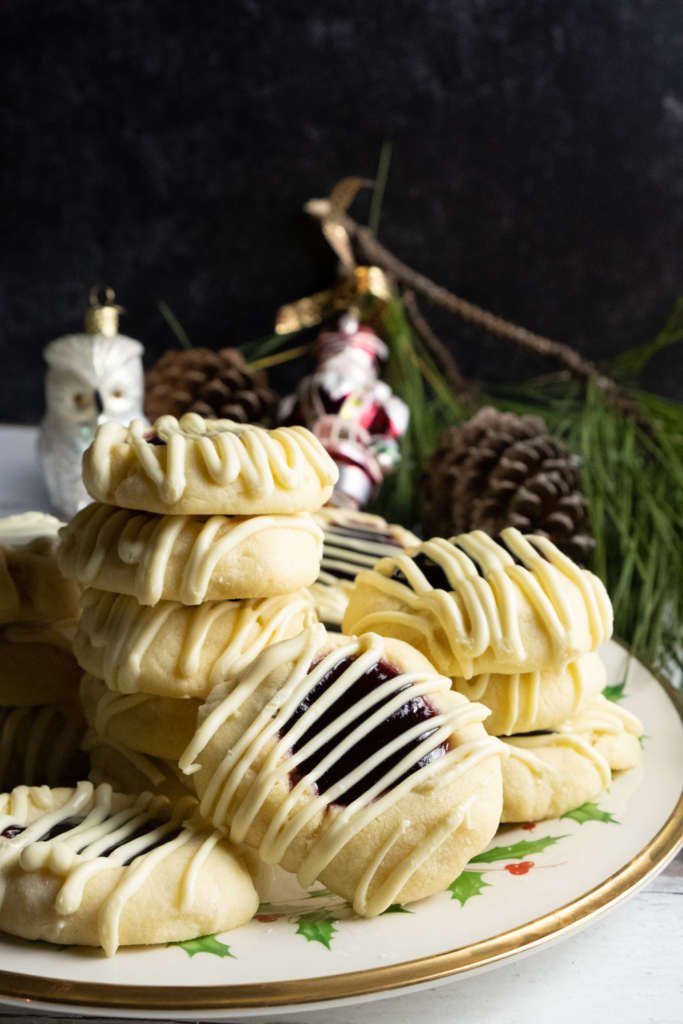 Ever since I was a teenager, one of the most exciting things to me about the holidays was seeing the new Christmas Cookies magazine that Better Homes and Gardens releases every year. One of my favorites from those magazines was a white chocolate raspberry cookie that I usually make every year at Christmas. These cookies are an adaptation of those, made with a thicker white chocolate shortbread dough so that they are able to hold the shape of a thumbprint cookie, then filled with raspberry jam and drizzled with even more white chocolate.
Notes on Cookie Ingredients
Butter – While the white chocolate is mostly fat and sugar, it will harden after cooking. The butter works in this recipe to soften the cookies.
Melted White Chocolate – Mixing white chocolate into the batter adds more flavor to the cookies. Because white chocolate is so sweet, and there will also be jam on top, there is no need to add additional sugar.
Salt – You always want to add a little salt to baked goods to keep them from tasting flat.
Flour – The amount of flour can be pretty crucial in a cookie recipe, especially thumbprint cookies. While you want other cookies to rise or spread out, you want thumbprint cookies to maintain the same shape during baking. Many thumbprint cookie recipes will replace some of the flour with cornstarch, because it will hold the shape even better, but it will give the cookies a chalky aftertaste. I prefer to just add a little more flour, so that the dough is very crumbly, but still shapeable.
White Chocolate Chips – These add more white chocolate flavor and a little bit of crunch to the cookies.
Raspberry Jam – Make sure to use seedless, unless you like the crunch of the seeds.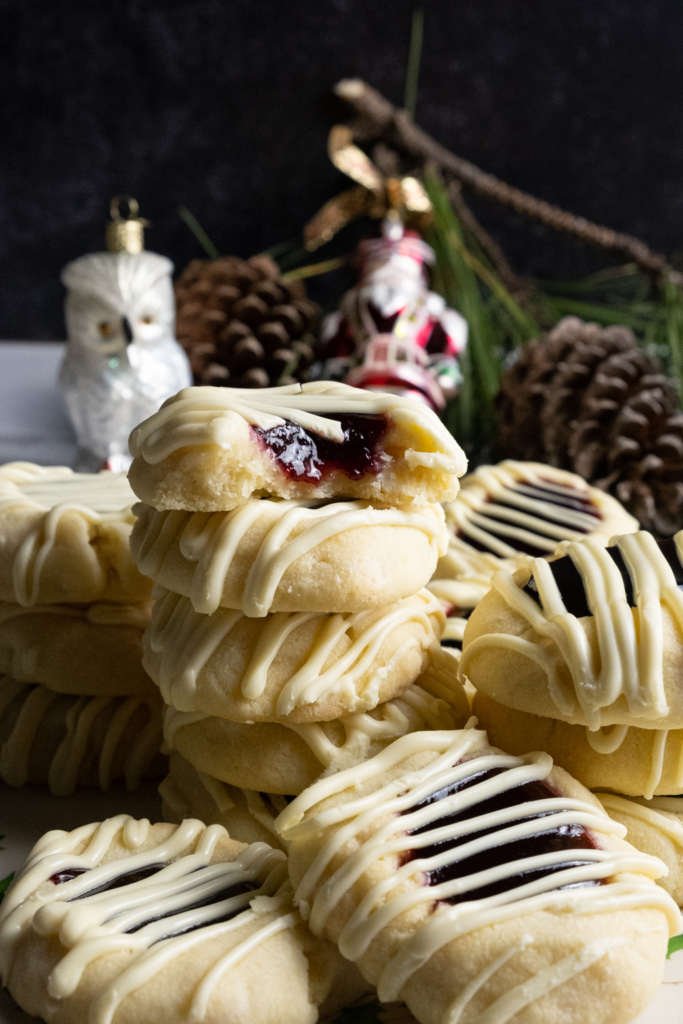 Notes on Technique
I melted the white chocolate for these cookies in the microwave. If you are melting chocolate in the microwave, you can use high wattage, but you should only microwave the chocolate for 15 seconds at a time, stirring in between.
My preferred method of mixing cookie dough is to use an electric mixer to combine the wet ingredients (in this case, the butter and white chocolate) and then mix in the flour with a spoon or by hand. Since cookies have so much flour, I feel like mixing it in carefully by hand works the gluten less and also puts less strain on the mixer.
Make the thumbprints deep and wide so that you can fill them with more jam, but make sure the hole doesn't go all the way through the cookie.
You can add the jam before or after baking. If you add it before, you don't have to melt it, since it will melt during cooking, but it may run over the sides of the cookies. I prefer to add the jam after baking, so that I can press the thumbprints back in if they have risen, and so that I have better control over the appearance of the cookies.
If the thumbprints have risen up or filled in during baking, use the handle of a spoon or another tool to press them back down while they are still hot and pliable.
Melt the jam until it is liquefied and smooth before pouring it into the cookies. This way they will look smooth on top, and not lumpy.
White Chocolate Raspberry Thumbprint Cookies
Ingredients
14

tbsp

softened butter (198 g)

8

oz

melted white chocolate

3 1/4

cups

all-purpose flour (400 g)

1/4

tsp

salt

3/4

cup

white chocolate baking chips

1

cup

raspberry jam

8

oz

melted white chocolate for drizzle
Instructions
Preheat the oven to 350° F (180° C) and line 2 baking sheets with parchment paper or silicone baking mats.

In a large mixing bowl, add the softened butter, melted white chocolate, and salt. Beat using an electric mixer until they are well combined. Mix in the flour, about 1 cup at a time, using your hands to mix once the dough becomes very thick. It should become crumbly, but you should still be able to bring it together into one large mass.

Divide the dough into 24 equal portions. Roll each portion into a ball and place on the baking sheets, then use your thumb to press a well down into the center of each cookie. Bake at 350° F (180° C) for about 8-10 minutes, or until the edges of the cookies become just very slightly browned. If the thumbprints have filled in, use the end of a spoon to press them back down.

Melt the raspberry jam until it is liquefied and smooth. Spoon about 2 teaspoons of jam into each thumbprint. Avoid moving the cookies while the jam is cooling.

After the cookies have cooled for about 30 minutes, melt the white chocolate for the drizzle and spoon it into a pastry bag or plastic bag with the end snipped off to create an opening of about 3-4mm. Pipe the drizzle onto each cookie, then allow the chocolate to cool for a couple of hours before moving. You can store the cookies at room temperature for about 7 days.