Jump to Recipe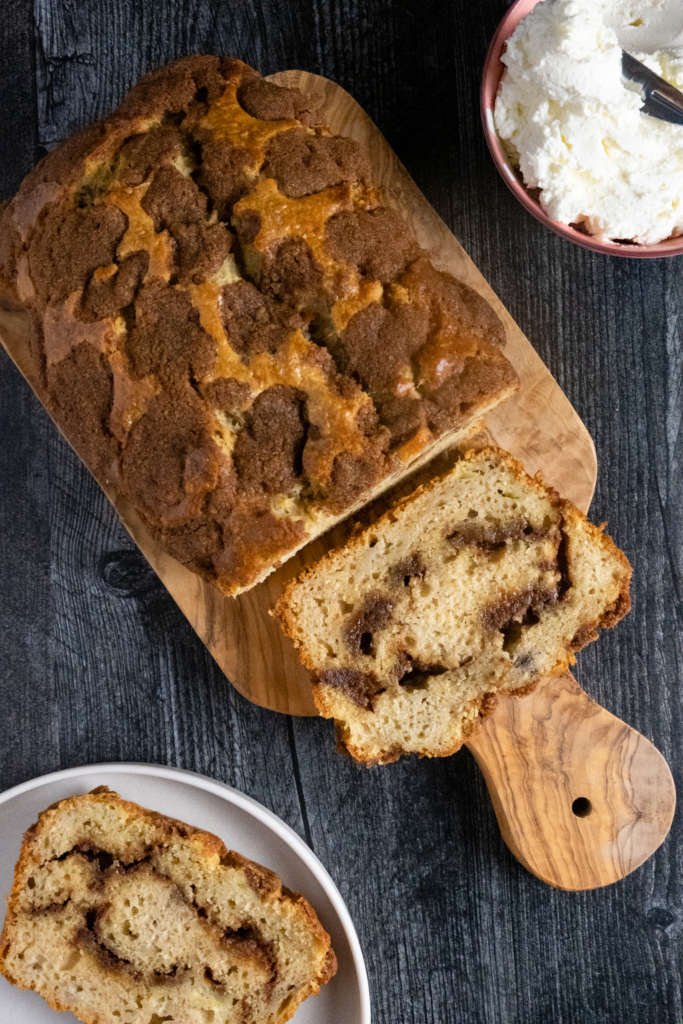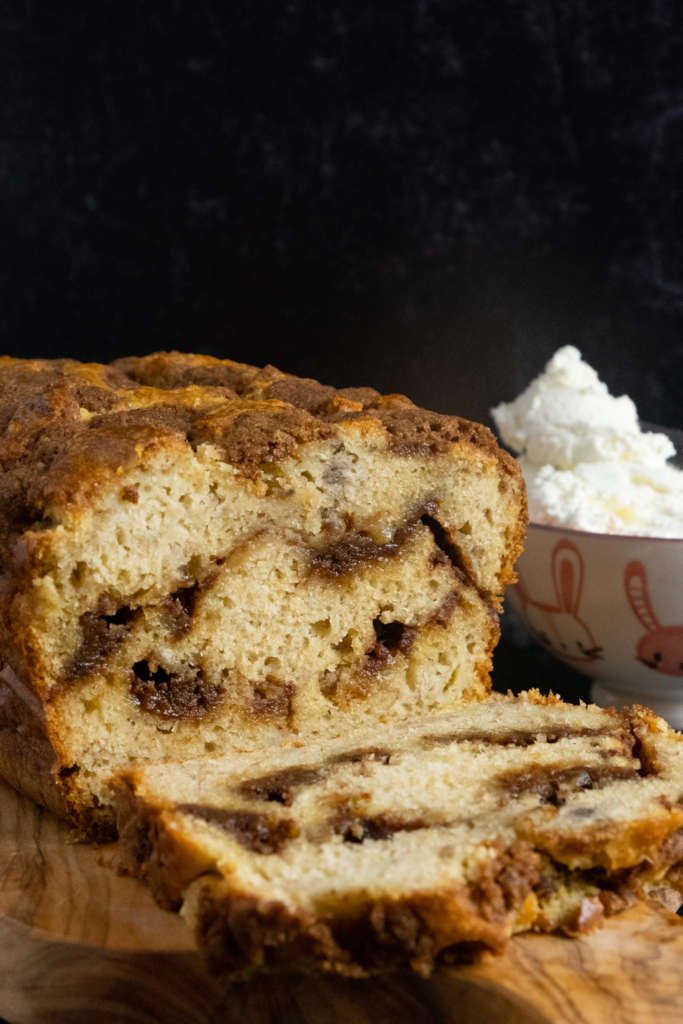 I could hardly make it through this year without posting a banana bread recipe, could I? Somehow, this is actually the first banana bread I've baked all year. Layed with cinnamon roll filling and topped with crunchy cinnamon sugar, this banana bread is perfect for fall.
Notes on Ingredients
Oil – I used sunflower oil for this recipe. It is my favorite oil to bake with because it has a pleasant, neutral flavor.
Nutmeg – I recommend keeping whole nutmegs and grating them using a microplane to get a stronger, fresher flavor.
Bananas – When baking with bananas, I like to use them when they are ripe, but not too dark. This is usually when they have large dark spots on the peel, but are not completely blackened. Also, when baking with fruit, I like to measure by weight rather than cups or the number of fruits. Fruits can come in such varying sizes, and when you measure by weight you can know the exact amount.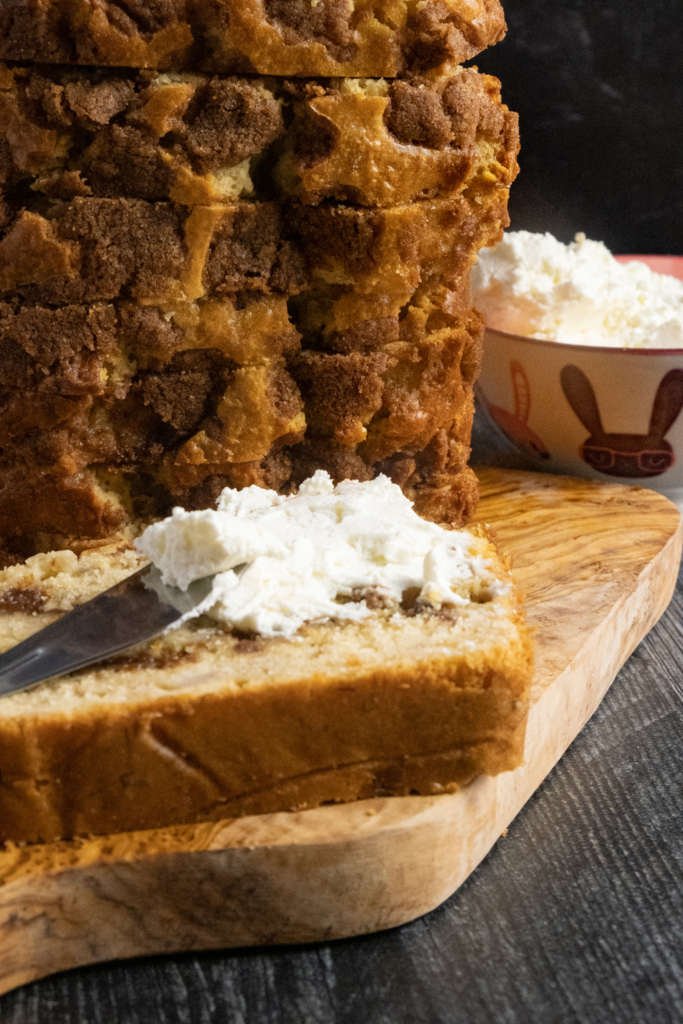 Notes on Technique
I like to use a potato masher to mash the bananas thoroughly before adding them in. When I was a kid, I was not the biggest banana bread fan because I hated finding brown chunks of banana. Using a potato masher (or better yet, a food processor) ensures that there will be fewer chunks.
I usually whisk the wet ingredients, then stir the dry ingredients in with a spoon. As with muffins, try not to overmix once the flour is added, because it will strengthen the gluten and cause the bread to be tough.
When you add the layers of cinnamon filling, break them into pieces about ½ to 1 inch wide and make them sort of flat. This way the filling will remain in a layer.
How to Make Banana Bread
Banana bread is one of the easiest things to make, and you can tweak a basic recipe to make countless variations. It also doesn't require a lot of equipment: only a few bowls, measuring cups and spoons, a whisk (or spoon) and a loaf pan. There are 5 basic steps to making banana bread:
Peel and mash the bananas.
Mix the dry ingredients (flour, sugar, baking powder, and spices.)
Mix the wet ingredients (oil, vanilla, and eggs, and bananas.)
Combine all of the ingredients.
Pour into the loaf pan and bake!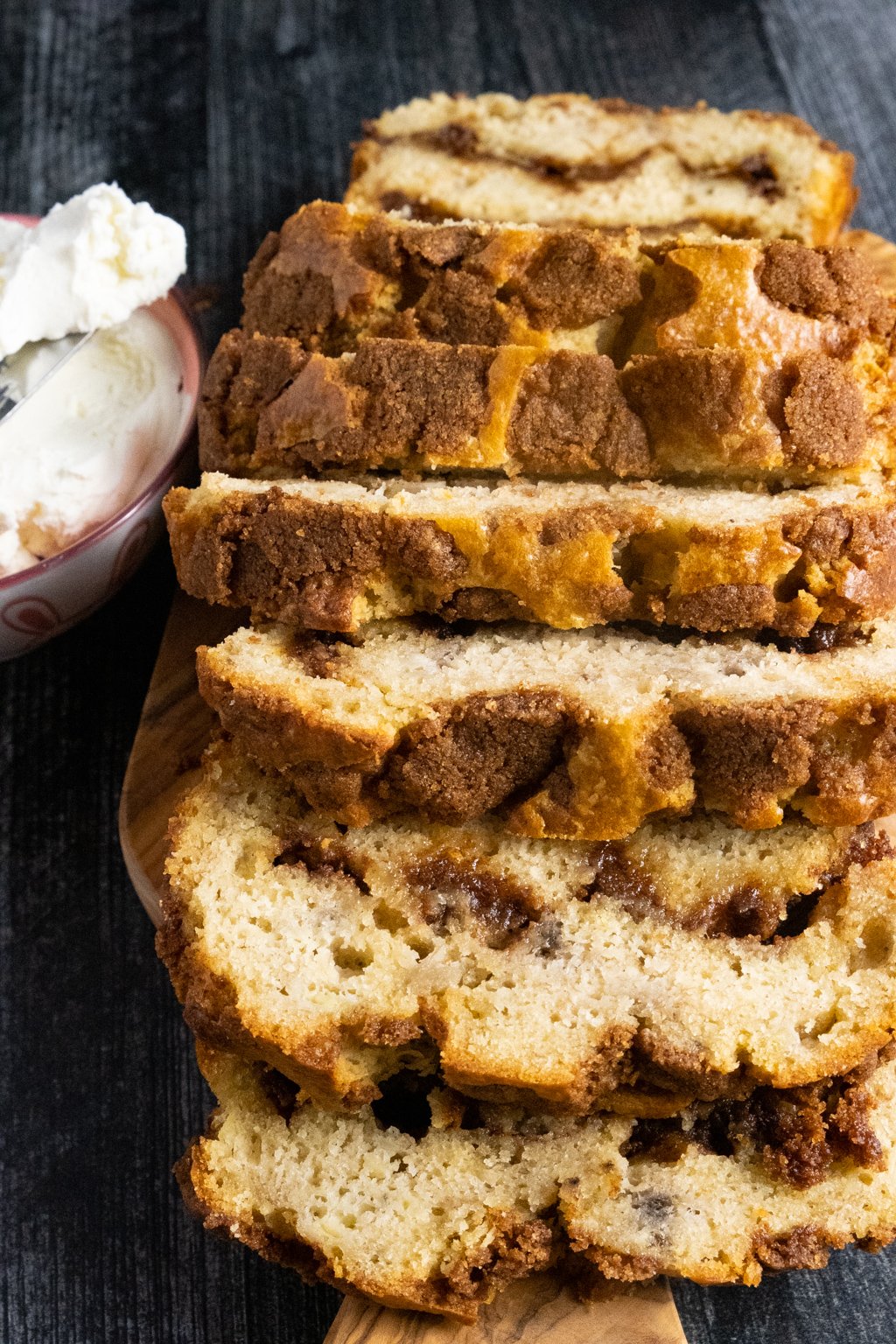 Cinnamon Roll Banana Bread
Ingredients
For the Cinnamon Filling:
6

tbsp

melted butter (85 g)

1

cup

brown sugar (200 g)

2

tbsp

cinnamon powder

pinch

salt

1/3

cup

flour (40 g)
For the Banana Bread
2

cups

all purpose flour (250 g)

1/2

cup

brown sugar (100 g)

2

tsp

baking powder

1/2

tsp

salt

1/2

tsp

nutmeg

1/2

cup

oil (120 ml)

2

large

eggs

1

tbsp

vanilla extract

400

g

ripe bananas, mashed (about 1 1/3 cup) (3-4 medium bananas)
Instructions
Preheat your oven to 350° F (180° C) and line an 8 or 9-inch loaf pan (6-8 cup or 2 lb) with parchment paper.

First, make the cinnamon filling. Melt the butter in a medium bowl, then use a fork to stir in the brown sugar, cinnamon, salt, and flour. Set this aside.

Make the banana bread: next, in another medium bowl, add the flour, brown sugar, baking powder, salt, and nutmeg and stir together. In a third medium bowl, mash the bananas.

In a large mixing bowl, whisk together the oil, eggs, vanilla, and mashed bananas. Once these are well combined, add the flour mixture, stirring only until it is incorporated. Avoid overmixing.

Pour 1/3 of the banana bread batter into the pan. Take 1/3 of the cinnamon filling and break it into flat pieces, then layer it over the batter, nearly covering it. Repeat this layering twice more, ending by sprinkling the last 1/3 of the cinnmon filling on top.

Bake at 350° F (180° C) for about 1 hr or until a toothpick or chopstick inserted into the center comes out clean. Serve with whipped cream cheese or peanut butter, and store at room temperature for no more than 3 days, or in the refrigerator for 4 days.