Jump to Recipe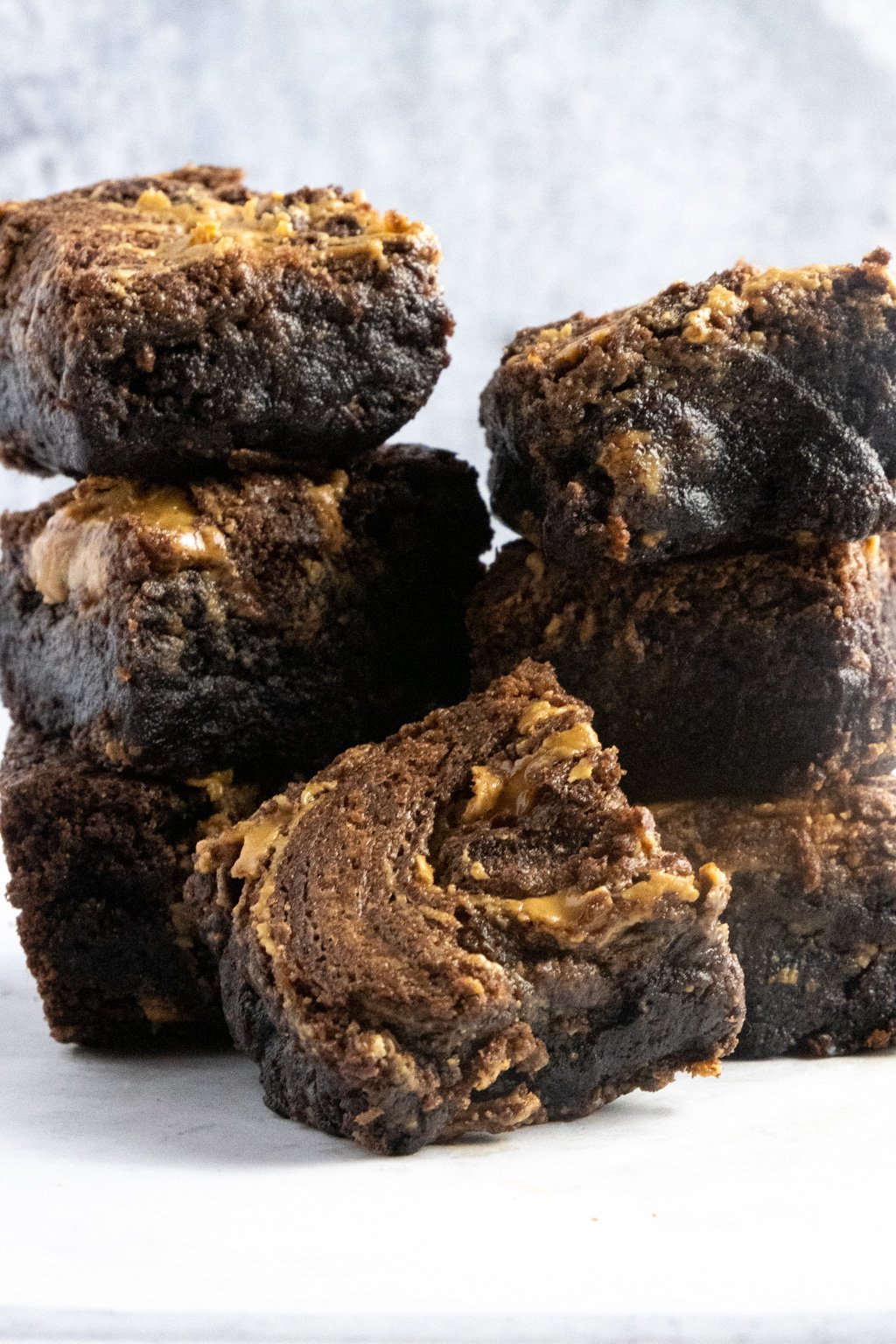 I am always trying to think of unique recipes, but sometimes you really just can't go wrong with a classic. I've been using the same brownie recipe since I was a teenager, because if something is already good, is there really any need to change it? But occasionally  I do feel like making it a little fancier. There are really endless variations on brownies. This version is incredibly simple, but the flavor combo of peanut butter and chocolate changes it dramatically.
Notes on Ingredients
Butter – I made this recipe back when I always used American butter, and it really works better with it. American butter contains a higher percentage of water, which will steam out during baking. On the other hand, European butter has more fat, all of which will remain in the brownies. When I have made this recipe with European butter, the brownies tended to turn out wet in the center. If you want to use European butter, try using 2 tablespoons less.
Sugar – The high quantity of sugar and butter in this recipe is what creates the fudgy texture. If you want to use less sugar, I don't recommend just leaving it out. It would be better to use syrupy substitutes such as agave nectar or maple syrup. Replace 1 cup of sugar with ⅔ to ¾ a cup of liquid sweetener.
Chocolate liqueur – For brownies, I like to use creme de cacao, Godiva liqueur, or chocolate vodka. Alternatively, you can substitute 2 teaspoons of vanilla extract.
Cocoa Powder – Many brownie recipes call for both melted chocolate and cocoa powder, but this one only contains cocoa, which makes it a lot simpler. I have been using Hershey's Special Dark cocoa powder, which is a Dutch process cocoa. Dutch process cocoa has a superior flavor.
Peanut Butter – To create the swirl pattern, you need to use thin peanut butter. Natural peanut butter works better for this, but you can also use thick peanut butter that has been heated in the microwave.
Notes on Technique
How to Make Brownies
Brownies are just about the easiest thing that you can bake. There are only four steps to them, and you can mix them in one bowl.
First, mix together the melted butter, sugar, and chocolate liquor or extract.
Next, mix in the eggs. Brownies are about the only recipe where I don't bother with letting the eggs come to room temperature beforehand.
Next, mix in the cocoa powder, flour, and any add-ins. These brownies include cocoa powder, so they do not require as much flour as blondies. Be careful not to overmix the flour, because it will work the gluten and become more like bread.
Lastly, pour the batter into the pan and bake. I always bake small batches of brownies in an 8×8 inch glass pan. If you use a 9×9 pan, the brownies will be thinner, and the baking time will need to be shorter. They will also cook faster if you are using a metal pan.
Fudgy Brownies vs Cakey Brownies
If you have ever baked a new brownie recipe uncertain of whether you are going to end up with fudgy or cakey brownies, this is what you should look for. Fudgy brownies, like actual fudge, will have a lot of sugar and butter. Cakey brownies, on the other hand, will have less sugar and butter, but more eggs and flour. Brownies that contain melted chocolate are more likely to be fudgy as well, though this is not necessarily always the case.
Peanut Butter Swirl Brownies
Ingredients
2

cups

sugar (400 g)

1/8

tsp

salt

1

cup

butter, melted (227 g)

1

tbsp

chocolate liqueur (or 2 tsp vanilla)

3

large

eggs

1/2

cup

cocoa powder (50 g)

1

cup

flour (125 g)

3/4

cup

natural creamy peanut butter (180 ml)
Instructions
Preheat the oven to 350° F (180° C.) Prepare an 8x8 inch (20 cm) baking pan with parchment paper or cooking spray.

In a large mixing bowl, stir together the salt and sugar. Add the melted butter and liqueur or extract and stir until well combined. Next, add the eggs one at a time, stirring until each one is fully incorporated.

Next, add the cocoa powder and stir until it is well combined. Add the flour last, stirring until it is just combined, being careful not to overmix.

Pour the batter into the prepared pan. Place spoonfuls of the peanut butter evenly over the surface of the batter, then use a knife or toothpick to create a swirl pattern.

Bake at 350° F (180° C) for 45-50 minutes, or until the center of the brownies no longer wobbles. Store at room temperature for 3-4 days, or a little longer in the refrigerator.