Jump to Recipe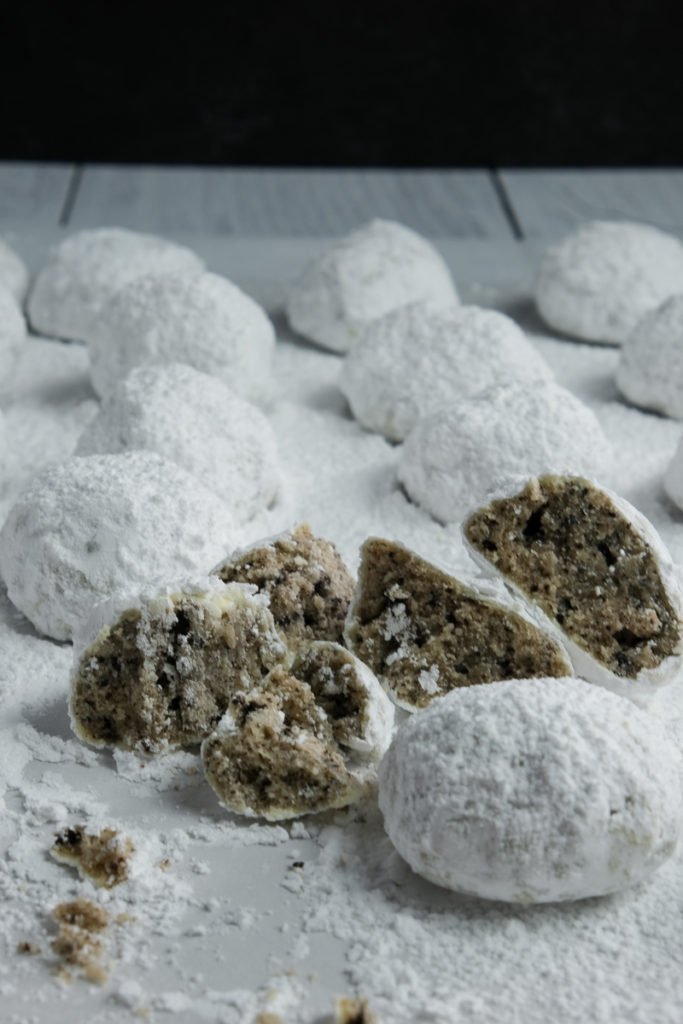 Today's recipe is a cookie recipe, but it was a little hard to figure out what to call them! These types of cookies seem to go by at least a dozen names – Italian wedding cookies, Mexican wedding cookies, Danish wedding cookies, Greek wedding cookies, or Russian tea cakes. These names seem to indicate a country of origin, but these are misleading. You would most likely not find this type of cookie in a traditional Russian or Italian cookbook. They seem to most resemble Spanish polvorones and Greek kourabiedes, and do bear a resemblance to Italian anginetti and Danish pebernodder.
There are also plenty of country-unspecified names for them – just generic wedding cookies, butter balls, pecan balls, meltaways, and snowballs. The last seems to be the most appropriate, considering these cookies are made more often during the holidays than they are at weddings. Yet here I was, making them during lockdown in April, because they needed few ingredients and were very simple. They are just a nut shortbread cookie that you can roll into balls instead of flattening and cutting. This recipe is a variation on your usual snowball cookie, using white chocolate to replace some of the butter, and crushed oreos in place of the nuts.
Notes on Ingredients
White Chocolate – I used Callebaut white chocolate callets, which you can order online. While I would normally advise not to use anything but real white chocolate, theoretically white baking chips, melting wafers, or almond bark could work in this recipe. They are mostly palm oil and sugar, and so should adequately replace butter and sugar as well as white chocolate does.
Notes on Technique
I melted the white chocolate in this recipe in the microwave. It is safer to use a double boiler, or a heat-proof bowl placed over a pan of simmering water. If you do decide to melt chocolate in the microwave, cook it in bursts of 15 seconds on high wattage, stirring in between bursts.
I used a hand mixer to make sure the butter and white chocolate  were well combined. After that step, you can use a spoon or even your hands to incorporate the rest of the ingredients.
Cookies and Cream Snowballs
Ingredients
1/2

cup

butter (113 g)

6

oz

white chocolate (170 g)

1 3/4

cup

all-purpose flour (215 g)

1/4

tsp

salt

2/3

cup

crushed oreos (80 g, about 7 oreos)

1

cup

confectioner's sugar (120 g)
Instructions
Preheat the oven to 350° F (180° C.) Crush the oreos in a food processor or by hand. Measure the flour out into a separate bowl and stir in the salt. Prepare 1-2 baking sheets with parchment paper.

Melt the white chocolate. Let it cool for a couple minutes, then add it to a large bowl, along with the butter. Use a mixer or hand mixer to beat the butter and white chocolate until they are well combined, and there are no lumps.

Add the flour mixture and the crushed oreos, and stir with a spoon or by hand until all of the ingredients are incorporated. Avoid overmixing.

Shape the cookie dough into about 30 equally sized balls and space them evenly on the baking sheets. Bake the cookies at 350° F (180° C) for about 11-12 minutes.

Let the cookies cool for 5-10 minutes, then place them in a bag or tin with the 1 cup powdered sugar. Gently toss them to coat them in the sugar.