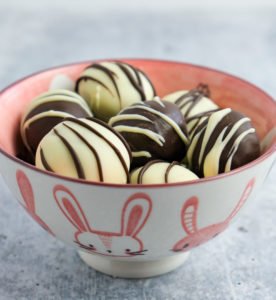 Making chocolates is not a regular thing for me, so every time I do it, I am surprised once again by how easy they can be to make. Basic truffles are uncomplicated, and these take only 4 ingredients. They are made by melting a mixture of white chocolate and cookie butter, shaping it into balls and freezing them, then coating them in another layer of melted chocolate. Cookie butter hardly needs any embellishment to be delicious!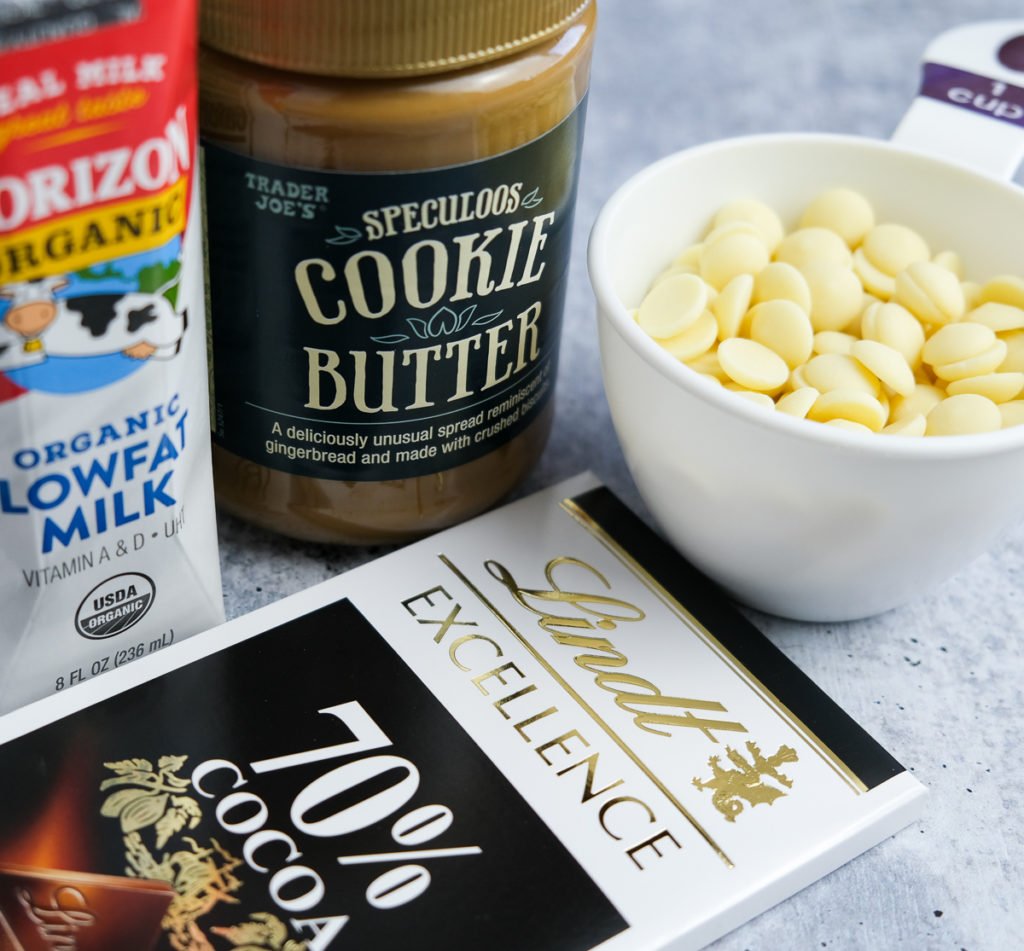 Notes on Cookie Butter Truffle Ingredients
White Chocolate – You can use white chocolate baking pieces in this recipe, but if you have real white chocolate, definitely use it! The taste and texture of real white chocolate is far superior. I used Callebaut white chocolate callets, which I always order online.
Chocolate – White, milk, and dark chocolate all go well with cookie butter. I really can't decide which I prefer!
Cookie butter – I used Trader Joe's, which can also be ordered online.
Milk or cream – The purpose of the milk in this recipe is to soften the white chocolate and cookie butter filling. Because milk contains more water, it will thin the mixture more quickly than cream. Use 1 tbsp milk or 2 tbsp cream.
Notes on Technique
It is easier to melt chocolate in a double boiler or a heatproof bowl placed over a pan of simmering water, but it is possible to use a microwave. If using high wattage, microwave the chocolate for no more than 15 seconds at a time, then stir before microwaving again.
If the chocolate seizes, you can fix it by heating a few tablespoons of cream to simmering, then adding it to the chocolate 1 tbsp at a time. In this recipe, however, adding the extra cream will cause the truffles to be softer, which is why it is better to melt the chocolate on the stove.
It is much easier to shape and work with the filling while it is cold. After melting the white chocolate and cookie butter and mixing it until it is smooth, chill it in the refrigerator for an hour and a half, until it is firm enough to roll into balls. Then put the balls in the freezer, so that they will not melt when you dip them in the hot chocolate coating.
When coating the truffles, use a fork to lower the filling into the melted chocolate, then to move it back to the pan. Many truffle tutorials show people using a second fork to push the truffle off the first fork, but I can't seem to master that technique… I find it a lot easier to set the fork, with the truffle on top, onto the baking sheet, then gently slide the fork out from in between.
If you want to decorate with a drizzle, melt some additional chocolate or almond bark and put it inside a piping bag (or a plastic bag) with the tip snipped off to create a narrow opening. This YouTube video shows a very good tutorial on decorating with a chocolate drizzle: Wrap it in Sugar Chocolate Strawberries.
Cookie Butter Truffles
Ingredients
For the Filling:
4

oz

white chocolate (3/4 cup callets)

4

oz

cookie butter (about 6 tbsp)

1-2

tbsp

milk (or 2-3 tbsp cream)
Instructions
Cookie Butter Filling
Add the 4 oz white chocolate, 4 oz cookie butter, and tbsp milk to a double boiler and heat, stirring often, until melted. Alternatively, you can use the microwave, heating in spurts of 15 seconds on high, stirring in between, until the mixture is melted and smooth.

Pour the filling into a bowl and cover, then chill in the refrigerator for 1 1/2 hours.

Cover a baking sheet with parchment paper. Scoop out the filling into 20 equal portions, rolling each into a ball. Place them evenly spaced on the baking sheet.

Chill the balls of filling in the refrigerator for an additional 30 minutes, or freeze for 15 minutes.
Chocolate Coating
Melt 4 oz chocolate of your choice using the double boiler or microwave. If using the microwave, heat in 15 second spurts as you did the white chocolate.

Once the chocolate is melted, take out the baking sheet with the filling. Using a fork, lower each ball of filling into the chocolate, making sure it gets coated on all sides. Then carefully place the truffle back onto the baking sheet, gently pulling the fork out from underneath.