Jump to Recipe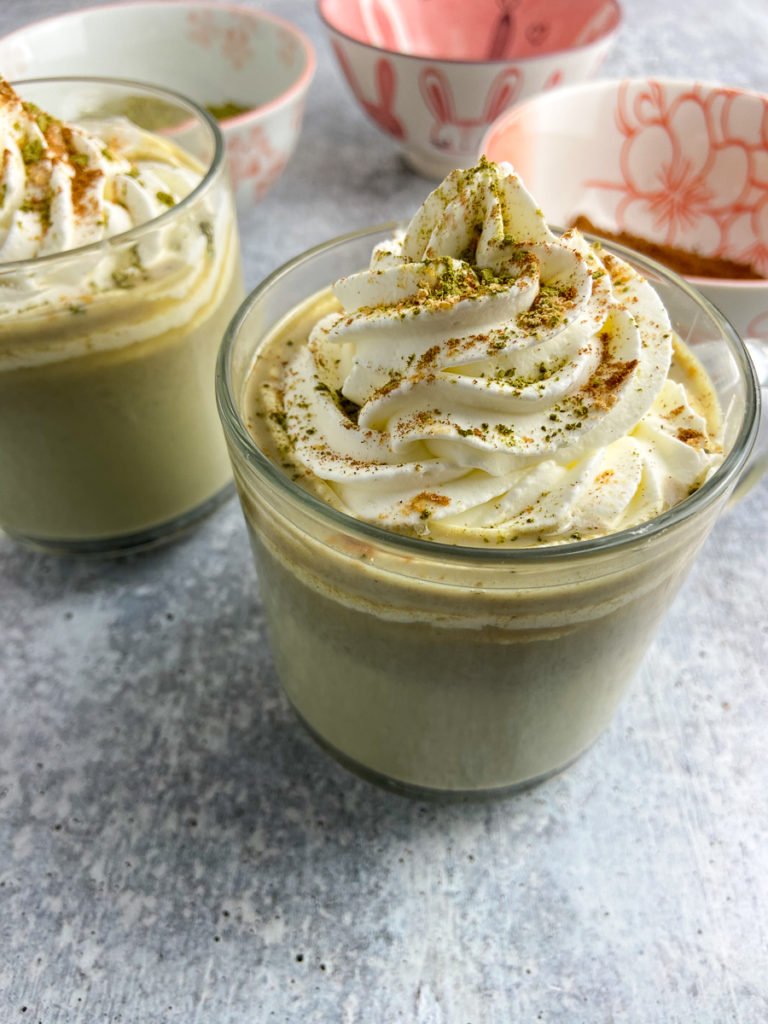 My first introduction to Japanese confectionery was when my Japanese professor returned from a trip to visit her family and brought back nama yatsuhashi for the class. Yatsuhashi are a regional specialty of Kyoto and a traditional souvenir, and nama yatsuhashi (the unbaked variety) are triangles of rice dough flavored with kinako and cinnamon, and usually filled with red bean paste. They are also often flavored with matcha, and this is how I learned to love the flavor pairing of cinnamon and matcha. This yatsuhashi inspired hot chocolate is a blend of green tea and white hot chocolate for sweetness, with cinnamon and kinako added for a more complex flavor. I topped my hot chocolate with whipped cream and a mix of the three powders, but it would also be lovely with toasted marshmallows.
Notes on Ingredients
Matcha – Good quality matcha is bright green in color. For more information on how to choose a good matcha grade, check out Oh How Civilized's guide to matcha for lattes. https://www.ohhowcivilized.com/best-matcha-brands
Kinako – Roasted soybean flour. It can be found at Asian supermarkets or ordered online. I wanted the kinako flavor in this recipe, but too much of it creates a slimy texture, so I stuck with only ¼ a teaspoon in the hot chocolate itself. For more kinako flavor, you can sprinkle some on top.
White Chocolate – Make sure that you're using real white chocolate. Most white chocolate chips are made from other oils, but for true white chocolate, cocoa butter should be listed among the first of the ingredients. The white chocolate is also sufficiently sweet to make sugar unnecessary in this recipe.
Salt – I know it may seem weird to add salt to hot chocolate, but hot chocolate mix usually has salt in it. A little salt helps to balance out the sweetness without actually tasting salty.

Notes on Technique
The most important trick to this recipe is to make sure the two parts are mixed well on their own before combining them.
The matcha is blended best by pouring hot water over the matcha in a wide bowl and mixing with a whisk, a milk frother, or a matcha whisk, if you have one.
The white hot chocolate is blended best by heating milk until almost boiling, then pouring it over finely chopped white chocolate, letting it sit 30-60 seconds before stirring.
Cinnamon Matcha Hot Chocolate
Ingredients
Cinnamon Matcha Hot Chocolate
2 1/2

tsp

matcha

2

tsp

cinnamon

1/4

tsp

kinako (roasted soybean powder)

4

oz

white chocolate

1

pinch

salt

1/2

cup

water (120 ml)

2 1/2

cups

milk (600 ml)
For Serving (Optional)
whipped cream

matcha

cinnamon

kinako
Instructions
Add the matcha, cinnamon, and kinako to a wide, medium-size bowl and stir them together. If you don't have a matcha whisk or a handheld frother, you can use a sieve to sift the powders together to ensure there are no lumps.

Chop the white chocolate and place it in another large bowl. Add the pinch of salt.

Heat the milk until it is just on the edge of boiling, then pour it into the bowl with the white chocolate. Let it sit for 30-60 seconds before stirring.

Heat the water until boiling, then pour it into the bowl with the matcha mixture, using the matcha whisk, frother, or whisk to mix it until there are no lumps and the tea is frothy.

Make sure all of the white chocolate has melted, then pour the tea mixture into the hot chocolate. Use a long whisk (not the matcha whisk) to mix the two liquids together until they are well combined.

To serve, you can top with whipped cream and sprinkle with the matcha, cinnamon, and kinako powders.