Jump to Recipe
While I've never been a fan of fruitcake (especially with those red and green cherries,) I am a big fan of buckwheat. Mostly I had it in pancakes and occasionally soba noodles, and I had never really tried it in anything else until I set out to make a recipe for some kind of buckwheat bread or cake. Buckwheat has such a strong flavor, it overpowers anything subtle, so to give this cake a fuller flavor, I added molasses, dried cherries soaked in amaretto, and a wintry mix of spices.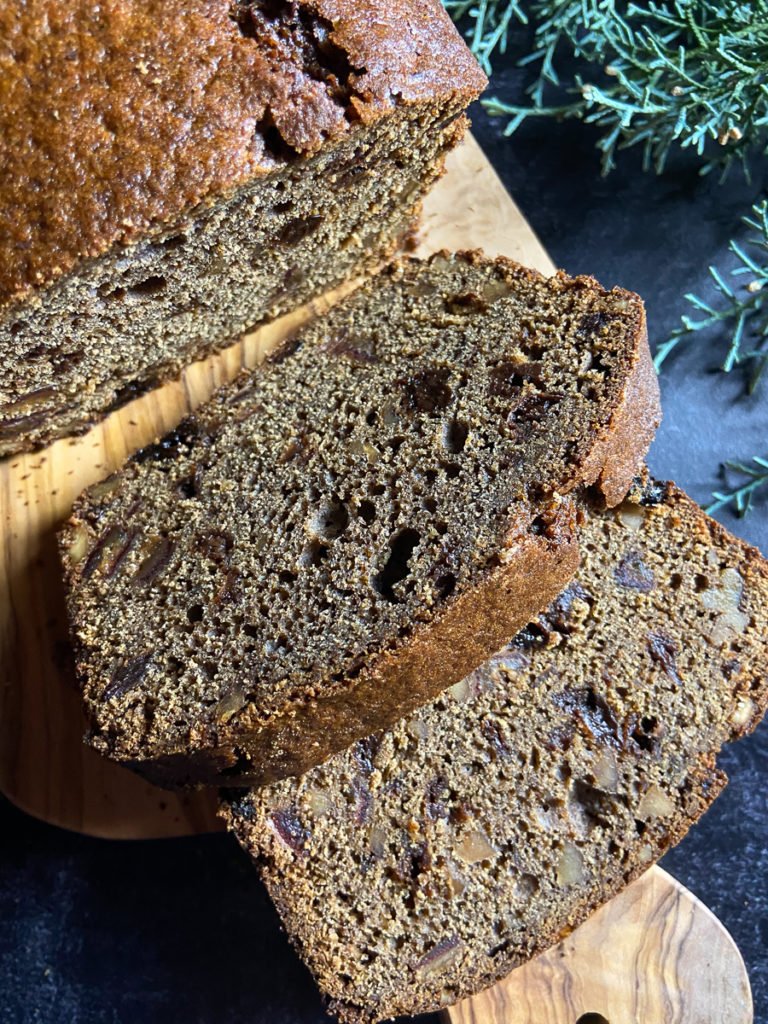 Notes on Ingredients
Dried Cherries – I used sour cherries, though they were sweeter once they had soaked in the Amaretto. Sweet cherries might actually work better in this recipe. I don't recommend using fresh cherries because they will add water.
Dried Dates – I didn't try substituting fresh dates, but they might work too.
Amaretto – I substituted white rum in this recipe once. The results were still good, but obviously no flavor was added. You might also try spiced rum or Grand Marnier. The cherry liqueurs that I had on hand were so medicinal-tasting that I hesitated to use them, but I am curious whether or not the end result might have been good, once the liqueur was mixed with the other flavors.
Walnuts – Toast the walnuts before adding them to the batter in order to bring out their flavor.
Molasses – If you don't mind a strong honey taste, you could try substituting it for the molasses.
Oil – I usually prefer a light tasting oil in baking, but because of the strong flavors in this recipe, I was able to sneak in some vegetable oil that I needed to use up.
Buckwheat Flour – I used Bob's Red Mill.
Notes on Technique
Allow the fruit to soak in the alcohol for a long time so that it will become softer and will absorb the liquid. Six hours should be enough time, or you can also let it sit overnight in the refrigerator.
A few times when I made this recipe, I sifted in the flour, and a few other times I simply poured it in. When I sifted it, the texture of the cake turned out slightly lighter, but one of my sieves had too fine a mesh, and some of the buckwheat couldn't make it through. If your sieve is too fine to sift buckwheat, don't worry about sifting, because it does not make that big of a difference in this recipe.
I don't recommend storing this cake at room temperature. Instead, store it in the refrigerator for up to 4-5 days.
Buckwheat Fruitcake with Cherries, Dates, and Walnuts
Ingredients
1

cup

dried cherries (4 oz, 115 g)

1/2

cup

dried dates (70 g, 2.5 oz)

1/4

cup

Amaretto (60 ml)

1/2

cup

walnuts

1/2

cup

sugar (100 g)

3

tbsp

molasses

2

large

eggs

1/3

cup

oil (80 ml)

1

cup

buckwheat flour (120 g)

1

cup

all purpose flour (120 g)

2

tsp

baking powder

1/2

tsp

salt

1

tbsp

cinnamon

1

tsp

cloves

1/2

tsp

nutmeg

1/4

cup

milk (60 ml)
Instructions
Chop the dried cherries and dates. Move them to a wide bowl and pour the amaretto over them. The liquid should cover the fruit about 3/4 of the way. Let it soak at room temperature for at least 6 hours, or overnight in the refrigerator, stirring ocassionally.

Preheat the oven to 350° F (180° C.) Line a 9 inch (or 26 cm) loaf pan with parchement paper, or grease and flour it. Chop the walnuts and toast them in the oven on a baking sheet for 10 minutes.

In a medium bowl, combine the buckwheat flour, all-purpose flour, baking powder, salt, cinnamon, cloves, and nutmeg. Stir them together with a spoon.

Add the sugar, molasses, eggs, and oil to a large bowl and mix until they are well combined.

Sift in half of the flour mixture and whisk until it is incorporated. Add the milk and whisk until it is also combined, then sift in the rest of the flour and whisk again.

Add the fruits with Amaretto and the walnuts, then fold them into the batter using a spatula.

Pour the batter into the loaf pan and bake at 350° F (180° C) for around 60-70 minutes, until a toothpick or chopstick inserted into the center of the cake comes out clean.