Jump to Recipe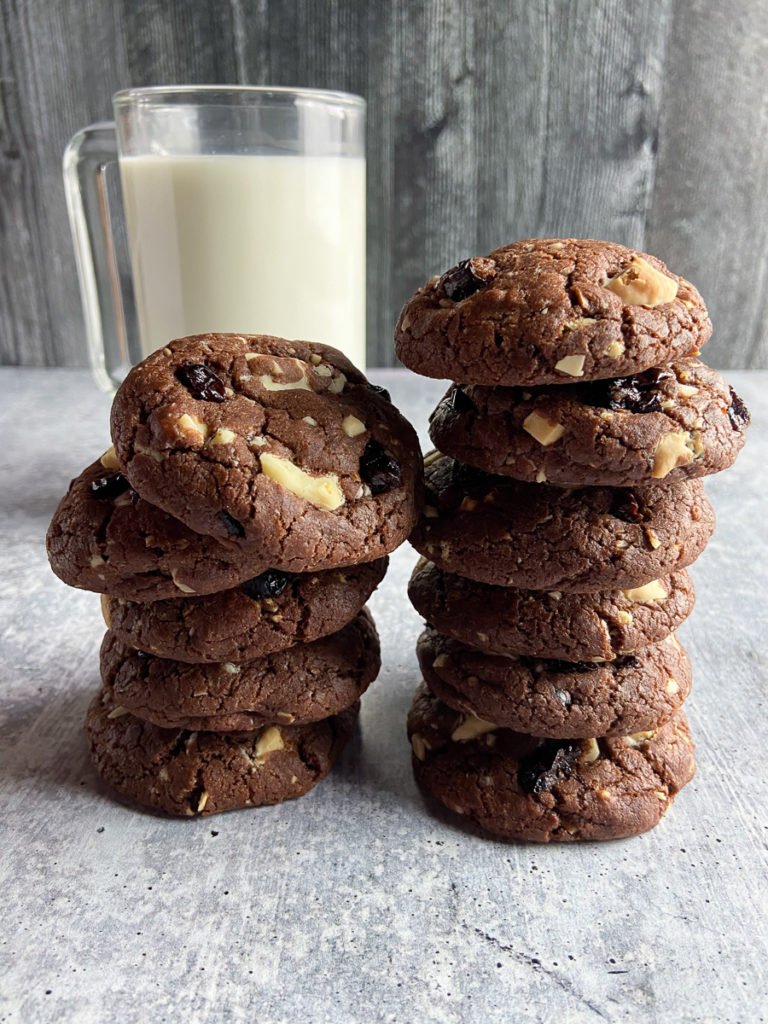 Originally I had planned to make a low-sugar chocolate cookie recipe using almond butter, but somewhere along the line these turned into chocolate cookies that I actually enjoyed eating. These cookies are chocolatey and rich, but the addition of almonds, white chocolate, and dried cherries gives them a fruitier, more complex flavor.
Notes on Ingredients
Chocolate – I tried both a 70% dark chocolate bar and Ghiardelli bittersweet chocolate chips, and both worked. Obviously, the better quality chocolate you use, the better the cookies will turn out.
Almond Extract – I used the extract because I wanted a strong almond flavor in these cookies, but some may feel that it takes away from the chocolate flavor. Adding the extract is entirely optional.
Cocoa Powder – Using both chocolate and cocoa powder contributes to these cookies' texture and flavor. The cocoa powder adds more chocolatey flavor without adding fat and changing the texture.
Dried Cherries – Sweet dried cherries, like Bing, will work best in this recipe.
Almonds – I used slivered almonds in this recipe because they were easier to chop quickly.
White Chocolate – Make sure to use real white chocolate made with cocoa butter and milk solids, not the white baking pieces or white coating that is usually made with palm kernel oil instead.
Notes on Technique
Melt the chocolate and butter in a double boiler or in a bowl placed over a pot of simmering water. This will help prevent the chocolate from boiling and burning.
Make sure the chocolate has cooled down to no warmer than 120 F before adding in the eggs, to avoid scrambling them.
Make sure that you are measuring the flour correctly. The best way to measure is to use a kitchen scale. When cookies have too much flour, they will not spread out as much and they will lose the crinkle on top.
Once everything is mixed together, the cookie dough should still look very wet, but it shouldn't stick to your hands. Divide the dough into 30 equally sized pieces and roll them into balls. If you roll the balls in sugar, it should help the crinkles form. Move them to the parchment paper and flatten each one a little to promote spreading.
Bake the cookies at 350 F for about 9-10 minutes. It may take a little more or less time, depending on your oven and the position of the rack. Right after taking them out, the cookies should have spread out and the tops should have crinkled, but should still be gooey in the centers. At first they will break apart very easily, but will firm up significantly as they cool.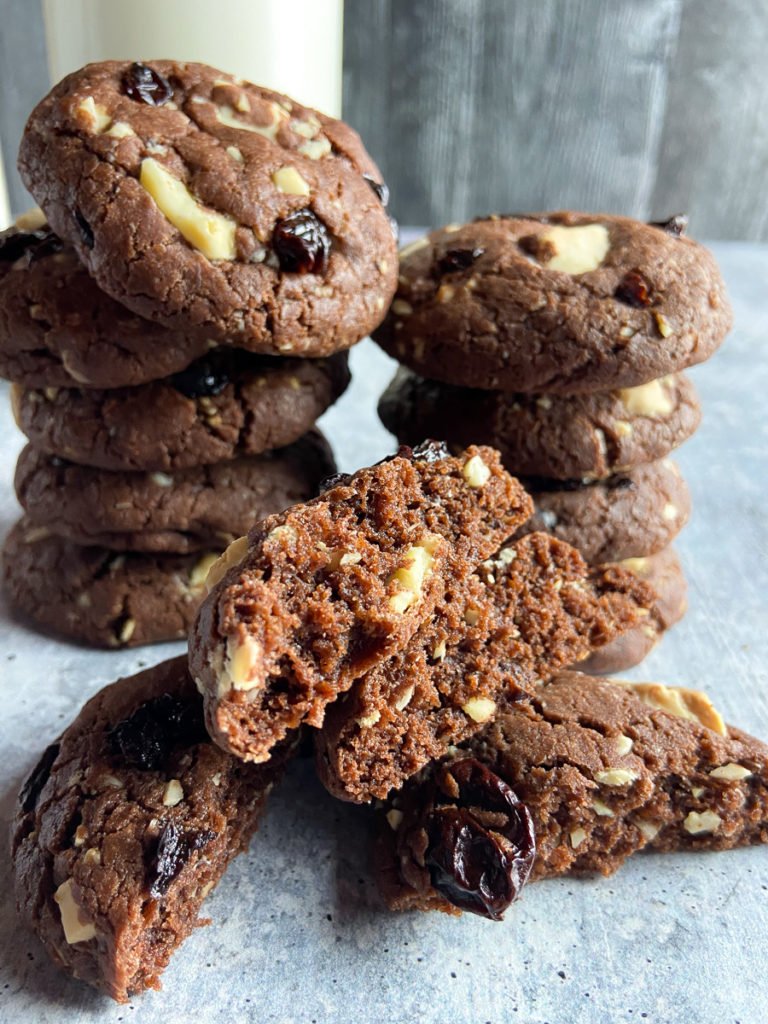 Cherry Almond Brownie Cookies
Ingredients
6

oz

chocolate (160 g, about 1 cup)

1/2

cup

butter (112 g)

chopped

1

cup

sugar (200 g)

1/2

cup

brown sugar (100 g)

1/4

tsp

almond extract

2

large

eggs

2

cups

all purpose flour (240 g)

1/4

tsp

baking soda

1/4

tsp

baking powder

1

tbsp

cocoa powder

3/4

cup

chopped slivered almonds (40 g)

1/2

cup

chopped dried cherries (100 g)

1

cup

white chocolate chunks (6 oz, 230 g)
Instructions
Preheat the oven to 350° F (180° C.) Prepare two or three baking sheets with parchment paper.

Measure the flour, baking soda, baking powder, and cocoa powder into the same bowl and mix together with a spoon.

Using a double boiler or a heat-proof bowl placed over a saucepan of simmering water, melt the chopped butter and chocolate, stirring constantly until it is smooth.

Let the chocolate cool a little, then add it to a large mixing bowl along with the sugars and almond extract. Mix with a spoon.

Add the eggs one at a time, mixing until each one is fully combined.

Add the flour mixtue and stir until it is fully incorporated. The dough should still look somewhat wet, but it shouldn't stick to your hands.

Add the chopped almonds, white chocolate, and dried cherries, and stir until the add-ins are dispersed evenly throughout. Avoid overmixing.

Shape the dough into 30 balls. After placing them on the baking sheets, use your hands to flatten them a little.

Bake at 350° F (180° C) for 9-10 minutes. Immediately after taking them out of the oven, the cookies should break apart easily and still be a little gooey in the centers. They will harden as they cool.