Jump to Recipe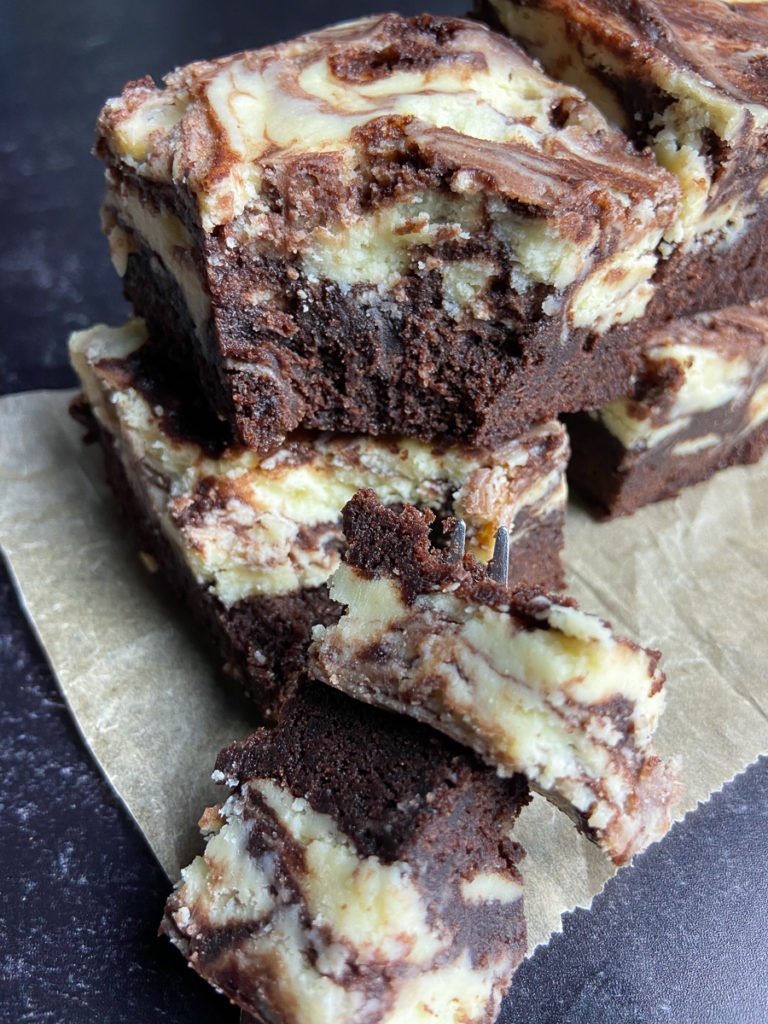 Brownies are the first thing I ever learned to bake. My mom's brownie recipe was also the first recipe I ever memorized, and while I've made other brownie recipes, I always go back to the same one. I've probably made them at least once a month since I was 15 or 16 years old. They've always been something that seemed to take minimal effort after a long day of work or school, but maybe a little too easy to bring as a dessert to a party. This version is based on the same recipe, but is fancied up by adding a marbled layer of white chocolate cheesecake.
Notes on Ingredients
Chocolate Liqueur – This gives the brownies a little extra flavor. I used to use creme de cacao, but lately I've come to prefer chocolate vodka. Bailey's or cookies and cream flavored liquor also works well. The original recipe called for vanilla extract, so it will always work fine if you don't have anything else on hand.
Cocoa Powder – The original recipe is adapted from a Hershey's recipe, so I've always used Hershey's cocoa powder in these. Lately I prefer to use Hershey's special dark. While Dutch processed cocoa has a better flavor, it does really weird things to the tops of these brownies, so I don't recommend using it here. I also tried using chocolate, but decided I prefered the swirl that can be made with a thinner batter using only cocoa.
White Chocolate – For the sake of the flavor, make sure that you are using real white chocolate made with cocoa butter. Many chips and even bars that appear to be white chocolate are actually white coating made from another oil, usually palm kernel oil. White chocolate that has a yellow tint is even better, because that means it hasn't been bleached.
Make sure the melted butter is no longer hot before mixing in the eggs, to avoid scrambling them.
Mix in the eggs before the cocoa. There have been times when I've tried it the other way around, and it always creates lumps.
Chocolate can be melted in the microwave, but you have to be vigilant. If you are using a microwave with high wattage, cook the chocolate for only 15 seconds at a time, stirring a little after each interval to test how much the chocolate has melted. After 45 seconds, if the chocolate still isn't completely melted, cook for only 7-8 seconds at a time. If you're using a bar, make sure to chop it beforehand so that it will melt faster.
There are two ways of creating the marble pattern. Because the brownie batter here is thin enough, it's possible to simply pour all of the brownie batter into the pan at once, then pour the cheesecake on top, and create the swirl pattern using a table knife. Push the knife down through both layers, slide it forward or backward and bring it back up, like rowing with an oar. The other way is to reserve some of the brownie batter, then spoon it over the cheesecake layer and use a table knife or toothpick to create a more superficial swirl.
Cover the pan with foil during baking to keep the cheesecake from browning.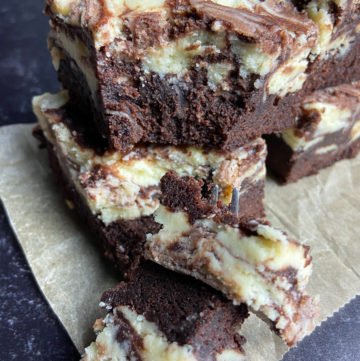 White Chocolate Cheesecake Brownies
Ingredients
For the Brownie Layer
2

cups

sugar (400 g)

1/8

tsp

salt

1

cup

butter (225 g)

melted

1

tbsp

chocolate liqueur or vanilla extract

3

large

eggs

room temperature

1/2

cup

cocoa powder, packed (60 g)

1/ 1/4

cup

flour (140 g)

1/4

cup

milk or buttermilk (60 ml)

room temperature
For the White Chocolate Cheesecake Layer
16

oz

cream cheese (450 g)

softened

pinch

salt

8

oz

white chocolate

chopped or chips

2

large

eggs

room temperature
Instructions
Brownie Layer
Preheat the oven to 350° F (180° C.) Prepare a 9 x 13 inch baking pan with parchment paper.

Add the sugar and salt to a large mixing bowl and stir with a spoon. Melt the butter and add it with the liqueur into the sugar and stir until the mixture is well combined.

Add the eggs one at a time, stirring until each one is fully incorporated.

Add 1/2 cup flour, then the milk, then the remainder of the flour, stirring after each addition only until the mixture is just combined.

Pour the brownie batter into the prepared baking pan and set aside. You can also reserve some of the batter to layer on top of the cheesecake.
White Chocolate Cheesecake Layer
Using a stand or hand mixer, whip the cream cheese until it is fluffy, 1-2 minutes on high.

Melt the chocolate using either a double boiler or a microwave. If using a microwave with high wattage, cook only 10-15 seconds at a time, stirring in between, until the chocolate is just melted.

After the chocolate has cooled a little, add it to the cream cheese and mix until it is fully combined and fluffy, 2-3 minutes.

Add the eggs one at a time, mixing until each one is fully combined.

Spoon the cheesecake batter over the brownie layer. Then, using a table knife, dip down through the batter and swirl upwards, like using a rowing oar. This should create a swirl pattern. Alternatively, you can layer reserved brownie batter on top of the cheesecake and then use a knife or toothpick to create swirls.

Cover with pan with aluminum foil. Bake at 350° F (180° C) for 60-70 minutes, until a chopstick or toothpick inserted in the center comes out mostly clean.