Jump to Recipe
While developing this recipe, I realized that I have never actually eaten cowboy cookies in my life. I'm generally not a big fan of lots of crunchy add-ins, especially after having jaw surgery – except when it comes to scones. These are made with the usual cowboy cookie add-ins: pecans, coconut, oats, and chocolate, as well as brown sugar – just enough extras to make a plain scone interesting. As an added bonus, they taste just like cowboy cookies but have half the sugar.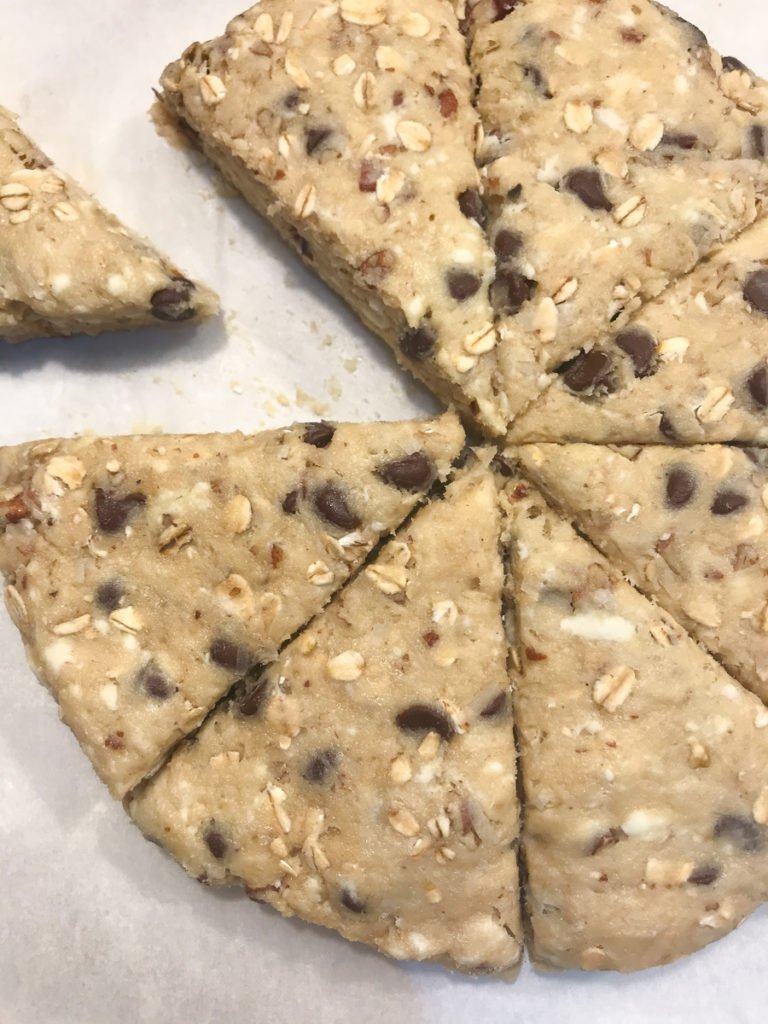 Notes on Ingredients
Flour – It's always good to make sure you measure the flour correctly, but it's especially important when baking things that are meant to be on the drier side. The egg and the half cup of cream in this recipe is just enough to bring the dough together, but if you don't have enough flour, the scones will spread out and flatten. The dough should be very firm, but not dry and crumbly. If you accidentally add the wrong amount of flour, you can fix a wet dough by adding a little more flour and a dry dough by adding more cream.
Cream – You can use milk if you don't have cream on hand, but be careful because a smaller amount of milk will thin the dough as much as a larger amount of cream.
Pecans – Toast them beforehand to add more flavor.
Coconut – I used sweetened, shredded coconut, but flaked and dessicated will also work here.
Rolled Oats – I used Bob's Red Mill extra thick rolled oats.
Notes on Technique
I used my 14 cup food processor to make these scones, in order to cut the butter quickly and keep it from getting too soft. You can also use a pastry blender, or your hands.
Don't get the butter out of the refrigerator until right when you are about to use it. You want to help it stay as cold as possible. You could also try freezing the butter and grating it into the flour. However, if you use a food processor and work fast, you shouldn't have any trouble with the scones overspreading.
Try to cut the butter into the flour quickly. If the butter starts to get soft, the dough will become greasy. If this happens, you may want to chill the scones for 15-20 minutes before baking, in order to prevent them from spreading too much.
If you are using a food processor, after mixing in the egg and cream, move the dough to another bowl to mix in the add-ins with your hands.
When the dough is ready, shape it into a ball and move it to a floured rolling surface. Press it with your hands to shape the ball into a disk with an 8-9 inch diameter. First use a long knife or a bench knife to make an 8 pointed star pattern in the center, then cut all the way to the edges to get 8 equally-sized scones.
Arrange the scones with plenty of space between them. Brush the tops with cream to increase the flavor and to give them a bit of a crunch.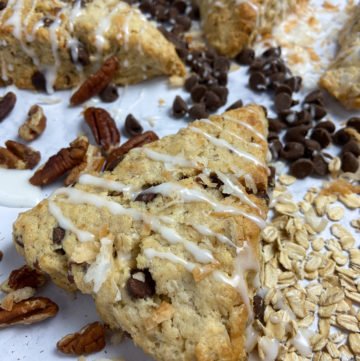 Cowboy Cookie Scones
Ingredients
2

cups

all-purpose flour (240 g)

1/2

tsp

salt

1/3

cup

brown sugar (65 g)

2

tsp

baking powder

8

tbsp

cold butter (115 g, 4 oz)

1

large

egg

1

tsp

vanilla extract

1/2

cup

cream (125 ml)

1/3

cup

shredded coconut (35 g)

1/3

cup

chopped pecans (40 g)

1/3

cup

rolled oats (30 g)

3/4

cup

chocolate chips (140 g, 5 oz)

3

tbsp

cream
Instructions
Preheat the oven to 400° F (200° C) and prepare a sheet pan with parchment paper.

Mix together the flour, salt, sugar, and baking powder. In the food processor, this should take about 5 quick pulses.

In a liquid measuring cup, measure out the cream first, then whisk in the egg and vanilla.

Chop the cold butter in pieces and add to the flour mixture. Cut the butter further into the flour using the food processor or a pastry blender, until the pieces are pea-sized. In the food processor, this should take between 10-15 short pulses.

Add the egg and cream mixture and mix or pulse until it is just combined. Avoid overmixing because it will make the scones tough.

If using the food processor, move the dough to another bowl. Add the coconut, pecans, oats, and chocolate chips all at once and mix by hand until all of the add-ins are dispersed evenly throughout the dough. Avoid overmixing.

On floured wax paper or a rolling surface, press the dough until you form a disc with an 8 inch (20.5 cm) diameter. Using a large knife or a bench knife, cut across the disc 4 times to form 8 wedges of equal size. Transfer the scones to the baking sheet and brush the tops with the 3 tbsp cream.

Bake the scones at 400° F (200° C) until they are lightly browned, about 17-22 minutes.