Jump to Recipe
Lingonberry jam is the kind of thing I have never been able to find in locally in Alabama, so when I saw it in the supermarket I knew I had to bake with it immediately. The flavor is tart and similar to cranberry, and pairs nicely with orange. First I made jam tarts with them, but the flavor was a little too strong, so I increased the ratio of shortbread to jam with these thumbprint cookies. These are quite easy to make, and the wintry fruit and spice flavor will make them perfect for including in a holiday cookie assortment.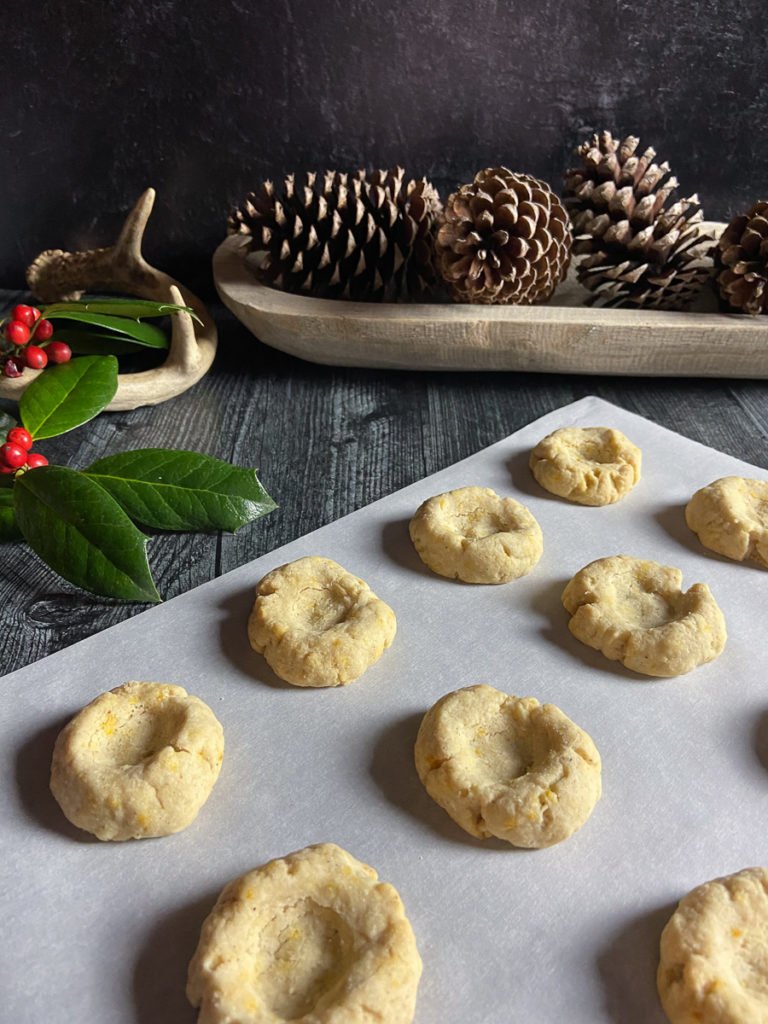 Notes on Ingredients
Lingonberry jam – If you can't find lingonberry jam, you can substitute cranberry sauce because the flavor is very similar.
Confectioners/Icing Sugar – Powdered sugar will dissolve faster than granulated. Also, in the US, powdered sugar has a little cornstarch in it – this will help to make the cookies more crumbly and to hold their shape better.
Spices – I used cardamom, ginger, and nutmeg, because these were the flavors that worked best for me, but you could also try adding cinnamon or cloves.
Substituting Cornstarch for Flour – To keep the cookies from spreading out too much and to keep the thumbprints defined while baking, some thumbprint cookie recipes include cornstarch. You could try substituting ⅓ cup of the flour with ¼ cup cornstarch.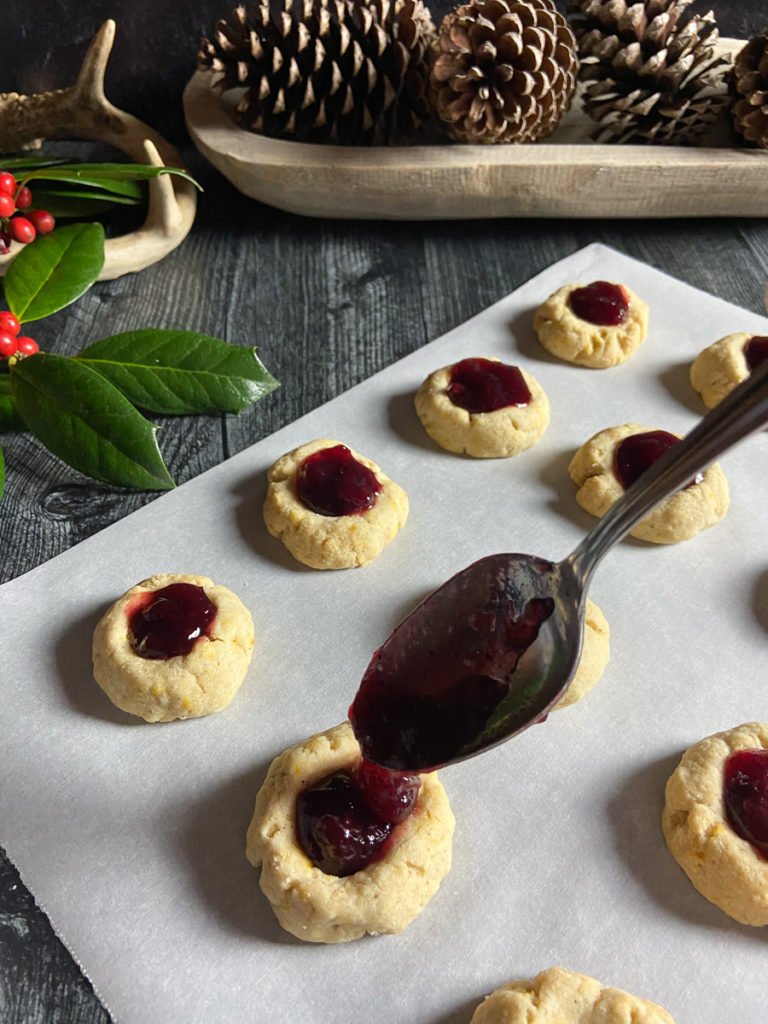 Notes on Technique
Make sure you are measuring your flour correctly. You can spoon your flour into the measuring cup and level it off with a knife, but the best way to measure flour is by using a kitchen scale.
After dividing the dough into balls, roll each one with your hands until they are smooth. This will prevent cracks from forming in the sides when you make the thumbprint.
There are two ways to add the jam to thumbprint cookies. You can add the jam before baking, or you can wait until the cookie is baked, then heat the jam and pour it into the thumbprint. I have done it both ways and don't really prefer one way over the other, but sometimes during baking the cookie can rise and push the jam out, resulting in a messy appearance. If you add the jam after baking, you can make sure the thumbprint is deep enough and that the jam doesn't leak out.
You can heat the jam by microwaving it on high, checking it every 20 seconds until the jam becomes liquid.
Chilling the dough will also help keep the thumbprints defined. You can shape the cookie, making the thumbprint, then chill in the refrigerator for 20 minutes before baking.
If you are adding the jam after baking, you can redefine the thumbprints immediately when you take the cookies out of the oven. Since they will still be very hot, don't use your fingers. A ball fondant tool works best for this, but you can also use the end of a table knife or a kitchen utensil.
You can store these thumbprint cookies at room temperature for about a week and a half.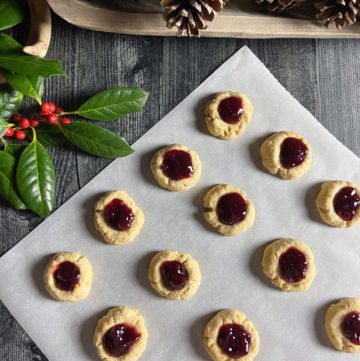 Orange Cardamom Thumbprint Cookies with Lingonberry Jam
Ingredients
2

cups

flour (240 g)

3

tbsp

powdered sugar

1 1/2

tbsp

brown sugar

1/2

tsp

salt

1 1/4

tsp

cardamom

1/2

tsp

ground ginger

1/2

tsp

nutmeg

zest of 1 large orange

10

tbsp

softened butter (140 g)

2

tbsp

cream

2/3

cup

lingonberry jam (8 oz)
Instructions
Preheat the oven to 350° F (180° C) and prepare two sheet pans with parchment.

In a large bowl, with a spoon, mix the flour, powdered sugar, brown sugar, salt, cardamom, ginger, nutmeg, and orange zest until they are well combined.

Add the softened butter and mix it into the flour by hand, until you have coarse crumbs.

Add the cream and mix by hand until the dough comes together.

Divide the dough into 24 balls of equal size. If you use a scale, each ball should weigh 18-20 g. Roll each dough ball between your hands until all cracks disappear. Arrange them on the sheet pans, then make a thumbprint in each. At this point, you can add 1/4 – 1/3 tsp of jam to each thumbprint, or you can wait until after the cookies are baked.

Bake at 350°F (180° C) until lightly browned, about 12-15 minutes. If you are adding the jam after baking, use a fondant tool or the end of a table knife to redefine the thumbprint immediately after taking the cookies out of the over.

Heat the 2/3 cup lingonberry jam in the microwave until the jam is liquid and no longer lumpy, about 45 seconds on high. Pour about 1/2 to 3/4 tsp into each thumbprint.