Muffins are my favorite breakfast when I'm in a hurry – they're even easier than a bowl of cereal, and they can sometimes be healthy too. They also make a great way to convey fruit into your stomach. These muffins combine the flavor of fresh mango with cinnamon, cardamom, and a brown sugar hazelnut crumble.
Notes on Ingredients
Cardamom – You can substitute freshly ground cardamom (and I strongly recommend it!) However, fresh cardamom has a much more potent flavor than pre-ground, so substitute ½ teaspoon for the 1 teaspoon of pre-ground. I used black cardamom, but the flavor of green cardamom would also work great with the mangoes.
Fresh Mangoes – I recommend using mangoes that are at a medium ripeness. When they get very ripe, they basically turn into mush and strings, and it's difficult to get pieces that look appetizing inside of a muffin. Mangoes that are just a little less ripe will hold together better.
Hazelnuts – It can sometimes be hard to find hazelnuts on their own, and not in a roasted/salted mix. If you don't have hazelnuts, substitute whatever nuts you have available. Pecans, macadamias, and cashews would work great.
Notes on Technique
Make sure to chop the mangoes and hazelnuts before you start mixing the batter. This will save some time.
The best way to make muffins is to mix the dry ingredients, then the wet ingredients, and then combine the two together.
When you mix in the wet ingredients, stop once you've mixed the batter so that it's about ¾ of the way combined. Throw in your add-ins, and by the time you have mixed them in, the batter will be mixed up too. This will help you avoid overmixing.
Bake muffins with muffin papers or with silicon baking cups. They hold less batter than the actual cup in the pan, and will help the tops rise higher.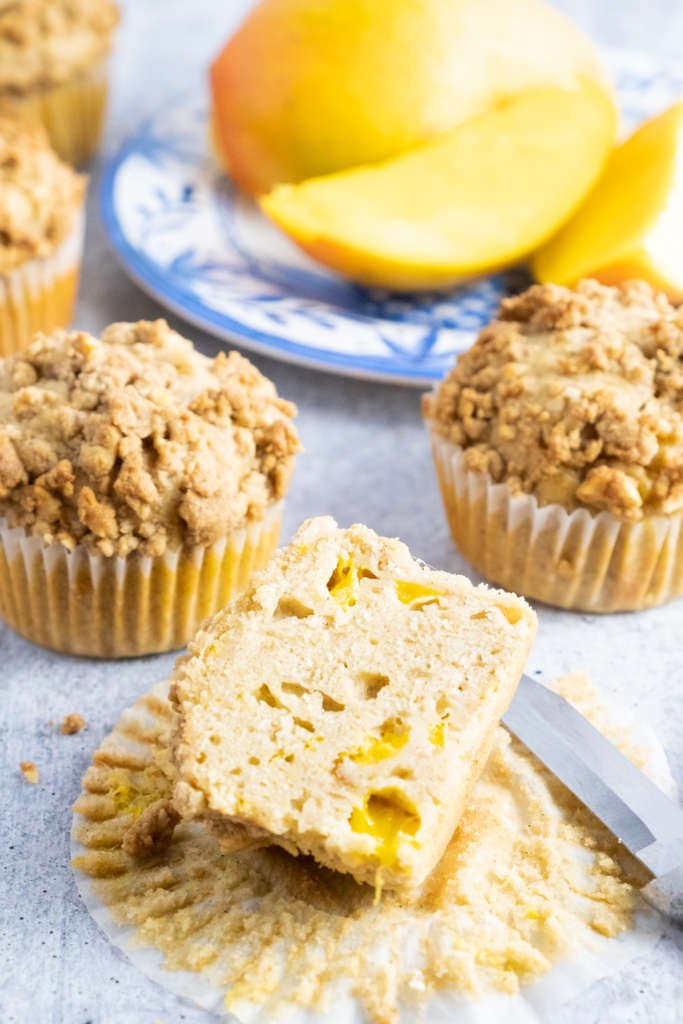 Mango Muffins with Hazelnut Crumble
Ingredients
For the Muffins
3

cups

all-purpose flour (375 g)

2

teaspoons

baking powder

1/2

teaspoon

salt

1

teaspoon

cinnamon

1

teaspoon

ground cardamom

1/4

cup

dark brown sugar (50 g)

1/4

cup

white sugar (50 g)

1/2

cup

oil (120 ml)

3

large

eggs

1 1/2

teaspoons

vanilla extract

1

cup

milk (240 ml)

1 1/2

cups

fresh mango, chopped (about 230 g)
For the Crumble:
1/2

cup

all-purpose flour (60 g)

1/3

cup

dark brown sugar (65 g)

1/8

teaspoon

salt

1/2

teaspoon

cinnamon

1/2

teaspoon

ground cardamom

1/4

cup

hazelnuts, finely chopped (around 35 g)

3

tablespoons

butter (45 g)
Instructions
Make the Muffin Batter:
Preheat the oven to 400° F (205° C.) Line 12 muffin cups with papers or silicon baking cups.

Mix the dry ingredients: In a large bowl, add the flour, baking powder, salt, cinnamon, cardamom, and brown and white sugars. Stir with a large spoon until these are fully combined.

Mix the wet ingredients: In a medium bowl, add the oil, eggs, vanilla, and milk. Whisk until the wet ingredients are fully combined.

Make a well in the center of the dry ingredients and pour in the wet ingredients. Stir gently with a spoon until the batter is almost completely combined. Add the chopped mango and continue stirring until it is incorporated, begin careful not to overmix.
Make the Crumble and Bake:
In a medium bowl, add the flour, brown sugar, salt, cinnamon, cardamom, and chopped hazelnuts. Stir until all of these ingredients are well combined. Next, add the butter and mix by hand until the butter is fully incorporated and the mixture forms crumbs.

Pour the muffin batter into the muffin cups. Top each cup of batter with the crumble, dividing it equally among the 12 cups. Bake at 400° F (205° C) for about 16-18 minutes, or until the tops of the muffins spring back when touched and the crumble is lightly browned.