Jump to Recipe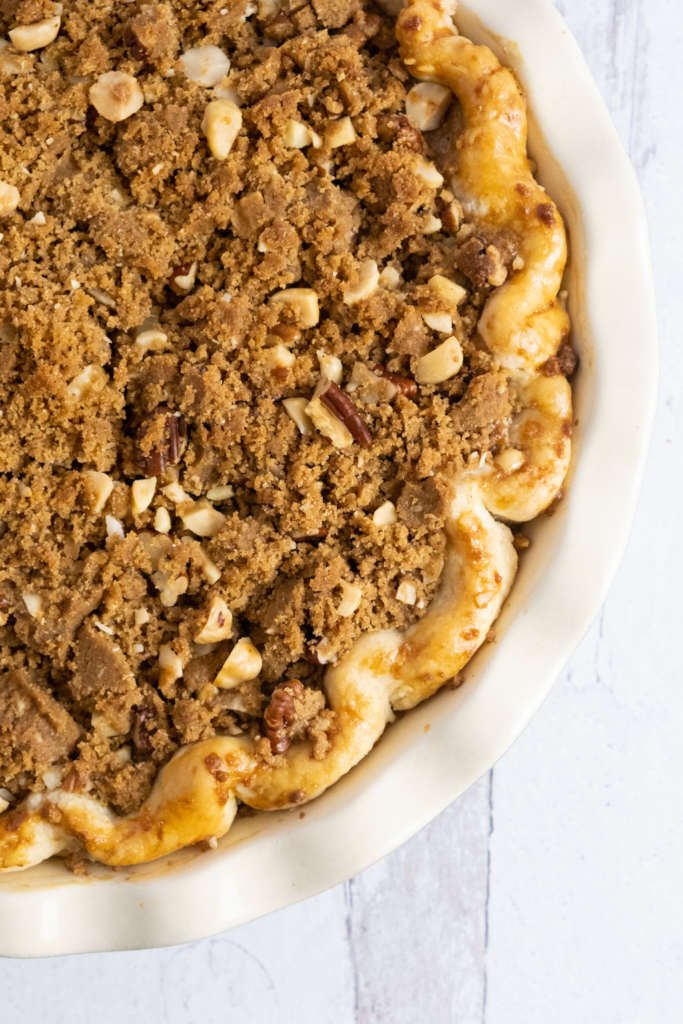 Here is what I have been working on for Thanksgiving week! I have become really interested in slab pies recently, so this started out as one, but since we are having small Thansgivings this year I decided I should make a smaller pie. I love this combination of sweet potato custard filling and gingerbread crumbs with toasty hazelnuts and pecans.
Notes on Ingredients
Pie Crust Ingredients:
Oil – I substitute oil for a little of the butter in this recipe. Oil, like shortening and lard, makes a flakier pie crust, but I still like to use butter to get a better flavor. Using just a small amount of oil in a pie crust makes it flakier without sacrificing the buttery flavor. My favorite oil to bake with is sunflower seed oil.
Butter – When making pie crust, it is important to use cold butter. Keep it in the refrigerator until right when you are ready to use it, and then chill your pie crust before you roll it out and bake it.
Filling Ingredients:
Sweet Potatoes – Use whatever kind of sweet potatoes you like in this recipe. Cook them and let them cool completely before scraping them out and mashing them. I usually cook them in the microwave or pressure cooker, but you can also boil them for about 45 minutes to an hour.
If you are microwaving them, make sure to poke holes or make cuts in them. Be careful not to microwave them too long, because they will become dry and lumpy.
Evaporated Milk – A lot of sweet potato pie recipes use evaporated milk, and I like its sweeter taste in this recipe. But you can substitute regular milk.
Five Spice – For me, the most prominent spice in five spice is anise. If you are not a big fan of anise, I would leave this out.
Crumble Ingredients:
Spices – In this recipe, I used the blend of gingerbread spices that I like best. I love nutmeg and allspice but am not the biggest fan of powdered ginger. You should adjust the spices to meet your own preferences.
Hazelnuts – Hazelnuts go so well with sweet potatoes or pumpkin, but they can be hard to find in stores. I actually have to order them online. If you can't get hazelnuts, I recommend substituting with more pecans or with walnuts.
Notes on Technique
If you are new to making pie crust and pastry, I cannot stress enough how useful it is to have a bench knife (or 5.) They are also sometimes called pastry scrapers. Mine also functions as a ruler, so I can use it to measure, to cut the pastry without damaging my countertop, and then to clean up the excess flour and scraps afterward.
Always make sure you know the diameter of your pan before rolling out your pie crust. You will need to roll out a circle that is 2-3 inches wider than your pan. Roll the crust to about ¼ of an inch in thickness to ensure it gets all the way baked.
To move the pie crust, I like to roll it around the pin, then roll it back out on top of the pie pan.
Make sure your butter is soft before you make the crumble, so that it will mix in well. You should end up with crumbs that are moist enough to form large pieces, but not so moist that you are able to shape it into one large mass.
Don't toast the nuts before making the crumble. Since they are on top of the pie, they will still get toasted, and might burn if they have been pre-toasted.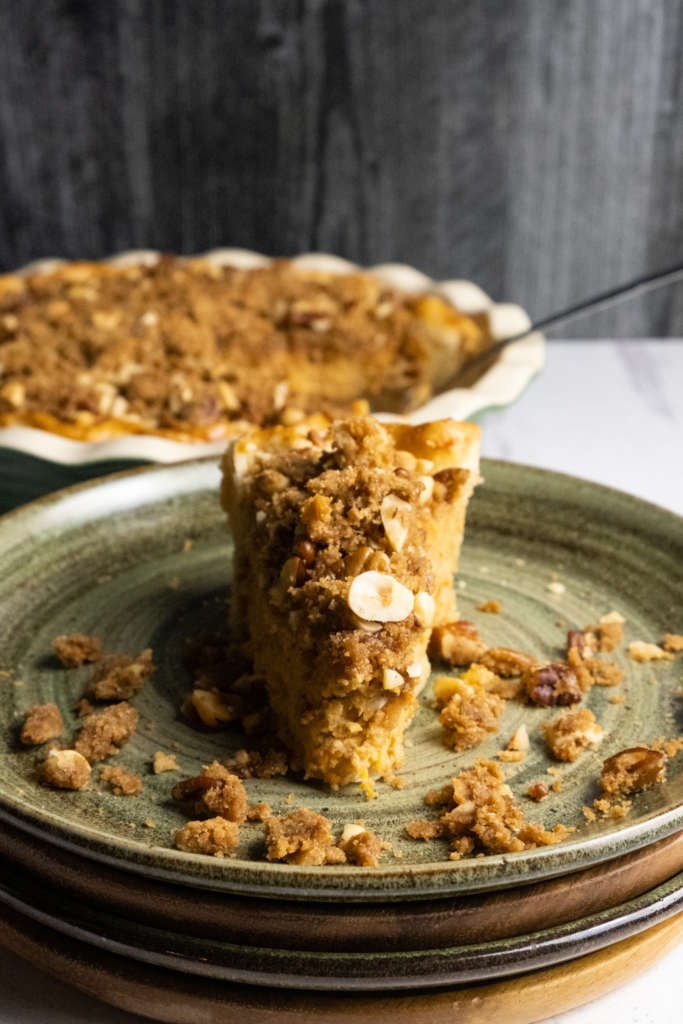 Sweet Potato Pie with Gingerbread Nut Crumble
Ingredients
For the Oil and Butter Pie Crust:
1 1/2

cups

all-purpose flour (185 g)

1/4

tsp

salt

2

tbsp

light-tasting oil

7

tbsp

cold butter, cubed (100 g)

1/4

cup

cold water (60ml)
For the Sweet Potato Pie:
400 g

mashed

sweet potatoes (about 2 cups) (2-3 large sweet potatoes)

3/4

cup

evaporated milk (180 ml)

1/4

cup

heavy cream (60 ml)

2/3

cup

brown sugar (135 g)

3

large

eggs

2

tsp

cinnamon

1/2

tsp

vanilla extract

1/4

tsp

nutmeg

1/4

tsp

salt

1/8

tsp

five spice powder

1/8

tsp

ginger
For the Hazelnut Pecan Gingerbread Crumble
3/4

cup

all-purpose flour (90 g)

1/2

cup

brown sugar (100 g)

1

tsp

cinnamon

1/8

tsp

salt

1/8

tsp

nutmeg

1/8

tsp

powdered ginger

1/8

tsp

cloves

1/8

tsp

allspice

3

tbsp

butter, softened (43 g)

2

tsp

molasses

1/3

cup

chopped hazelnuts

1/4

cup

chopped pecans
Instructions
Make the Pie Crust:
Add the flour and salt to a large bowl and stir well. Add the oil and rub it into the flour using your hands. Next, add the cubes of cold butter and use a pastry blender to chop the butter into pea-sized pieces. Finally, add the cold water and bring the dough together into a single mass. Flatten it into a disk and cover it with plastic wrap. Let it chill in the refrigerator for about 30 minutes.
Make the Filling:
After the sweet potatoes have cooked and cooled, peel away the skins and scrape the insides into a large bowl until you have 400 g or 2 cups. Mash the sweet potatoes, then add the evaporated milk, cream, and brown sugar, and mix well with a large spoon. Stir in the eggs one at a time. Finally, stir in the cinnamon, vanilla, nutmeg, salt, five spice powder, and ginger. Set the filling aside while you roll out the pie crust.
Make the Crumble:
In a medium bowl, add the flour, brown sugar, cinnamon, salt, nutmeg, ginger, cloves, and allspice, and stir until they are well mixed. Next, add the softened butter and molasses, and mix them in by hand until you have crumbs with some larger pieces. Finally, mix in the chopped hazelnuts and pecans.
Bake the Pie:
Preheat the oven to 350° F (180° C.) Roll the pie crust into a circle with a diameter of about 12 to 13-inches and transfer to a 9 or 10-inch pie pan. Crimp the edges, then pour in the sweet potato filling and bake for about 50-60 minutes, or until the filling has set. Make the crumble and prepare the egg wash while the pie is baking.

Take the pie out of the oven. Brush the edges of the crust with the egg wash, then sprinkle the crumble over the filling. Return to the oven immediately and bake for around another 25 minutes, or until the egg wash and crumble have browned. Allow the pie to cool, then store in the refrigerator for up to 3-4 days.