Jump to Recipe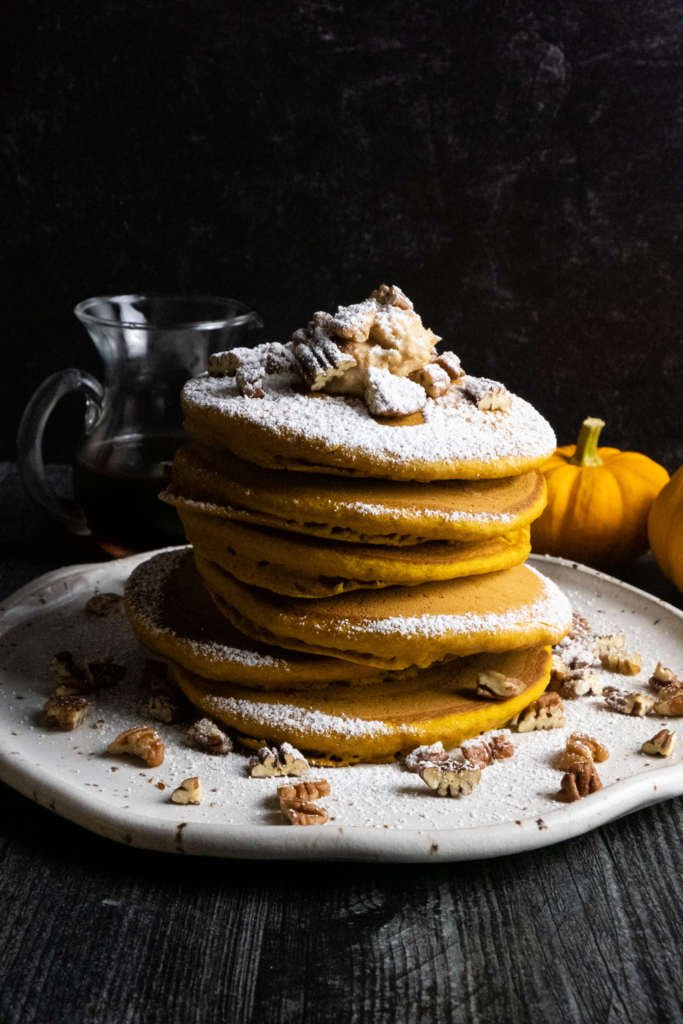 There is no better fall breakfast than pumpkin pancakes! These are light and fluffy and full of pumpkin and spice. If you are serving them to company, you can make them a little fancier by topping them with my Maple Pumpkin Spice Whipped Butter and some toasted pecans.
Notes on Pumpkin Pancake Ingredients
White Lily Self Rising Flour – I use this flour because it is the flour my grandmother always uses, and her pancakes are the best! In my opinion, it makes the softest, fluffiest pancakes. If you want to use all-purpose flour, add 1 ½ tsp baking soda and ¼ tsp salt for every cup of flour.
Butter – You can substitute 3 Tbsp oil for the butter.
Pumpkin – I used 1 cup of canned pumpkin in this recipe. Double the recipe if you want to use up the whole can – 15 oz of pumpkin comes to only about 1 ⅞ cups, but that will not be a big enough difference to change the pancakes significantly.
Spices – I used mainly cinnamon and nutmeg in the recipe, with only a pinch of ginger, allspice and cloves. Use whatever spice blend you prefer with pumpkin – if you would like more of a gingerbread flavor, add more ginger and cloves.
Cooking Oil – Use a neutral tasting oil such as sunflower seed oil to coat the skillet before cooking the pancakes. If you are not using a nonstick skillet, you will need to use more oil, and the pancakes will absorb more of the oil's flavor.
Butter – For the whipped butter, I recommend using European style butter because it is smoother and softens more quickly.
Notes on Technique
I measured the flour by weight in this recipe. If you spoon your flour into the cup, it will be closer to the correct weight, but if you use the dip and sweep method, you will probably end up with more flour. The batter needs to be thin enough to spread out a little, so if you use the dip and sweep method, you may need to add a little more milk.
Because there is a lot of flour in pancakes, overmixing can build up the gluten and cause them to become tough. Mix only until all of the flour is incorporated, and don't worry about a few lumps.
It is much easier to make pancakes with a nonstick skillet or griddle. I like to use a 12- or 14-inch skillet so that I can cook 3 pancakes at a time. If you are using a smaller skillet, you may need to cook only 2 pancakes at a time to make sure they turn out perfectly.
If you are using an uncoated skillet, make sure to add oil each time before pouring in the batter. Using a brush really helps to spread the oil around without adding too much.
For the whipped butter, make sure that your butter is very soft before whipping, so that it won't form lumps. I usually let it come to room temperature for at least an hour beforehand. It also helps to use European butter, because it softens more quickly than American butter.
Pumpkin Pancakes with Maple Pumpkin Spice Whipped Butter
Ingredients
For the Pumpkin Pancakes:
2

cups

White Lily self-rising flour (250 g) or 2 cups all-purpose flour + 1 Tbsp baking powder + 1/2 tsp salt

1/2

cup

brown sugar (100 g)

1

tsp

cinnamon

1/2

tsp

nutmeg

1/8

tsp

allspice

1/8

tsp

cloves

1

pinch

powdered ginger

4

tbsp

melted unsalted butter (57 g) cooled to room temp

1

cup

pumpkin puree (8 oz, 230 g)

2

large

eggs

1

tsp

vanilla extract

3/4

cup

milk, warmed to room temp (180 ml)
For the Maple Pumpkin Spice Whipped Butter:
1/2

cup

unsalted butter, softened (113 g)

2

tbsp

maple syrup

1/2

tsp

cinnamon

1/4

tsp

nutmeg

1

pinch

powdered ginger
Instructions
Pumpkin Pancakes
First, mix the dry ingredients. In a medium bowl, add the self-rising flour (or the all-purpose flour, baking powder, and salt,) brown sugar, cinnamon, nutmeg, allspice, cloves, and ginger, and mix them together until they are combined.

Next, mix the wet ingredients. In a large bowl, add the melted butter, pumpkin puree, eggs, vanilla, and milk. Whisk these together until all ingredients are fully incorporated. Next, whisk the dry ingredients into the wet ingredients, adding about 2/3 a cup at a time, continuing to whisk gently until the batter is well combined. Be careful not to overmix, or the pancakes will be tough.

Heat a large skillet, preferably nonstick and 12- or 14-inches in diameter, over medium-low heat. If you are using an uncoated skillet, brush the pan generously with oil before cooking the pancakes. Once the skillet is hot enough, pour about 1/4 a cup of batter for each pancake, cooking 2 or 3 pancakes at a time, depending on the size of your pan. Cook the pancakes about 3-4 minutes on the first side, until bubbles have formed in the batter and the underside is lightly browned. Flip the pancake using a spatula, and cook the other side for 1-2 minutes, then move the pancakes to a plate.
Maple Pumpkin Spice Whipped Butter
Whip the softened butter with a mixer until it is fluffy, then add the maple syrup 1 tbsp at a time while mixing constantly. Finally, sprinkle in the spices and mix until they are fully incorporated.