Jump to Recipe
For this recipe, I partnered with Grain4Grain. 
Today's recipe is based on a German Versunkener Apfelkuchen, or sunken apple cake. These cakes are usually plain in flavor or very lightly spiced, but it's fall, and I must have been in the mood for gingerbread, because I went all out with the spices in this adaptation! I made the Apfelkuchen using Grain4Grain's spent grain flour, which is derived from barley. It has a dark, malty flavor that goes well with spice and apples and is perfect for fall baking.
What is Spent Grain Flour?
Spent grain is what is leftover from the grain, usually barley, that is used in brewing. During a process called mashing, the grain is steeped in hot water, which removes the starches and breaks them down into sugars. What is left behind consists mostly of proteins and fibers, and is called spent grain. It contains no alcohol because it is removed before the fermentation process begins. Spent grain usually ends up in landfills, even though it is still usable, and in fact is full of nutrients. Grain4Grain takes the spent grain from microbreweries local to the San Antonio area and upcycles it into flour that you can use in your own kitchen.
Benefits of Baking with Spent Grain Flour
For me, the most appealing thing about using spent grain flour is that it reduces food waste. Turning grain that still has nutrients into flour and keeping it out of landfills helps the environment and community. Grain4Grain also donates to local food banks for each pound of flour it sells. Spent grain flour is extremely low in carbohydrates, so it is a great option for people on low carb diets. It is also low in gluten (although not completely gluten free.) It is much higher in protein and fiber than refined wheat flour, so even using it to replace a small portion of the all-purpose flour in a recipe will add more nutrients to your baked goods.
Grain4Grain offers a virtual baking series that will teach you more ways to use spent grain flour in your baking. Here is the link: Beyond Barley Baking Class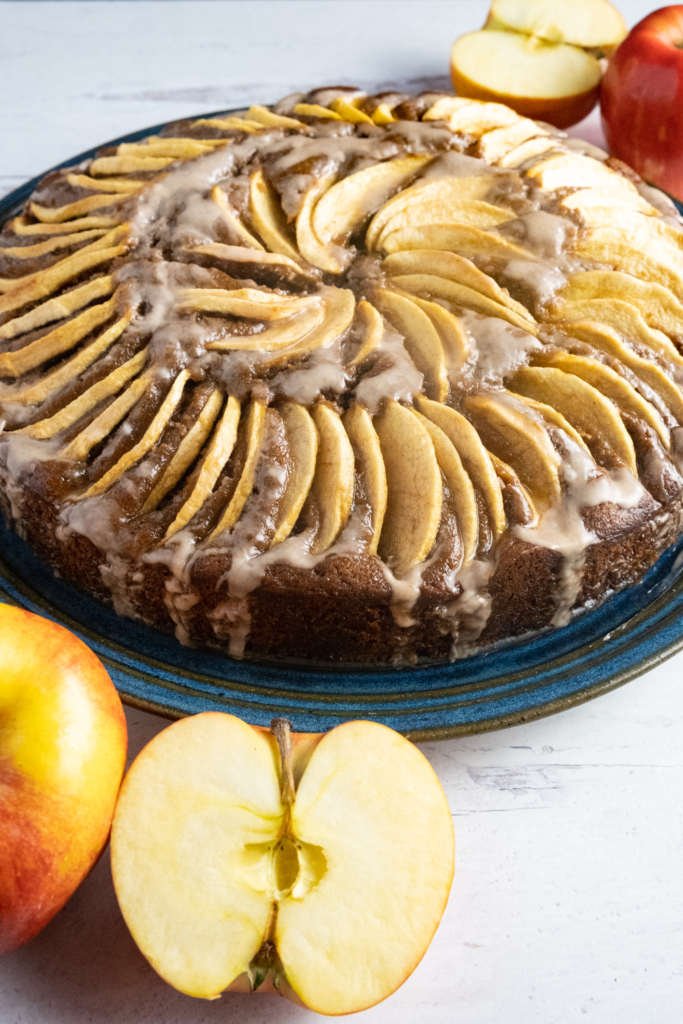 Notes on Ingredients
Spent Grain Flour – I used Grain4Grain's Barely Barley flour, which is made of 100 % spent grain. It is available for purchase here: Barely Barley Flour or here on Amazon.
Nutmeg – I like the flavor of freshly grated nutmeg so much better than pre ground. It is easy to grate using a microplane, so that you get very fine shavings.
Apples – I recommend using apples that fall somewhere in the middle on the sweet vs tart axis. I tried it with Braeburn and Golden Delicious and liked the results both times.
Notes on Technique
Make sure to add the molasses after the butter and eggs. If it sits on the brown sugar for too long without any liquid, it will become lumpy.
Use a potato peeler to peel your apples, instead of a knife. This will help you get smoother slices.
If you want to cut your apples before mixing the cake batter, toss them in lemon juice so that they will not turn brown.
Push the inside edges of the apple slices so that they are slightly sunken into the batter. Make sure all of the slices overlap – this will keep grooves from forming around the slices.
If you are using a springform pan, release the ring before glazing, so that the glaze can drip over the sides of the cake.
Gingerbread Spiced Apfelkuchen with Spent Grain Flour
Ingredients
For the Cake:
3/4

cup

butter (170 g)

3/4

cup

brown sugar (150 g)

4

large

eggs

1/2

cup

molasses (80 ml)

2

cups

all purpose flour (250 g)

1

cup

Barely Barley spent grain flour (110 g)

2

tsp

baking powder

1/4

tsp

salt

2 1/2

tsp

ground cinnamon

1/2

tsp

grated nutmeg

1/2

tsp

ground ginger

1/2

tsp

ground cloves

1/2

tsp

ground cardamom

1/4

tsp

ground allspice

1/2

cup

milk (120 ml)

3-4

medium

apples
For the Glaze:
1

cup

confectioner's sugar

1/4

tsp

ground cinnamon

1 1/2 - 2

tbsp

water
Instructions
Make the Cake:
Preheat the oven to 350° F (180° C) and grease or spray a 10-inch springform pan or cake pan. Cut out a circle of parchment paper and use it to line the bottom of the pan.

In a medium bowl, stir together the all-purpose flour, spent grain flour, baking powder, salt, cinnamon, nutmeg, ginger, cloves, cardamom, and allspice. Set this aside.

In a large bowl, using an electric mixer, cream together the butter and brown sugar. Add the eggs one by one, mixing until each one is fully incorporated. Next, mix in the molasses.

Add 1/2 of the dry ingredients and mix until it they are only just incorporated, then do the same with the milk. Add the remainder of the dry ingredients and mix, scraping the sides of the bowl to make sure all ingredients are fully combined. Be careful not to overmix.

Pour the batter into the 10-inch pan and spread evenly. Peel and core the apples and cut them into slices about 1/4 of an inch in thickness. Layer the slices in rings on top of the cake, pressing the inner edges slightly into the batter.

Bake the cake at 350° F (180° C) for 50-60 minutes, or until a toothpick inserted into the center of the cake comes out clean. Allow it to cool for 1-2 hours before releasing the springform pan and glazing.
Make the Glaze:
Sift the confectioner's sugar into a medium bowl, then stir in the cinnamon. Pour in the water and whisk until the glaze is smooth. Spoon the glaze over the cake. You can store the cake for up to 2 days at room temperature, or up to 4 days in the refrigerator.