Jump to Recipe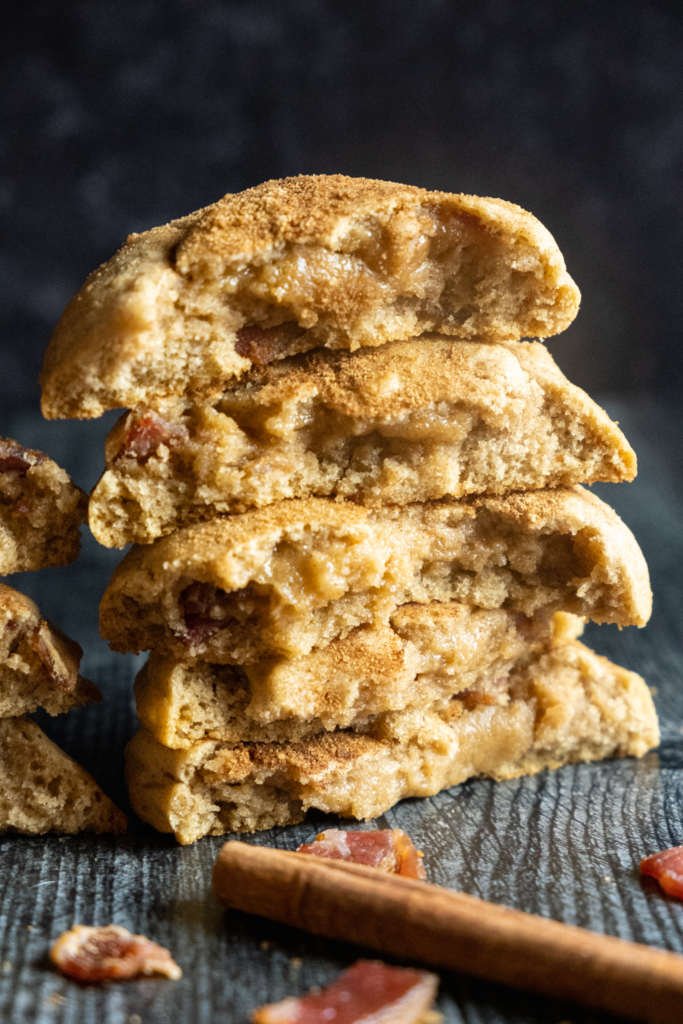 I have sadly never tried Levain Bakery cookies, but I've been seeing copycat recipes all over the internet for the past several years, and I finally decided to try making them myself. They are giant, soft cookies with gooey centers that are made with cold butter and more flour so that they do not spread out and get crispy while baking. These giant snickerdoodles are a seasonal fall twist on those cookies, with chopped bacon, maple sugar, and a cinnamon sugar topping.
Notes on Ingredients
Cold Butter – This recipe uses cold butter so that the cookies won't spread much during baking. This also means that you won't have to chill the cookies before you put them in the oven.
Maple Sugar – the maple sugar gives these cookies their maple flavor. Some brands of maple sugar have more maple flavor that others. I recommend using Shady Maple Farms maple sugar because it has the best flavor of any maple sugar I have tried. I can usually find it at Whole Foods or Sprouts.
Cream of Tartar – This ingredient is typically used in snickerdoodles. It adds a slightly acidic taste and also reacts with the baking soda to leaven the cookies and create a soft, chewy texture.
Maple Bacon – If you are using the bacon in this recipe, I highly recommend using maple flavor bacon. It just adds that extra layer of maple flavor.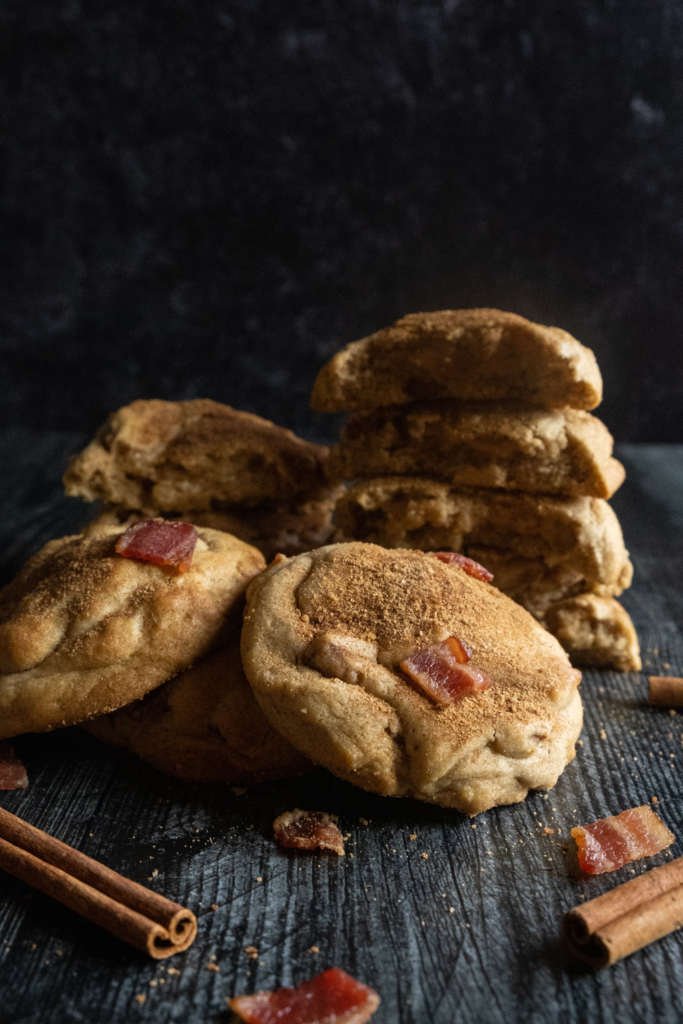 Notes on Technique
Make sure you completely cook the bacon before adding it to the cookies. It should be done, but not too crunchy, because it will cook a little more during baking.
It's important to use cold butter in this recipe because it keeps the batter thick so that it won't have enough time to melt and spread out during baking. This will make the cookies taller and softer.
The amount of flour added to cookie batter can go a long way toward altering the texture. These cookies have more flour than ordinary snickerdoodles, and adding too little could make them flatten out, while adding too much could make them more like biscuits. I recommend always using a kitchen scale to measure flour by grams in order to be exact.
I strongly recommend using a stand mixer fitted with a paddle attachment when you beat the cold butter. Whisk attachments are not well suited for cold butter, and using them will put more strain on the motor. Creaming the cold butter will also take a few minutes, so it's much less work to use the stand mixer.
Make sure to bake at 410 F. Since you are baking the cookies at a high temperature for a shorter time, the batter will not spread out very much and the edges will get crisp while the center stays gooey.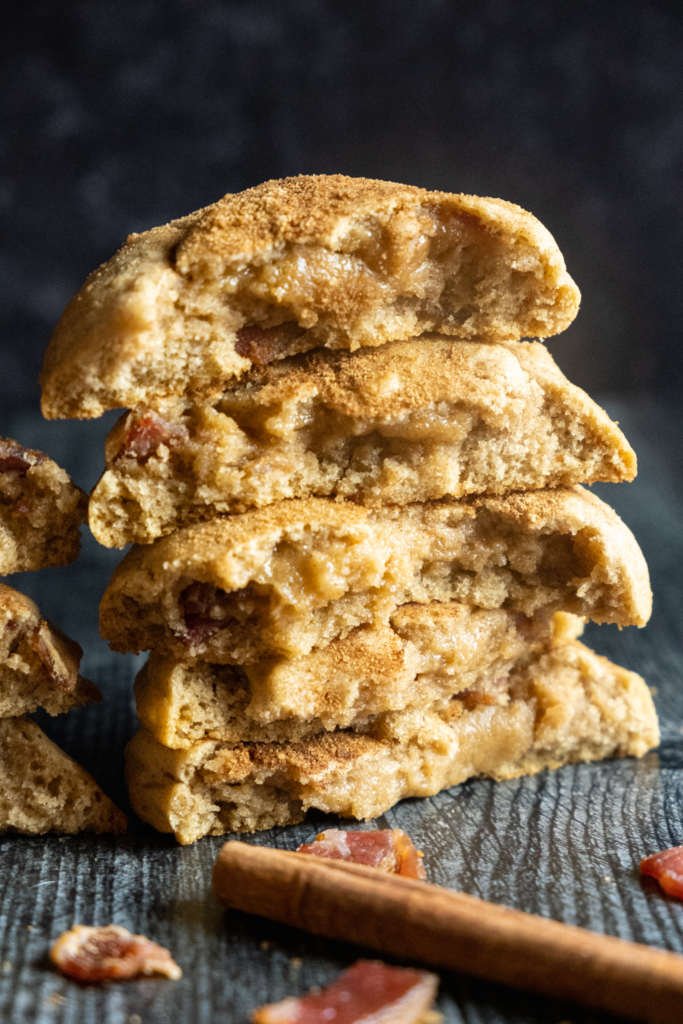 Giant Maple Bacon Snickerdoodles
Ingredients
For the Cookie Dough:
1

cup

cold butter, cut into cubes (227 g)

1 1/3

cup

maple sugar (260 g)

2

large

eggs

3

cup

all-purpose flour (370 g)

2

tsp

cinnamon

1/2

tsp

salt

3/4

tsp

baking soda

1

tsp

cream of tartar

3/4

cup

bacon, cooked and chopped
For the Topping:
1

tsp

cinnamon

2 1/2

tsp

maple sugar
Instructions
First, preheat the oven to 410° F (210° C) and cover 3 large baking sheets with parchement paper. Next, in a medium mixing bowl, stir together the flour, cinnamon, salt, baking soda, and cream of tartar until they are well combined. Mix the topping: stir the 2 1/2 tsp maple sugar and 1/2 tsp cinnamon together in a small bowl and set aside.

In a large bowl, using an electric mixer, beat the cold butter until it is creamy, about 2 minutes. I recommend using a stand mixer fitted with a paddle attachment for this step. Add the sugar and mix until it is well combined, then add the eggs one at a time, mixing until each one is incorporated, about 30 seconds. Add the flour mixture in 2 additions, using a wooden spoon to stir gently until the dough is well combined. Finally, fold in the bacon pieces.

Use a medium cookie scoop (it should hold about 1.5 tbsp of dough) to scoop the dough out into balls and place them on the baking sheets with about 2 inches in between. You should be able to fit 4 cookies on each sheet. Before baking, top each cookie with the cinnamon maple sugar mixture.

Bake the cookies at 410° F (210° C) for about 9 minutes, or until the cookies are slightly browned on top but still soft in the middle. Because these cookies contain bacon, you should store them in the refrigerator for no more than 4 days. You can reheat them in the microwave for about 10 seconds before serving.