Jump to Recipe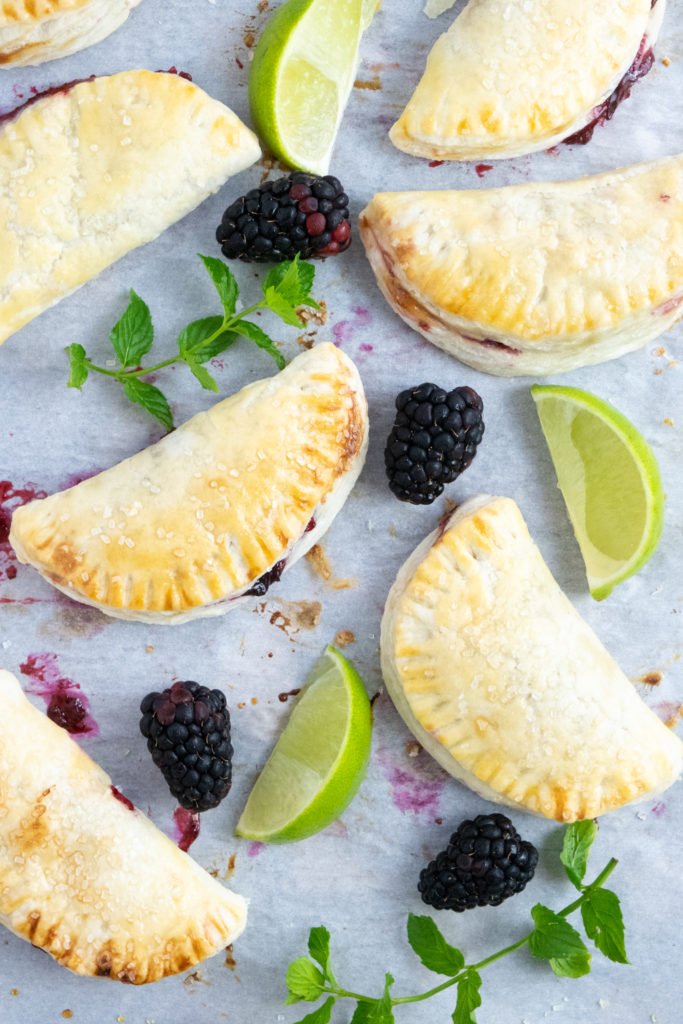 During the end of summer, I like to do a lot of baking with the last of the seasonal fruit – berries, cherries, other stone fruit. I like to use them in rustic desserts at this time of year, like crostatas or small pies made with a simple crust dough. These blackberry hand-pies are made with lime, mint, and a flaky oil and butter crust, and are a perfect end of summer treat.
Notes on Ingredients
Blackberries – I used store-bought blackberries in this recipe. If you are using berries grown in your garden, the amount of juice they contain may vary, and you might need to adjust the amount of cornstarch used for thickening.
Fresh mint – I used spearmint in this recipe. I do not recommend using peppermint because it has a much higher menthol content and therefore a more toothpasty flavor.
Cornstarch – I used cornstarch for thickening because blackberries contain a large amount of juice, and cornstarch is a strong thickener. If you want to use flour, try substituting 4 tsp of flour for the 2 tsp cornstarch.
Oil – The oil in this crust gives you a flaky, crumbly texture without your having to use shortening. I made this recipe ¾ butter and ¼ oil because while the oil does add to the texture, the butter gives the crust more flavor. Try to use a neutral tasting oil, such as sunflower or safflower. I tried olive oil in this recipe once and I really do not recommend it.
Butter – I recommend using European style butter because it has more flavor. European butter also usually contains a lower percentage of water, so your pie crust will have less shrinkage while baking. Make sure to use cold butter so that you will get those flaky layers in the crust.
Water – I used ½ cup of water while making this crust, but you may need to use a little less or more, depending on the kind of butter you are using.
Notes on Technique
How to Make Pie Filling from Fresh Fruit
I prefer to use fresh fruit in pies, because it has more flavor and you have more control over the variety and the ripeness of the fruit. You will need more thickener for fresh fruit than you would for canned because canned fruit has already had a lot of juice cooked out. The amount of thickener you will need to use will vary depending on the type of fruit, and on the relative juiciness of the particular variety of the fruit you are using. I plan to post about a lot of different fruit pies in the future, but for now I will just talk about working with very juicy fruits, like blackberries and blueberries, as well as cherries and other stone fruit.
When I am using these fruits in a sealed pie, such as hand pies, I prefer to cook and thicken the filling on the stovetop beforehand. This way, you can cook out most of the juices and thicken them without giving them a chance to make the pie crust soggy. It is important to add just the right amount of thickener, or you may end up with runny filling or one that is as thick as a jam or paste. Try to bring out a large amount of juice before adding your thickener, so that you can tell how much you will need to use.
For very juicy fruits, I prefer to use cornstarch. The general rule is about 1 tsp cornstarch per 1 cup of juice. Instead of dumping the starch directly into the fruit juice, mix the starch into a small amount of water (here, 2 tsp cornstarch mixed into 1 tbsp water) and then pour it in. This will ensure that the starch does not form lumps.
How to Make an Oil and Butter Pie Crust
All butter pie crust has the best flavor, but it has the reputation of being hard to work with, and it is difficult to get the flaky texture that you can achieve with shortening. Although I have heard a lot of good things about pie crust made with lard (or half lard, half butter,) I have never been able to get it where I live. Instead I looked into making an oil and butter crust, and I was more than happy with the result.
The oil in this recipe coats the flour, preventing it from building up gluten so that the crust remains slightly crumbly and doesn't get tough. The butter pieces help divide the flour into layers, creating tiny pockets as they melt which create the flaky texture. The butter also provides the crust with flavor.
I also like to laminate this crust just a little to accentuate the flaky layers. Lamination is used in pastry to create the layers you see in croissants and puff pastry. For those pastries, you would do multiple laminations over longer periods of time, but for this pie crust I only do two turns. First, refrigerate the dough for about 30 minutes, then roll it out into a large rectangle, about 14×8 inches. Next, fold the rectangle like a letter: fold the bottom third of the short side up, then fold the upper third down on top of it. Rotate the dough 90 degrees and repeat the rolling and folding process twice more, then refrigerate it for another hour before assembling the pies.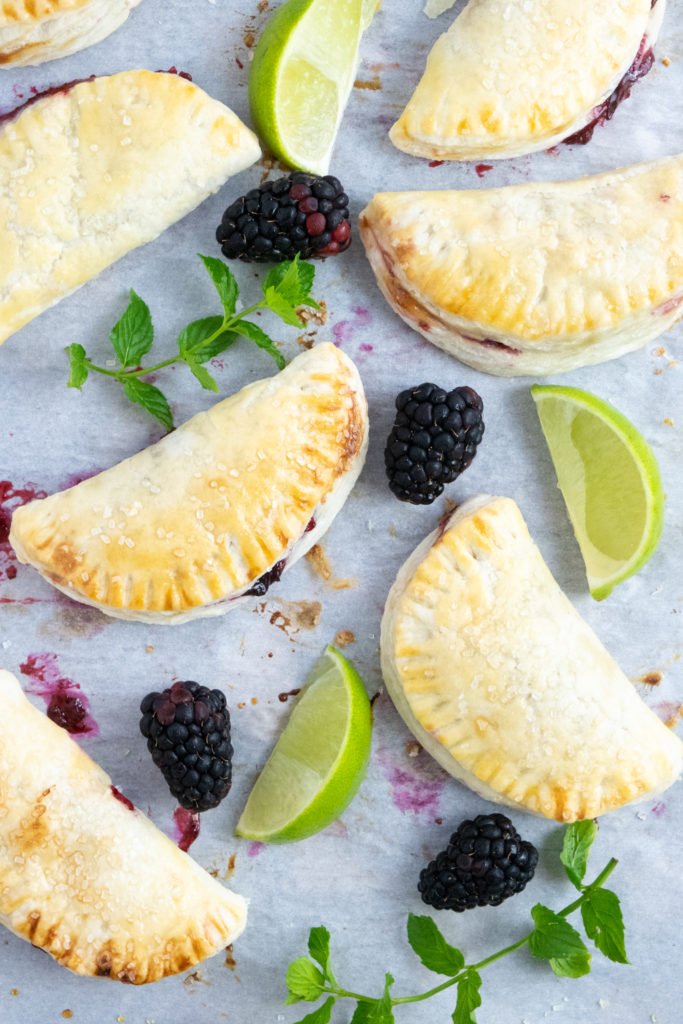 Blackberry Mojito Hand Pies
Ingredients
For the Blackberry Mojito Filling:
8

oz

blackberries, chopped (230 g)

2

tsp

fresh mint leaves, chopped

1/3

cup

sugar (70 g)

pinch

salt

zest of 1 lime

1/3

cup

lime juice (2-3 large limes) (80 ml)

1

tbsp

water

2

tsp

cornstarch
For the Oil and Butter Pie Crust:
2 1/2

cup

all-purpose flour (310 g)

3/4

tsp

salt (1/2 tsp + 1/4 tsp)

3

tbsp

oil

12

tbsp

butter (cold and cubed) (170 g)

1/3 to 1/2

cup

water (cold) (120 ml)
For Assembly:
1

egg, room temperature

coarse sugar
Instructions
Blackberry Mojito Filling
First, chop the blackberries and the mint leaves. Next, add them to a 2 qt saucepan with the sugar, salt, lime zest, and lime juice. Cook on medium heat until boiling, and continue to boil for about 5 minutes. The sugar will dissolve and a lot of juice will come out of the blackberries.

In a cup, mix together the water and cornstarch. Stir until there are no lumps, then add to the blackberry mixture. Continue to cook on medium heat, stirring constantly, until the filling has thickened, about 1-2 minutes. Then turn off the heat and allow the filling to cool.
Oil and Butter Pie Crust
Add the flour and salt to a large bowl and stir until well combined. Next, add the oil and stir until it is fully incorporated into the flour. You may have to use your hands for this part.

Once the oil is thoroughly mixed in, add the butter and use a pastry blender to chop the butter until it is the size of large peas. Make sure the butter remains cold and doesn't melt into the flour. Next, add the water and mix until the dough comes together. Flatten the dough onto some plastic wrap and shape into a rectangle, then wrap and refrigerate for 30 minutes.

After 30 minutes, take the dough out and place it on a lightly floured surface. Use a rolling pin to roll the dough into a large rectangle, about 14x8 inches. Next, fold the botom third of the short side up, then fold the upper third down on top of it, like folding a letter. Rotate the dough 90° and repeat the rolling and folding process twice more. Wrap the dough again and refrigerate for at least 1 hour or overnight.
Assembly
Preheat the oven to 425° F (220° C) and cover 2 baking sheets with parchment paper. Take the dough out and roll it on a lightly floured surface until it is 1/4-inch (7-mm) in thickness. Use a 4-inch (10-cm) round cutter to cut out as many circles as you can. Combine the dough scraps and roll them out again. Instead of squishing the scraps together, try to fold them on top of one another and shape into a small rectangle before rolling. Cut out more circles until you have about 14.

In a small bowl, whisk together the egg and the water. Lay out 6 pie dough circles on each baking sheet and brush the edges with the egg wash. Spoon about 2 tsp of the blackberry filling into each crust, then fold each pie in half and press a fork along the edges to seal the crust. Once they are folded in half, you can move the pies over to make room for shaping the remaining pies.

Use a sharp knife to cut a few slits in each crust, then brush the tops of the pies with the egg wash and sprinkle them with the coarse sugar. Bake the pies at 425° F (220° C) for about 7-8 minutes, then turn the heat down to 350° F (180° C) and cook for about 12-15 minutes, or until the crusts are golden brown. You can store the pies in the refrigerator for up t o 4 days.