Jump to Recipe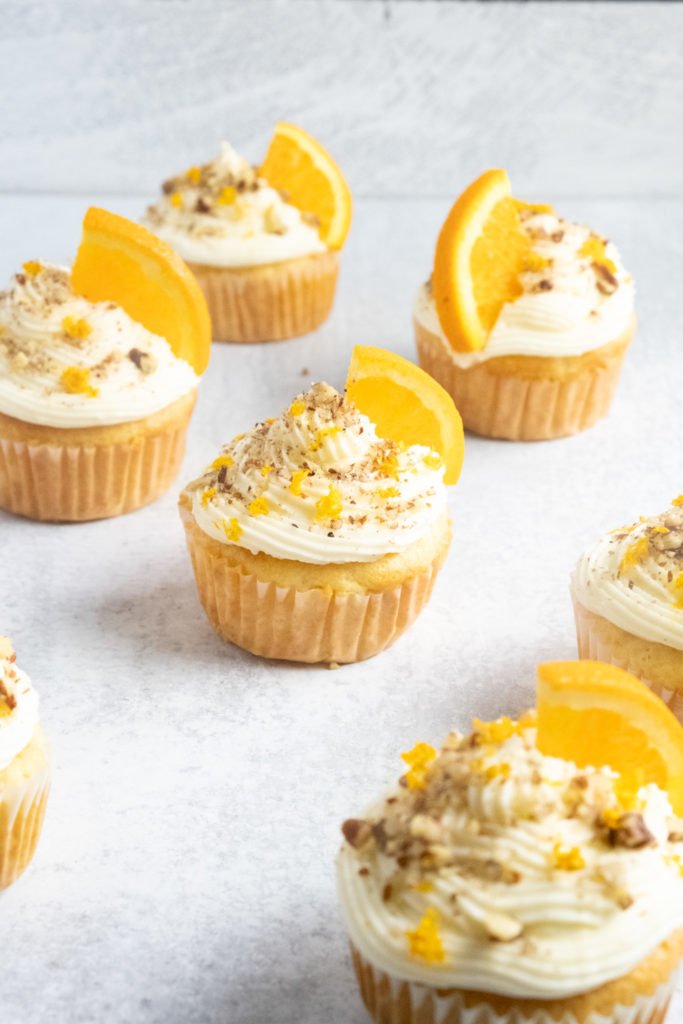 These easy cupcakes are full of pineapple and orange flavor and are perfect when topped with cream cheese frosting and pecans.
Notes on Ingredients
Oil – You will be able to taste the oil in these cupcakes, so use one with a very neutral taste. I like to use refined coconut oil or sunflower oil.
Orange Juice and Zest – I used freshly squeezed orange juice in these cupcakes. You can substitute bottled orange juice and leave out the zest, but the orange flavor may not be as strong.
Crushed Pineapple and Juice – I used Dole brand 8 oz crushed pineapple. Most brands seem to include about the same amount of juice, so you should be able to use any brand. I do not recommend substituting chopped pineapple, especially fresh pineapple. It will release a different amount of juice into the batter as it cooks, and the texture will not be as pleasant. Make sure to add the juice, because it adds moisture and sweetness to the batter and also reacts with the baking soda to help the cupcakes rise.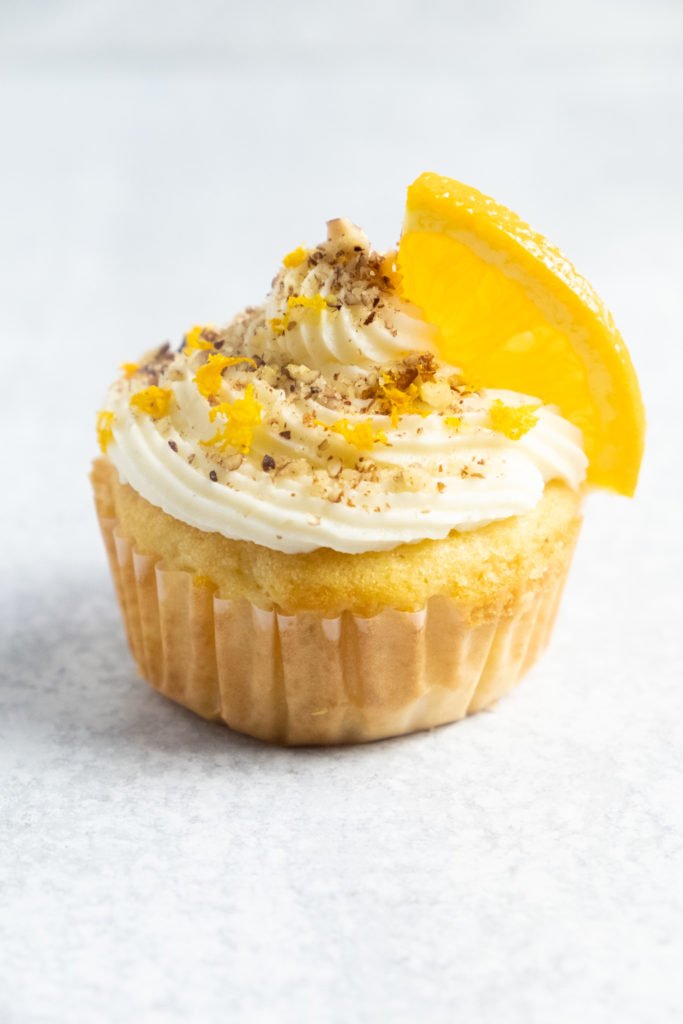 Notes on Technique
Make sure to zest the oranges before juicing them – it is a lot easier to get to all of the zest before the orange has been cut in half.
This recipe is formulated for 12 cupcakes in muffin papers. Without papers, the cupcakes will be flatter and more dense. Also, because the unlined cups hold more batter than the papers, the recipe will make fewer cupcakes.  If you do not have papers and still want to make 12 cupcakes, you can multiply all of the ingredients by 1.25 – 1.5. If not using papers, make sure to grease the cups very well.
Cream cheese frosting is thinner than buttercream and melts faster. It pipes better if chilled for an hour beforehand.
If piping the frosting, use a large star, open star, or drop flower tip to make large swirls or rosettes. I like to use the Wilton 1M or 2D. Cut the point off of a piping bag and place the tip inside, making sure the tip comes about ⅔ of the way out of the opening. To fill, place the bag tip down in a tall glass and drape the outer edges over the rim of the glass. Fill the bag about ⅔ of the way full.
For piping cream cheese frosting, I recommend using a silicone piping bag. They are reusable and easy to clean with hot water.  Silicone bags are also thicker and more insulating than a plastic bag, so the warmth of your hands will not melt the frosting as quickly.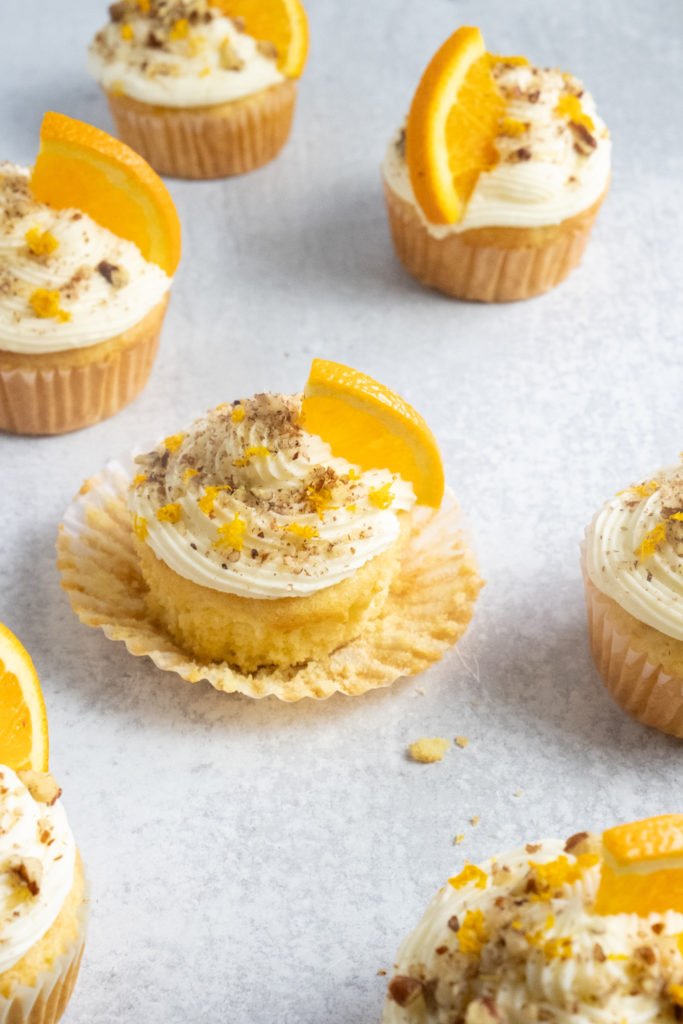 Orange Pineapple Cupcakes with Cream Cheese Frosting
Ingredients
For the Cupcakes:
5

tbsp

oil (1/4 cup + 1 tbsp) (75 ml)

1/3

cup

sugar (65 g)

1/2

tsp

vanilla extract

3

tbsp

orange juice (juice from about 1 1/2 large oranges)

1-2

tsp

orange zest (zest of about 1 large orange)

2

large

eggs

room temperature

2

cups

all-purpose flour (250 g)

1/4

tsp

salt

2

tsp

baking powder

1/2

tsp

baking soda

8 oz

can

crushed pineapple, including juice
For the Cream Cheese Frosting:
8

oz

cream cheese (227 g)

softened

1/2

cup

butter (113 g)

softened

2

cups

confectioner's sugar (400 g)

pinch

salt

1/2

tsp

vanilla extract

1/4

cup

chopped pecans (30 g) (optional)
Instructions
Orange Pineapple Cupcakes
Preheat the oven to 350° F (180° C.) Line 12 muffin cups with papers. In a medium bowl, add the flour, salt, baking powder, and baking soda, and stir until they are well combined. In a separate bowl, juice and zest the oranges. Pour the juice from the can of pineapple into the orange juice.

In a large mixing bowl, add the oil, sugar, vanilla extract, orange juice, orange zest, pineapple juice, and eggs. Whisk these wet ingredients until they are well combined. Next, add the flour mixture one cup at a time, whisking it into the batter until it is just combined. Finally, use a spoon or spatula to fold in the crushed pineapple.

Divide the batter evenly into the 12 muffin cups and bake at 350° F (180° C) for about 20-23 minutes, or until the tops are springy to the touch. Allow the cupcakes to cool for about 45 minutes before frosting.
Cream Cheese Frosting
Add the softened cream cheese and butter to a large mixing bowl and cream using an electric mixer. Once these are well combined and there are no lumps, add the pinch of salt and the powdered sugar 1 cup at a time. Beat until the sugar is fully incorporated, then mix in the vanilla extract.

Top the frosted cupcakes with the chopped pecans. Store frosted cupcakes in the refrigerator for up to 4-5 days.