Jump to Recipe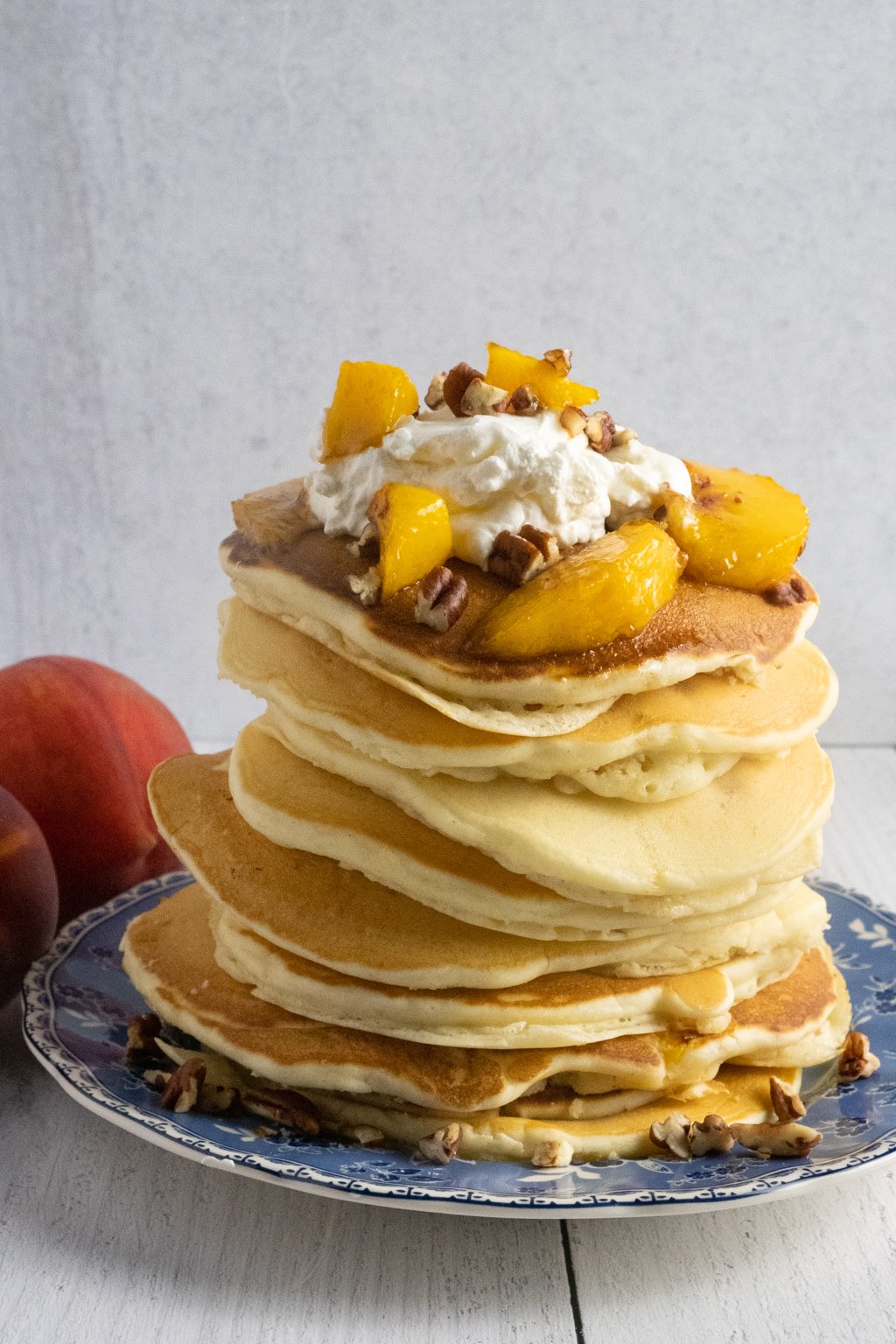 These peach pancakes are adapted from my grandmother's recipe. Growing up, I wasn't that big of a pancake fan, but only because no pancakes I could get in any restaurant could compare to my grandmother's pancakes. They are the ideal pancake, so fluffy and yet a bit dense at the same time. Using the base pancake recipe (without the peaches) you can make countless variations, but they are always wonderful on their own, served with butter and maple syrup.
Notes on Ingredients
Self Rising Flour – Self-rising flour is flour with the leavening agents and salt already added in. My grandmother always uses White Lily Self-Rising Flour in her pancakes, and  it makes the best, fluffiest pancakes. Most other pancakes that I've eaten just don't compare. White Lily self-rising flour seems to have more rise than other self-rising flours. This may be due to the amount of leavening agents, but the flour also seems softer in texture.
Milk – While I usually use whole milk in this recipe, milks with lesser fat percentages also work well.
Fresh Peaches – I used large peaches in this recipe. If your peaches are smaller, you may want to measure by weight rather than the number of peaches. Use peaches that are ripe and have more juice. The juice will impart more flavor into the pancake batter as you fold in the peaches.
.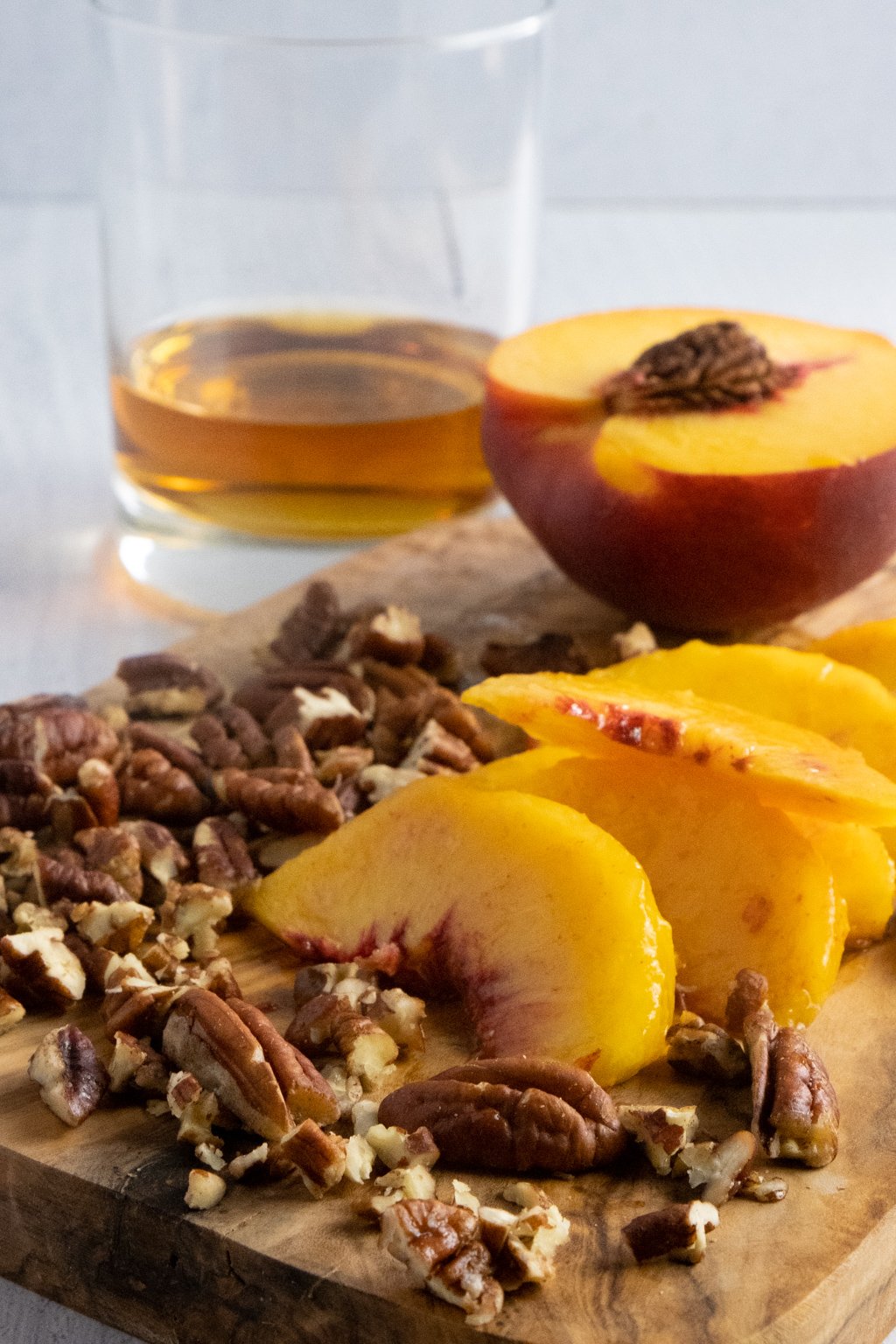 Notes on Technique
I always measure flour by weight rather than cups – it is just so much more reliable. If you measure the flour by cups, you may end up needing a little more or less milk. The batter needs to be thin enough that you can pour it and it will spread out a little as it cooks, but not too thin, or it will spread out like a crepe.
When you are mixing the pancakes, it's really important not to overmix so they won't become tough. Stir just until all of the flour is incorporated, then stop. It is ok if there are still a few lumps.
Best Pan and Oil for Pancakes
Using the right pan makes a huge difference in how your pancakes turn out. A large nonstick griddle, especially an electric one, is ideal because you can cook several pancakes at a time. However, you can also make perfect pancakes in a skillet. I am in love with my 14-inch Scanpan with its scratch-resistant nonstick coating. I can cook 3 or four pancakes at a time in it, and since it has a lid, it is also perfect for souffle pancakes! Using an uncoated pan definitely makes things harder, and it may require more practice. However, it is still doable, as obviously this is how people had to cook pancakes before the convenience of nonstick coating.
Preheat the pan on low heat while you mix the batter. When you are ready to cook the pancakes, bring the heat up to medium and use a brush to coat the pan with cooking oil or butter. Using the brush will keep you from using too much oil. If you are using an uncoated pan, use a little more oil, but still use the brush. Make sure to use a neutral tasting oil, because that taste is going to transfer to the pancakes. I like to use coconut oil (unrefined if I am making tropical flavored pancakes, refined if not,) sunflower, safflower, or peanut oil. I also sometimes use butter or even bacon grease.
How to Cook Pancakes
Once the heat has reached about 350 -370 F (175-190 C,) pour the batter for a test pancake onto the pan. Even now, I still cook one test pancake first. It helps you determine whether the heat is where you want it, whether you are using enough oil, and whether or not the batter is the right consistency. To make your pancakes uniform in size, it helps to pour the batter with a measuring cup. Use about ¼ to ⅓ a cup of batter for each pancake, making sure the batter forms a circle in the first 10-20 seconds before it sets. I like to pour most of the batter at first to form the circle and then wait about 10 -20 seconds before adding the rest of the batter on top. This helps to give the pancake a little bit of height.
After pouring, leave the pancake to cook for about 2-3 minutes. As it cooks, it will rise and large bubbles will form throughout. You can use your spatula to peek under the edge to judge its doneness. Flip when the bottom is a medium brown. I always use a fish spatula to flip pancakes – I was pretty much incapable of flipping pancakes before I took a crepe class and found out about fish spatulas! The second side usually takes a little less time to cook than the first, about 1-2 minutes.
Peach Pancakes with Bourbon Pecan Syrup
Ingredients
For the Peach Pancakes
2 1/2

cups

self-rising flour (310 g)

1/3

cup

sugar (65 g)

1 1/4

cups

milk (295 ml)

room temperature or slightly warm

5

tbsp

melted butter (70 g)

1

large

egg

room temperature

1/2

tsp

vanilla extract

2

fresh

peaches, chopped
For the Bourbon Pecan Syrup
1 1/3

cups

maple syrup

2-3

tbsp

bourbon

1

fresh

peach, sliced

1/4

cup

chopped pecans
Instructions
Peach Pancakes
First, chop the peaches and set them aside. In a large mixing bowl, whisk together the flour and sugar. Make a well in the center.

In a separate medium mxing bowl, combine the milk, melted butter, egg, and vanilla extract and mix until they are well combined.

Pour the wet ingredients into the well in the dry ingredients. Using the whisk, gently fold in the wet ingredients, making sure to mix in all of the flour on the sides and bottom of the bowl. Make sure the ingredients are well combined but don't overmix.

With a rubber spatula, gently fold in the peaches.

Preheat a large nonstick skillet or griddle on medium heat. Use a brush to coat the skillet with oil or butter before each batch of pancakes. First, cook one test pancake to make sure the temperature is right. Pour about 1/4 a cup of batter onto the skillet and let it cook until large bubbles have formed and the underside is medium brown, which should take 2-3 minutes. Flip and cook the other side for about 1-2 minutes. Adjust the heat if necessary and cook the rest of the pancakes 2 or 3 at a time, depending on the size of your skillet.
Bourbon Pecan Syrup
You can make the syrup beforehand and reheat it just before serving the pancakes. First, chop the pecans and slice the peaches.

Add the maple syrup, bourbon, pecans and peaches to a 2 quart saucepan and cook on medium heat. Cook until boiling and continue to boil for about 2-3 minutes, then remove from the heat. Allow it to cool for a few minutes before serving.