Jump to Recipe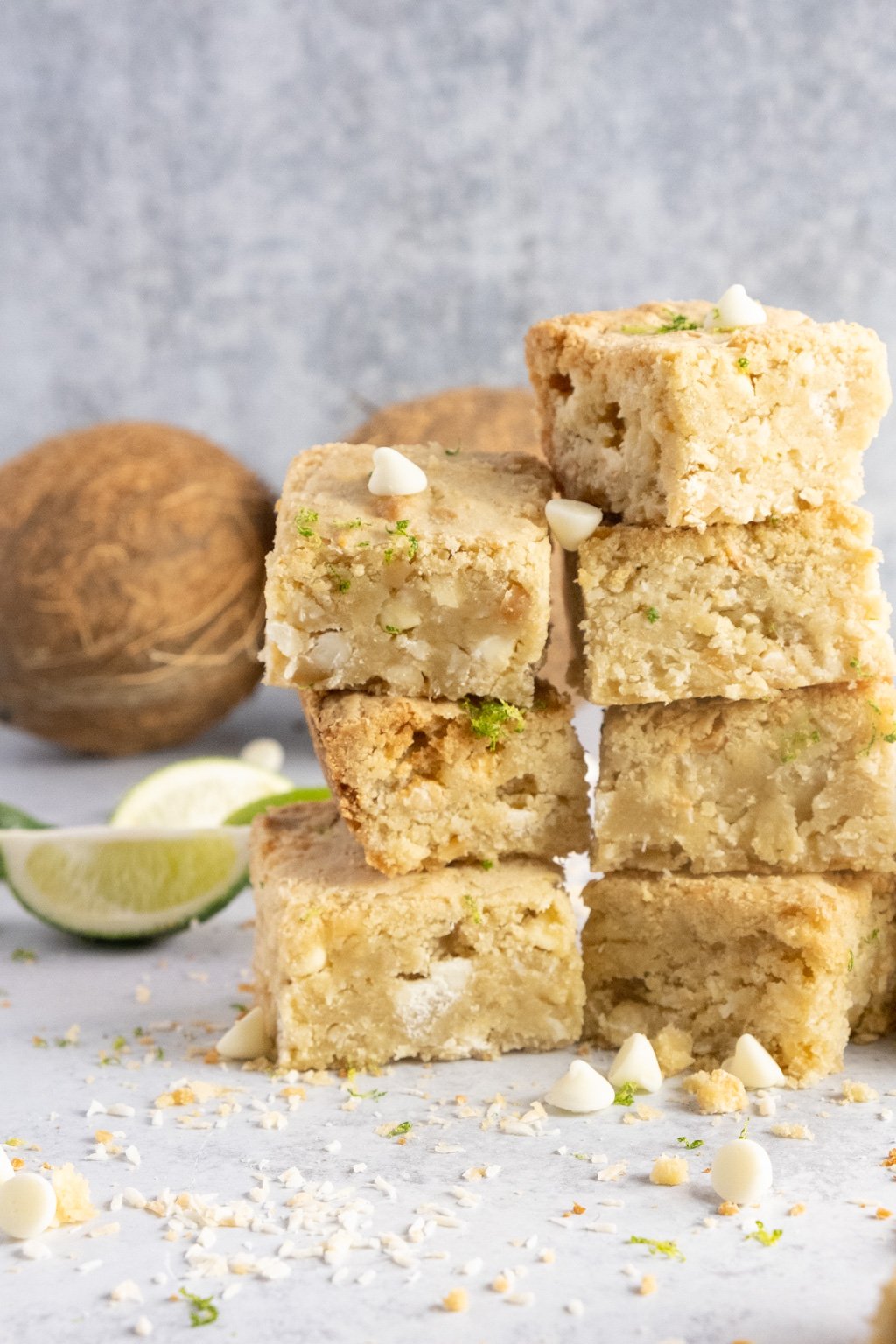 Today's post is another coconut dessert!!! I realize that this is now the third coconut recipe in a row, but that is what happens when you accidentally order a 25 pound bag of desiccated coconut… But these blondies are my favorite coconut recipe so far. Lime, coconut and white chocolate always go well together, and some brown sugar and macadamia nuts bring in some lower flavor notes to tie it all together.
Notes on Ingredients
Coconut Oil – I used coconut oil instead of all butter because I love the crunchier texture that it brings to baked goods, particularly cookies. If you use unrefined, or virgin coconut oil, it also imparts a strong, natural coconut flavor.
Brown Sugar – I used dark brown sugar here. The ¼ cup may not seem like much, but it adds some subtle flavor and richness to help balance out the sharpness of the lime.
Macadamia Nuts – Again, 3 tablespoons of chopped nuts may not seem like a lot, but I've found that a little goes a long way where the flavor of macadamia nuts is concerned. I am also one of those people who is not generally fond of nuts in cookies and brownies. If you wanted more of a crunch you could add more nuts, but be aware that their flavor can easily overpower the coconut and lime.
I used salted macadamia nuts because I can't get unsalted ones where I live. To counter this, I only added a small amount of salt in the recipe.
White Baking Chips – As I have said before, I usually prefer to use real white chocolate. However, good white chocolate chips can be so hard to find. I often use white baking chips in cookies and brownies because they will always hold their shape and not simply melt into the batter.
Coconut Flakes I used unsweetened desiccated coconut. If you are using sweetened coconut, you might want to lower the amount of white sugar in the recipe just a little.
How to Make Blondies
Blondies, like brownies, can be very simple to make. Although this recipe has a lot of ingredients, it is still only a one bowl recipe. There are only 4 steps to making blondies:
First, mix together the melted butter/oil, sugar(s) and flavorings. The large quantity of sugar and butter is what gives brownies and blondies a fudgy texture.
Next, mix in the eggs. Always use eggs that are at room temperature. For me, eggs that are too cold have always been the biggest cause of lumps and textural issues.
Next, mix in the flour and add-ins (here, the nuts, white chocolate, and coconut.) Blondies usually take more flour than brownies, while brownies include cocoa powder. Make sure the flour is mixed in well, but don't overmix! Kneading the flour will cause it to build up gluten and become tough and bread-like.
Lastly, pour the batter into the pan and bake. I always bake small batches of blondies and brownies in an 8×8 inch glass pan, because it is what I am used to. If you use a 9×9 pan, or a metal pan, the baking time will be shorter, and the blondies will also be much thinner.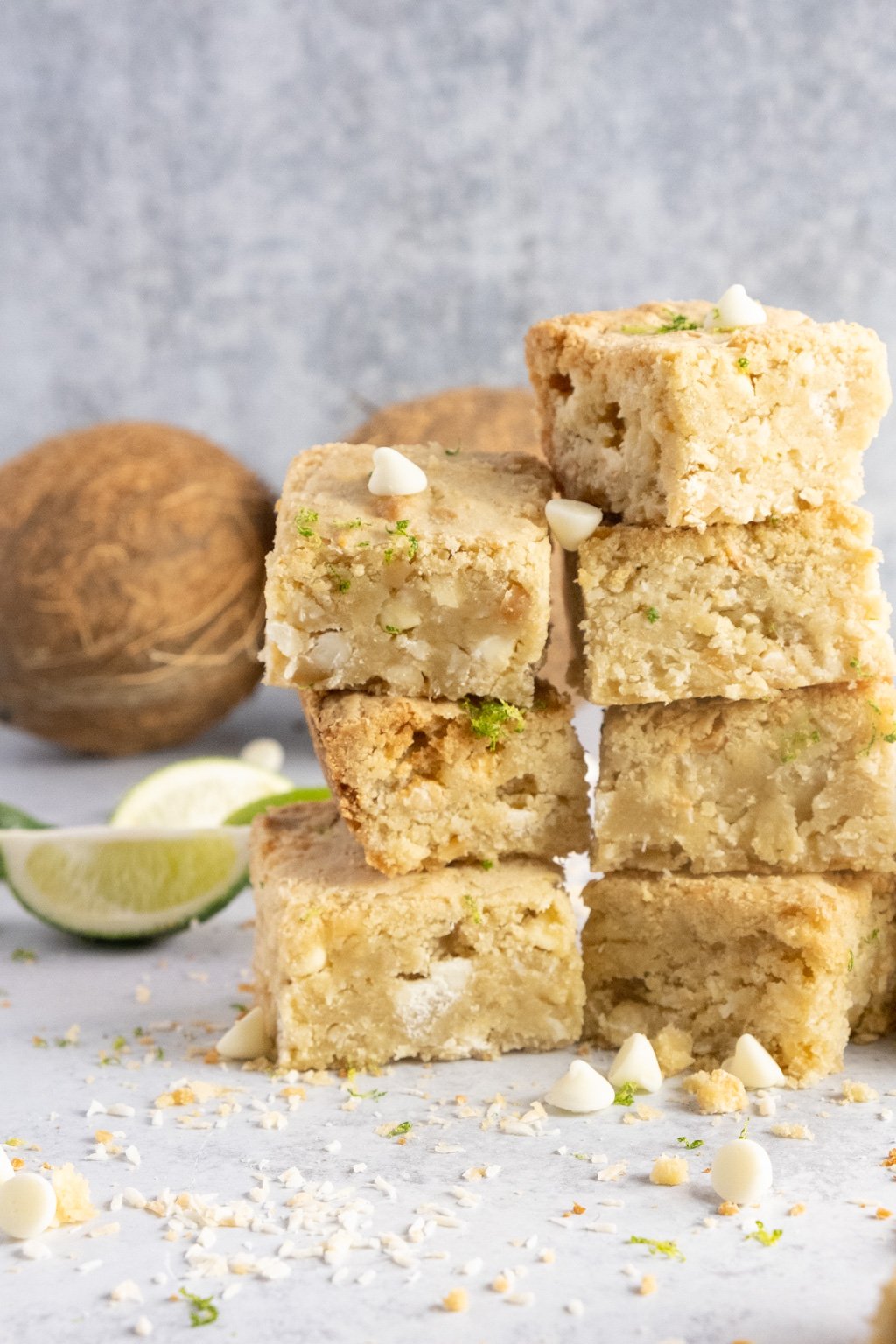 Lime Coconut Macadamia Blondies
Ingredients
1

cup

sugar (200 g)

1/4

cup

brown sugar (50 g)

1/4

tsp

salt

1/4

cup

butter, melted (57 g)

1/2

cup

coocnut oil, melted (110 g)

1/4

tsp

coconut extract

1/2

tsp

vanilla

2

tbsp

lime juice (about 2 limes)

zest of 1 lime

2

large

eggs

2

cups

flour (250 g)

3

tbsp

macadamia nuts, finely chopped (25 g)

1

cup

white chocolate chips

2/3

cup

coconut flakes (70 g)
Instructions
Preaheat the oven to 350° F (180° C.) Prepare an 8x8 inch (20 cm) square baking pan with cooking spray or parchment paper.

Add the sugars and the salt to a large mixing bowl and stir with a large wooden spoon. Melt the butter and coconut oil, then add them to the sugar. Add the coconut and vanilla extracts, and the lime juice and zest, and mix well. Next, add the eggs and mix until they are fully incorporated.

Next, add the flour and stir in slowly. Before it is quite fully mixed in, add the white chocolate, macadamia nuts, and coconut flakes. Continue to stir until these are evenly distributed and the flour is fully incorporated as well. Be careful not to overmix.

Pour the batter into the prepared pan and bake for about 40 minutes, or until the blondies are medium brown on top. Store at room temperature for about 4 days.