Jump to Recipe
Muffins were one of the first things I learned to bake, but I haven't really made any during the past few years. I guess I had come to find them sort of boring – the standard blueberry, pumpkin, chocolate chip, lemon poppyseed, etc. However, I decided that I just wasn't using my imgaination enough. These muffins are packed with the flavors of strawberry, coconut, and white chocolate, and they would be a great addition to your summer brunch menu.
Notes on Ingredients
Coconut Oil – I like to use unrefined, or virgin coconut oil for baking coconut-flavored desserts. It gives baked goods a natural, subtle coconut flavor unlike that of coconut extract.
Coconut Milk – I used canned coconut milk in this recipe. If you use the kind that comes in a carton, the fat and water ratios will be different, so you might want to use a little less. If you want to substitute other plant milks, or cow milk, you might also want to use a bit less, perhaps ½ cup.
White Baking Chips – Normally I recommend to only use real white chocolate, but when you want your "white chocolate" to stay solid, you can only really use chips or bars cut into chunks. It can be difficult to find chips made from real white chocolate, so when I need to use them in cookies, brownies, muffins and scones, I end up buying white baking chips.
Strawberries – This recipe will work with any berry. Substitute blueberries, raspberries, blackberries, or any other type. A mix of different berries would be even better.
Coconut Flakes – I used unsweetened desiccated coconut. If you are using sweetened coconut flakes, you might want to decrease the sugar in the recipe a little.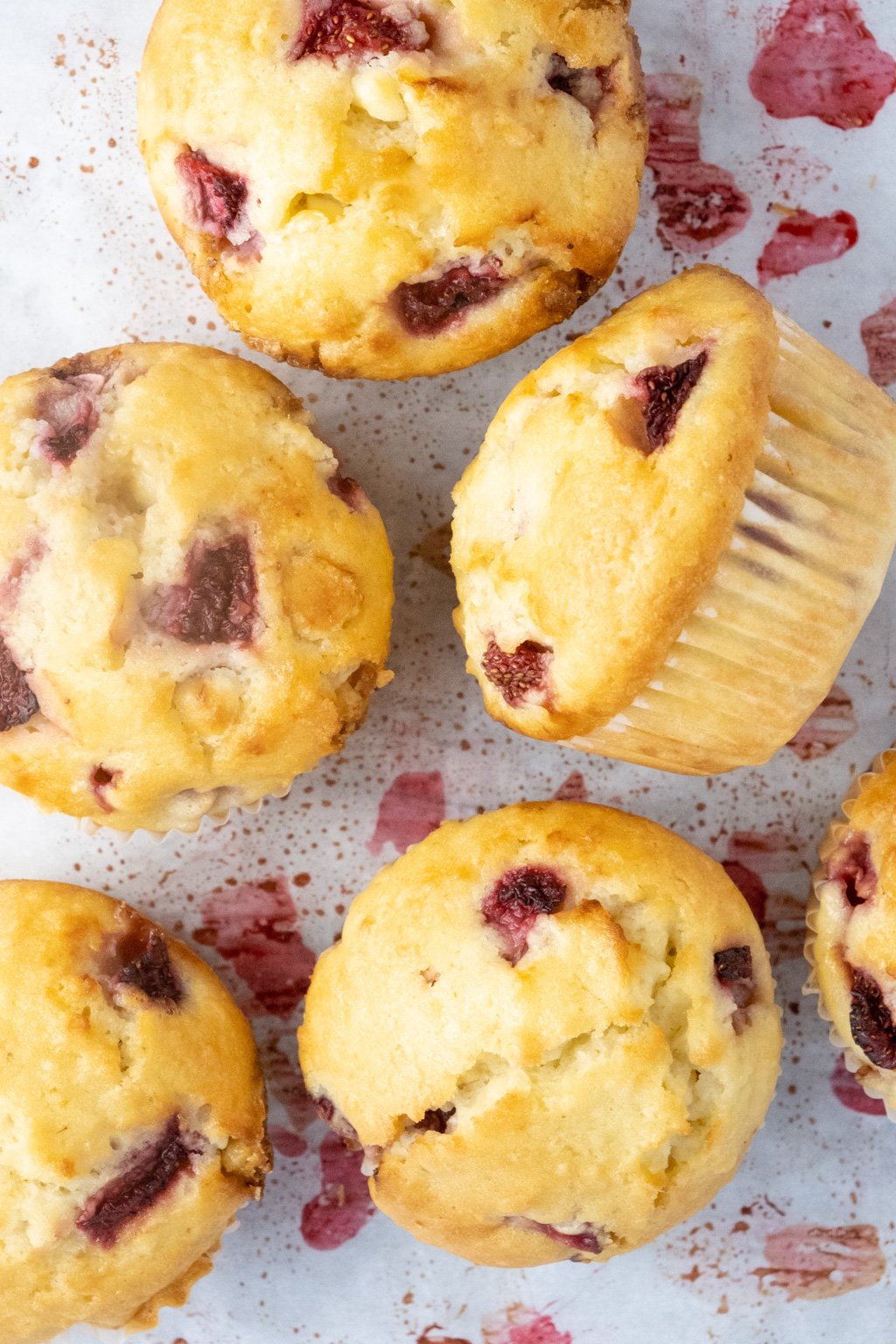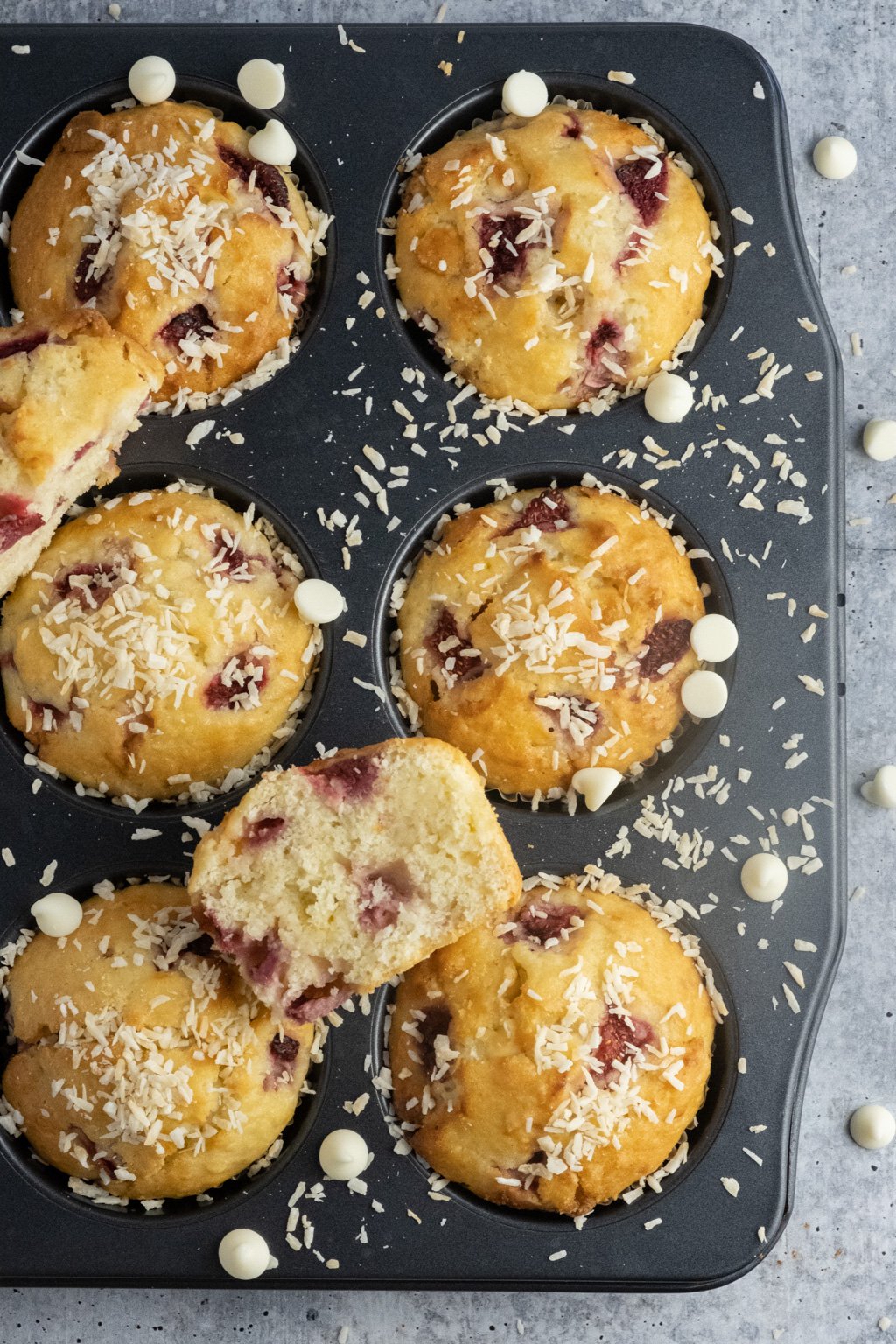 Notes on Technique
I forumulated this recipe to make exactly 12 muffins. Fill the muffin papers all the way to the top – the batter is thick enough that it won't overflow.
I usually bake muffins in paper. Muffins in papers always rise higher than they would if just baked in the greased cups, firstly because the papers hold a smaller quantity of batter than the actual cup, so there is nowhere for it to spread but upward. Secondly, the texture of the paper is easier for the batter to climb. If you don't want to use papers, make sure to grease the cups well. You also might want to increase the quantity of batter – multiply all of the ingredients by 1.25 or 1.5.
How to Make Muffins
As a quick bread, muffins are a lot less fussy than cake when it comes to how you mix them. There are only three – or maybe four – steps, depending on how many add-ins you are using.
Mix all of the dry ingredients in one bowl and make a well in the center.
In a separate bowl, mix all of the wet ingredients.
Pour the wet ingredients into the well, and start stirring everything together.
Before the batter is completely mixed, throw in the add-ins and mix until the batter is just combined.
Muffins are usually cooked at 400 F (200 C), a higher temperature than cake, as well. To get more rise, you can cook at a higher temperature – 425 F (220 C) – for the first 5 minutes, then lower the temperature to 350 F (180 C) for the remainder of the baking time.
Strawberry Coconut Muffins
Ingredients
2 1/2

cup

all-purpose flour (290 g)

2

tsp

baking powder

1/2

tsp

salt

3/4

cup

sugar (150 g)

1/3

cup

coconut oil, melted (80 ml)

2/3

cup

coconut milk (160 mls)

3

large

eggs

1/2

tsp

vanilla

1/8

tsp

coconut extract

optional

2/3

cup

white baking chips

2/3

cup

strawberries, chopped

3/4

cup

coconut flakes
Instructions
Preheat the oven to 400° F (200° C.) Line 12 muffin cups with muffin papers.

Combine the dry ingredients: in a large mixing bowl, with a large wooden spoon, stir together the flour, baking powder, and salt. Next, stir in the sugar.

Combine the wet ingredients: melt the coconut oil, then add it to a medium bowl with the coconut milk. Next, break the eggs one by one into a seperate small bowl, adding them to the milk mixture one at a time. Add the vanilla and coconut extracts, then whisk to combine all of the liquid ingredients.

Make a well in the center of the dry ingredients. Pour the wet ingredients into the well, then stir slowly with the wooden spoon, making sure to mix in all of the flour on the bottom and sides of the bowl. Stir until the flour is almost, but not fully incorporated, then add the baking chips, berries, and coconut flakes. Stir until they are distributed fairly evenly. By this point, the flour should also be well incorporated. Avoid overmixing, because it can make the muffins tough.

Use a large serving spoon, ladle, or ice cream scoop to fill the 12 muffin cups evenly with batter. Bake the muffins at 400° F (200° C) for about 22 minutes, or until they are somewhat browned on top. Store at room temperature for up to 3 days, or in the refrigerator for 4 days.