Jump to Recipe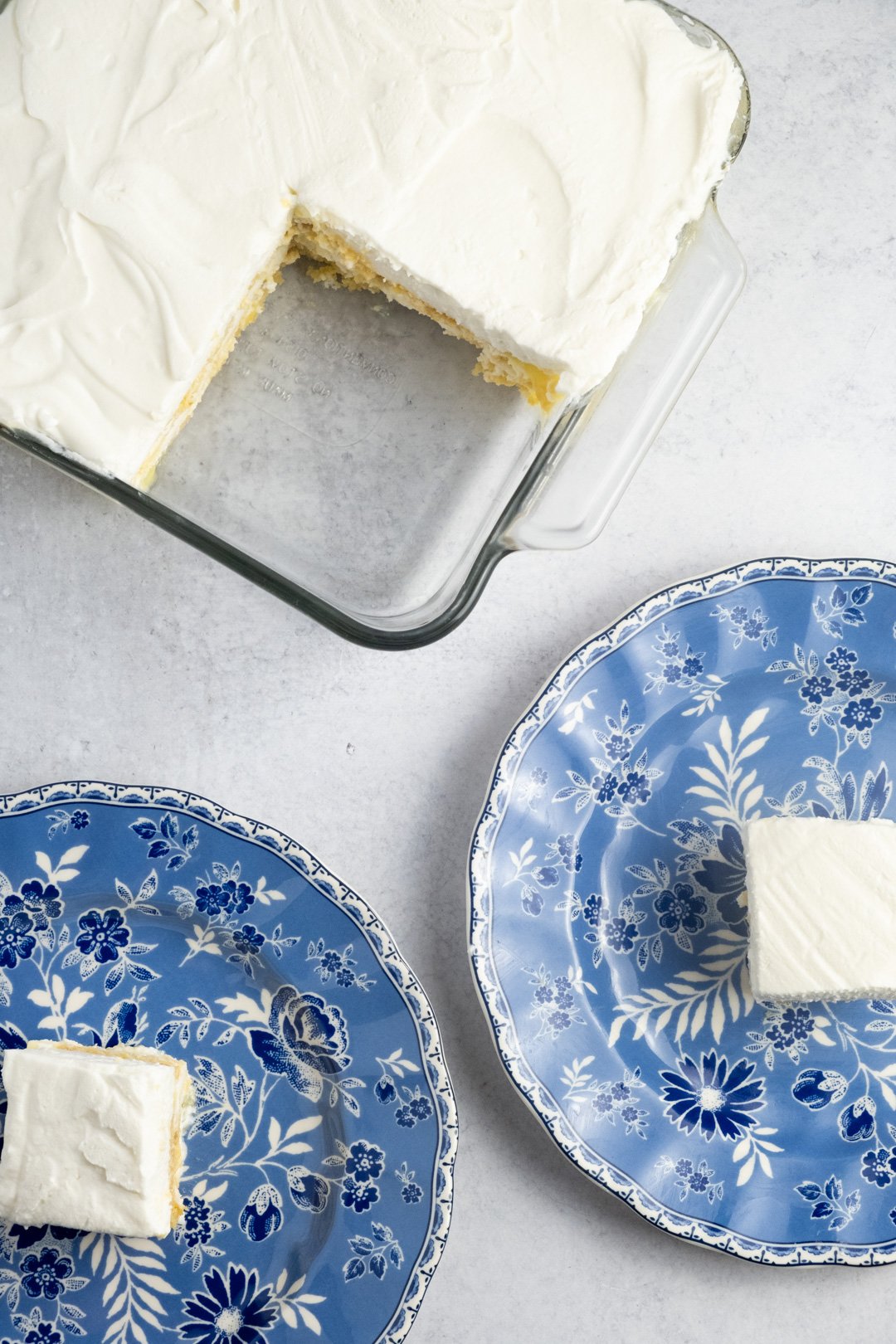 Whenever I eat icebox cake, I sort of wish it was banana pudding. It looks so pretty, but it is always disappointing when you bite into it and find nothing but cookies and whipped cream. For this recipe, I started out with the idea of making a cold summer dessert with the flavors of coconut and lemon – a flavor combination that I love. I used coconut whipped cream and lemon wafers, but I just wanted it to have more – more texture, more layers. And so I wound up adding layers of lemon curd and coconut pudding. This icebox cake is a bit more elaborate than your typical one, but it is so much more satisfying.
Notes on Lemon Icebox Cake Ingredients
Coconut Whipped Cream and Coconut Pudding Ingredients
2 Cans Coconut Cream – I've been working with coconut cream and coconut milk a lot lately, and I have found that the texture can vary greatly depending on the brand. Some of the brands I have bought at the Asian grocery were creamier than the ones I've bought at Publix. Some of the brands I bought online were completely unusable for this recipe. Also, some brands contain emulsifiers that may prevent the coconut cream from separating completely, making it too watery to whip.
For this recipe, I used Chakoh coconut cream, and it worked out perfectly. Most whipped coconut cream recipes will recommend that you chill your coconut cream overnight before using, but I can always use Chakoh coconut cream without chilling it, provided that the cans have been sitting for a few days before I open them. I have also had good luck with Thai Kitchen.
Lemon Curd Ingredients
Lemon Juice – Lemon curd is best made from fresh lemon juice. The juice from about 4 large lemons, or 5-6 medium lemons, should make one cup.
3 Whole Eggs – It is very important that the eggs come to room temperature before you use them.
Notes on Technique
How to Make Coconut Whipped Cream
If you let your cans of coconut cream sit for a few days, or chill them overnight in the refrigerator, the fat will rise to the top. This will make it easy to separate the thick layer of cream on top from the watery layer underneath. The most important thing is to open the cans from the top as they were sitting, making sure that you don't shake or agitate them. I used two cans for this recipe, using the thick top layers of cream from both cans for the coconut cream, and the thinner layers underneath for the coconut pudding.
This recipe contains half coconut cream and half heavy whipping cream, which will make it easier to whip even if your coconut cream is not ideal. The heavy cream will whip even better if you use it straight from the refrigerator. You can whip coconut cream the exact same way you would cream from a cow. Whip at high speed with a mixer fitted with a whisk attachment until the cream forms soft peaks, then whip in the sugar gradually so that it will not cause the cream to collapse.
How to Make Lemon Curd with Whole Eggs
I wrote about making pastry cream with whole eggs in my S'mores Banana Tarts Post. As with pastry cream, the only difficult part of making lemon curd is making sure the eggs don't scramble. It helps to temper the eggs the same as you would in pastry cream, heating the lemon juice to a simmer, then whisking one large spoonful at a time into the beaten eggs. Once all of the lemon juice has been incorporated into the eggs, return the mixture to low heat. Since you often make less lemon curd at a time than you do pastry cream, it will heat up and thicken faster, making it necessary to whisk more vigorously. Use a thermometer to make sure the temperature of the curd does not rise above 170 F.
Lemon Coconut Icebox Cake
Ingredients
For the Coconut Whipped Cream
1 1/4

cup

thick coconut cream (the top halves of 2 13.5 oz cans unstirred coconut cream) (about 13.5 oz, 300 ml)

(Chakoh)

1

cup

heavy cream (8 oz, 240 ml)

1/4

cup

sugar (50 g)

1

pinch

salt

few

drops

coconut extract

(optional)
For the Coconut Pudding
1 1/4

cup

thin coconut cream (the bottom halves of 2 cans unstirred coconut cream) (about 13.5 oz, 300 ml)

(Chakoh)

3 1/2

tbsp

cornstarch

1/3

cup

sugar

1/8

tsp

salt

1/8

tsp

coconut extract

(optional)
For the Lemon Curd
1

cup

lemon juice

(about 4 large lemons or 5-6 medium lemons)

1

cup

sugar

1

pinch

salt

2

tsp

cornstarch

3

whole

eggs

2

tbsp

butter
For Assembly
about 80 lemon wafers

(Dewey's or Trader Joe's)

1/2 cup toasted coconut flakes or crushed wafers for topping

(optional)
Instructions
Coconut Whipped Cream
Open the 2 cans of coconut cream, making sure that you don't agitate them or flip them upside down. There should be a very thick layer of cream on top and a more milky layer on the bottom. Spoon off the thick layers from both cans until you have about 1 1/4 cups of thick cream. Reserve the rest. Add the thick cream and the heavy whipping cream to a large mixing bowl and whip on high speed until soft peaks form, about 1-2 minutes.

Add the pinch of salt to the sugar. While continuing to whip the cream at high speed, add the sugar little by little until it is all incorporated. Next, add in a few drops of coconut extract, if using.
Coconut Pudding
Add the remaining liquid from the cans of coconut cream to a 2 or 3 qt saucepan. This should should be around 1 1/4 to 1 1/2 cups of thin coconut cream. Whisk in the cornstarch first, making sure it does not form lumps. Next, whisk in the sugar, salt, and coconut extract, if using.

Cook on medium heat, whisking often, for about 5 minutes or until the pudding begins to thicken. Continue to cook for another 1-2 minutes, until the mixture has the texture of a thick pudding, then remove from the heat. Be careful not to overcook, or it will turn into a paste. Allow the pudding to cool at room temperature for about 20 minutes, then chill in the refrigerator for about another 40 minutes. Cover the surface of the pudding with plastic wrap or paper so that a skin will not form.
Lemon Curd
Whisk the 3 whole eggs in a medium bowl and keep this nearby. Keep the 2 tbsp butter nearby as well.

In a 2 qt saucepan, add the lemon juice. Whisk in the cornstarch first, making sure it does not form lumps. Next, whisk in the sugar and pinch of salt.

Place the mixture over medium heat and cook until the sugar dissolves and it begins to thicken, which will happen at about 150° F (65° C.) At this point, you can begin to temper the eggs. Use a large spoon or a small ladle to add a small amount of the lemon mixture to the eggs and whisk vigorously until it is fully combined. Continue to whisk in one spoonful of the lemon mixture at a time, until all of it has been combined with the eggs.

Pour the lemon curd back into the saucepan and return it to the heat, whisking constantly, until the curd begins to thicken further, which should happen at around 160° F (70° C.) Continue to cook until it reaches 170° (76° C) and then remove it from the heat. Don't allow it to reach 180° F. Immediately stir in the butter.

Let the curd cool for about 20 minutes at room temperature, and then chill it in the refrigerator for about another 40 minutes. Cover the surface of the curd with plastic wrap or parchment paper so that a skin will not form.
Assembly
In the bottom of an 8x8 inch (20x20 cm) pan, place a layer of about 20 lemon wafers. The wafers should overlap. For the next layer, spread 1/3 of the coconut cream on top of the wafer. Next, layer 1/2 of the lemon, curd, and then 1/2 of the coconut pudding. Repeat once more in this order: wafers, cream, curd, pudding. Lastly, place another layer of wafers, and then top with the last of the coconut cream. Decorate with toasted coconut or crushed wafers, if desired.

Chill the assembled cake for about an hour before serving. Store in the refrigerator for no more than 3-4 days.