Jump to Recipe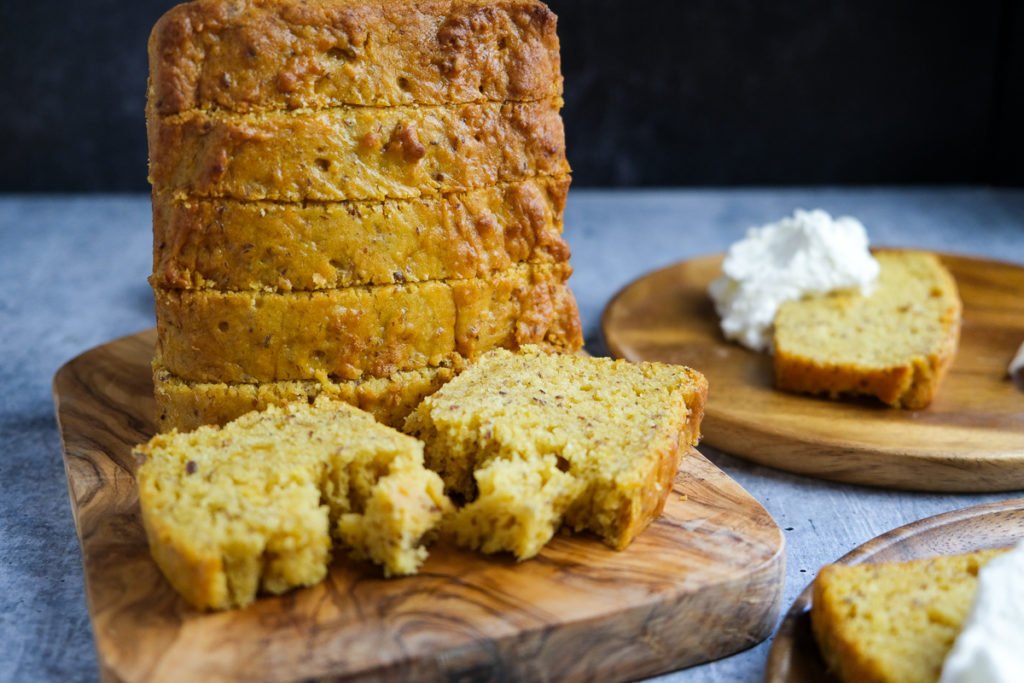 Lately I've been experimenting with recipes in ways I wouldn't normally think of. Usually I start out with the flavors and go from there, but now I have been thinking more about the logistics of how the ingredients can be acquired and how long they will keep. Even if you are living too far from a city to have fresh groceries delivered, and for health reasons, can't risk going to the supermarket, you should still be able to eat delicious food! This mango bread recipe is made using pantry ingredients that are all shelf-stable and can be ordered online. Because it contains no eggs, butter, or milk, it also happens to be vegan friendly.
Notes on Dried Mango Bread Ingredients
Dried Mangoes – The mangoes that I used were leathery, like prunes and dried apricots. Although I think you could even use the very dry, chip varieties of dried fruit for this recipe, I am not sure how long you would need to soak the fruit.
Flax Meal Substitution – If you have fresh eggs, you can use 2 eggs in place of the 2 tbsp flax meal and ⅓ cup of water. The substitution is 1 egg = 1 tbsp flax seed meal + 3 tbsp water.
Sugar – To make this bread a better breakfast food, I added a smaller amount of sugar than usual. If you would like it sweeter, add 1/4 cup more.
Extracts and Spices – Mango bread is commonly made just like banana bread, with cinnamon and various add-ins. For spices, cinnamon or curry powder work well with mango. For extracts, coconut would of course be an obvious choice, and strawberry, banana, orange, or lemon would also be good flavor pairings.
Add-ins – Any kind of nut you might use in banana bread would also work in mango bread. Shredded coconut and other chopped, dried fruits would also go well.
Notes on Technique
Make sure not to boil the mangoes too long, and don't drain them. The water they are soaked in becomes the main liquid in the bread, so it will be better not to lose too much or to add any extra.
After boiling, soak the mangoes for at least 4 hours, or overnight. This will make a less chunky puree.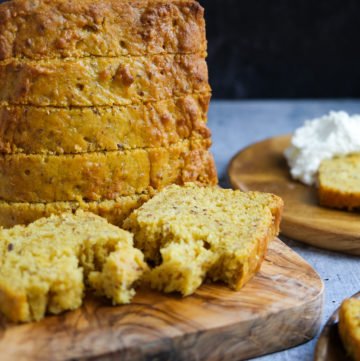 Dried Mango Bread (Pantry Recipe, Vegan)
Ingredients
4

oz

dried mangoes

1 1/2

cups

water (355 ml)

2

tbsp

flax meal

1/3

cup

water (75 ml)

1/3

cup

oil (80 ml)

1/2

cup

sugar (50 g)

2

tsp

vanilla extract (or half a vanilla bean)

2

cups

flour (240 g)

1

tbsp

baking powder

1/2

tsp

salt
Instructions
First, rehydrate the mangoes. You can do this step around 4 hours before making the bread, or the day before. Add 4 oz dried mangoes and 1 1/2 cups of water to a saucepan and bring to a boil. Boil the mangoes for about 5 minutes, and then turn off the heat and let them soak. You can let them sit for at least 4 hours, or store them in the refrigerator overnight.

Once the mangoes have soaked, preheat the oven to 350° F (180° C) and grease and flour a 8 or 9 inch (~20 cm) loaf pan.

Once the magnoes have soaked, add the mangoes with the water to a food processor or blender and process on high until you have a thick puree.

Add the 2 tbsp flax meal and 1/3 cup water to a bowl and stir. Let the mixture sit for about 10 minutes to thicken.

Add the 1/3 cup oil, 1/2 cup sugar, 2 tsp vanilla, and the flax meal mixture to a large bowl and whisk until well combined. Then whisk in the mango puree.

Measure the 2 cups flour, 1 tbsp baking powder, and 1/2 tsp salt into a medium bowl and stir until well combined.

Gently whisk the flour mixture into the wet mixture in 2-3 additions. Avoid overmixing.

Pour the batter into the loaf pan and bake at 350° F (180° C) for around 50-60 minutes.

Store for 3-4 days at room temperature, or up to a week in the refrigerator.