Jump to Recipe
One of my favorite cookie recipes to make around the holidays is Fresh April Flours' Maple Pecan Goat Cheese Sugar Cookies. I always love baking with goat cheese. I love the way it gives a subtle tart flavor to baked goods that no one can readily identify, and how everything you bake with it turns out fluffy despite your best efforts. That's why this recipe, which started out as maple sugar cookie bars, turned into a cake. Still, I wanted to keep with the simplicity I'd originally hoped for with the cookie bars, so I baked this in an 8 x 8 inch pan and topped it with a layer of American buttercream and maybe some chopped pecans or walnuts. It makes for a perfect fall snack cake, or, if doubled, it could make an easy sheet cake to bring to a last minute get-together.
Ingredient Notes
Goat cheese – I'm referring to the soft cheese log simply called Chevre that's sold in most American grocery stores.
Maple Sugar – This is the key ingredient to get the maple flavor. My best results were with Shady Farms maple sugar. I tried using maple syrup as well, but I wasn't happy with the results.
All-Purpose or Cake Flour – Cake flour will create a lighter texture. I used unbleached all-purpose so the cake would be a bit denser.
Milk – Any fat percentage will do.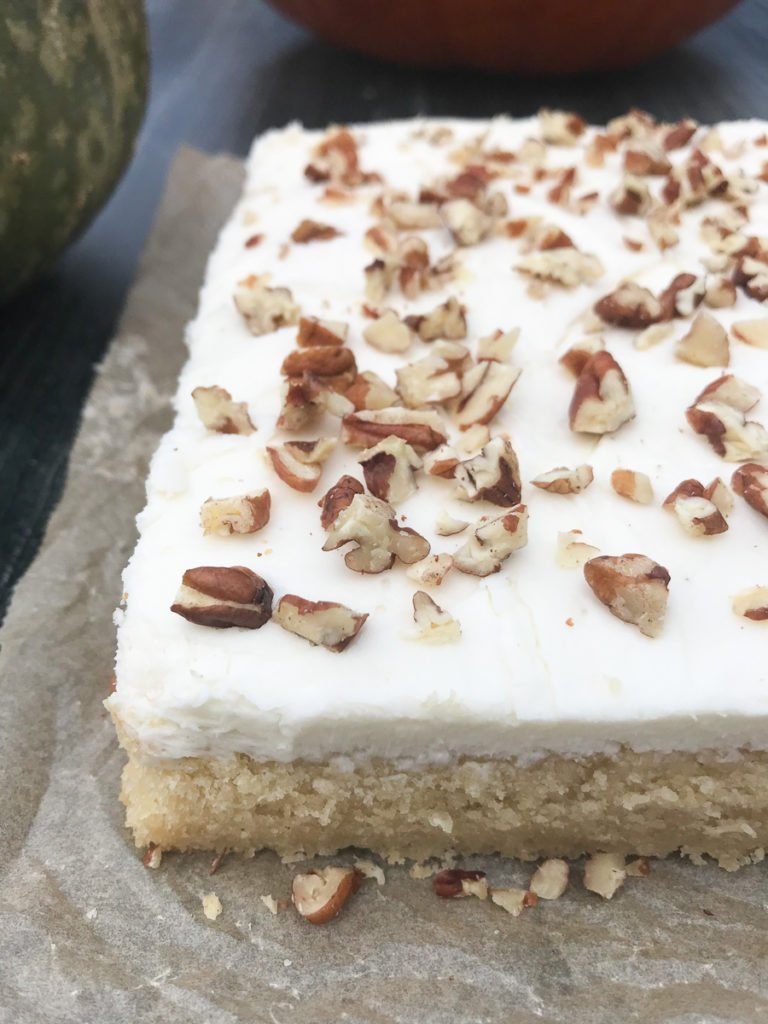 Technique Notes
Make sure the goat cheese is softened. The butter and egg should be ready after sitting out for 30-60 minutes, but the goat cheese takes longer to come to temperature. Cut it and the butter into small pieces to speed up the process, but I don't recommend microwaving.
Measure your flour by spooning it into the measuring cup, then leveling it off with a knife. Or better yet, use a kitchen scale.
For a fluffier cake without lumps, sift your flour into the batter at the end and whisk it in by hand, alternating with the milk.
Whiskey Buttercream Frosting
Now we come to my favorite part of this cake. I'd meant for it to be a bourbon buttercream, but I never got around to visiting the store, and Scotch was what I had on hand.  This frosting is also very simple, but it can actually be easy to ruin. The most important thing is not to add the whiskey until the very end.
Ingredients
Butter – Softened to room temperature, but not too soft. About an hour at 65-70 F should do it.
Cream – Double or heavy cream.
Whiskey – I used the Macallan double cask 12 Scotch. Obviously, you could substitute bourbon or another type of whiskey, or really any other type of liquor with a compatible flavor.
Chopped Pecans and/or Walnuts– You could mix these into the frosting or just put them on top.
Technique
This frosting is easy to make, provided you follow the steps in the right order:
Cream the butter by itself until it's fluffy.
Mix in the powdered sugar and salt.
Mix in the cream.
Lastly, mix in the alcohol one spoon at a time.
Maple Goat Cheese Cake with Whiskey Buttercream
Ingredients
For the Maple Goat Cheese Cake
4

Tbsp

butter (57 g, 2 oz)

3

oz

goat cheese (85)

3/4

cup

maple sugar (110 g)

1

large

egg

1 1/4

cup

all-purpose flour (150 g)

1/4

tsp

salt

1

tsp

baking powder

1/4

cup

milk
For the Whiskey Buttercream
1/2

cup

butter (115 g, 4 oz)

1

pinch

salt

1 1/2

cup

powdered sugar (190 g)

1

tbsp

cream or milk

2-3

tsp

whiskey

1/2

cup

pecans and/or walnuts

toasted and chopped
Instructions
Maple Goat Cheese Cake
Preheat the oven to 350 F (180 C) and line an 8×8 inch baking pan with parchment paper. In a separate bowl, sift together the flour, baking powder, and salt.

In a large bowl with a hand mixer, or in the bowl of a stand mixer with a whisk or paddle attachment, beat the butter, goat cheese, and maple sugar. Mix for 30-60 seconds, until the majority of the lumps are gone, although the goat cheese may remain a little lumpy.

Add the egg and mix for around 1 minute, scraping the sides of the bowl to make sure the batter is well combined.

Add half of the flour mixture and mix for about 30 seconds, until it is only just incorporated. Add the milk and mix for another 30 seconds, followed by the second half of the flour. Mix until just combined; do not overmix or the cake may become tough.

Bake at 350 F (180 C) for about 25 minutes, or until the cake is slightly browned on top and a toothpick or chopstick inserted into the center comes out clean. Allow the cake to cool for at least an hour before frosting.
Whiskey Buttercream
In a large bowl with a hand mixer, or in the bowl of a stand mixer with a whisk or paddle attachment, beat the butter alone until it is fluffy, about 1 minute.

Add the pinch of salt to the butter, then add in 1/2 cup of the powdered sugar, mixing slowly to keep the sugar from flying everywhere. Add in the rest of the powdered sugar, 1/2 cup at a time. The mixture will resemble crumbs for a long time, but keep mixing until the crumbs form a very thick frosting, about 1-2 minutes.

Add the cream and mix another 1-2 minutes, until the frosting becomes fluffy again.

Add the whiskey, 1 teaspoon at a time, mixing between each addition until the alcohol is fully incorporated.

After the cake has cooled, frost it and top with the chopped nuts.